Travel Channel yanks Adam Richman's show after Instagram rant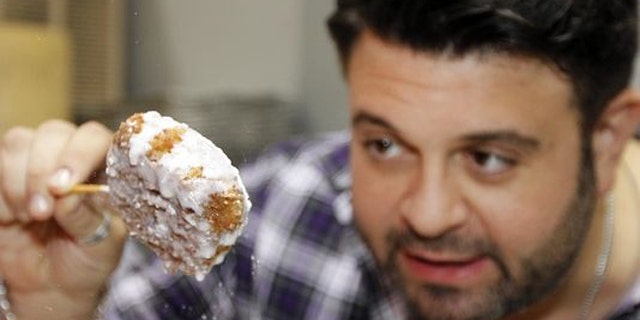 The Travel Channel has pulled the plug on Adam Richman's new series, "Man Finds Food," after the TV host's rant on Instagram over a picture related to his recent weight loss.
"Man Finds Food" was supposed to debut July 2, but the channel announced that the show has been postponed, reports the Washington Post.
It did not offer a new premiere date. But the "Man vs. Food" host posted this encouraging remark on Facebook: "Still waiting for a airing date for the show. "Stay tune (sic) MFF fans!"
Last month, Richman drew outrage after he wrote a string of expletives on Instagram in response to fans criticizing his use of the hashtag #thinspiration-- which is often associated with anorexia and pro-eating disorder messages.
Richman posted a picture of himself after losing 70-pounds used for the latest issue of Cosmopolitan U.K. "Had ordered this suit from a Saville Row tailor over a year ago. Think I'm gonna need to take it in a little…#thinspiration" he wrote.
People noticed the term and called him out for using it. Richman answered with a string of angry, expletive-laced responses--and even told one person to "[g]rab a razor blade and draw a bath. I doubt anyone will miss you."
He eventually apologized via Twitter and deleted all of his Instagram messages related to the incident.
In a statement to ABC News, Richman said he is sorry for his "inexcusable remarks."
"I've long struggled with my body image and have worked very hard to achieve a healthy weight," Richman said.