Top late-summer food festivals
Summer is on its last legs, which means it's time to pack as much fun, sun and leisure time as possible into the next few weeks. And what better way to wile away a summer day than by drinking and eating your way into a food coma?
Luckily, there are lots of opportunities to do just that, from the hills and valleys of Virginia to the backlots of L.A. Check out this list of end-of-summer food and drink fests and plan your last hurrah:
1. Epicurience -- Loudoun County, Va.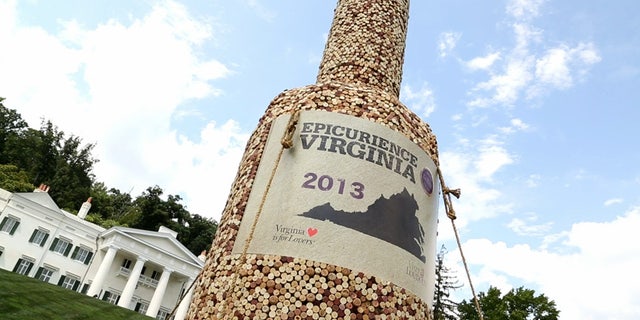 This Labor Day weekend epicurean extravaganza is all about the finest wining and dining in Washington, D.C.'s Wine Country. From farm-to-table cuisine to award-winning Virginia wines, it's an edible adventure. The weekend's main event is the Epicurience Virginia Grand Tasting, a day-long showcase on the grounds of historic Morven Park featuring winemakers and farmers; beer, wine, spirits and gourmet food tastings; demos by chefs including Nathalie Dupree and Scott Drewno. There are also wine and cider seminars and a wine blending competition where attendees can work with a Loudoun winemaker. The rest of the weekend will feature a whole host of other events including a Summer of Spain wine dinner at North Gate Vineyard, a twilight tour and dinner at 8 Chains Vineyard, a picnic at Greenhill Winery & Vineyards and more.
The festival runs Friday, Aug. 29 through Monday, Sept. 1 at various venues in Loudoun County, Va. Tickets to the Grand Tasting are $85 for general admission, $125 for VIP. Tickets for each of the other weekend events range from $65 to $150, and can be purchased on the Epicurience website.
2. 2014 Los Angeles Times Taste -- Los Angeles, Ca.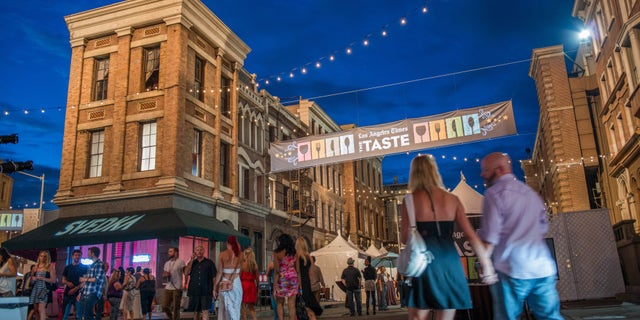 In true L.A. style, this three-day foodie fete has everything from celebrity chefs to movie sets. Popping up on the Paramount Pictures Studios' backlot, the event includes a whole series of soirees, including a Field to Fork dinner co-hosted by James Beard Outstanding Chef Nancy Silverton; a Dinner with a Twist culinary/cocktail mash-up and a Sunday Brunch with revered chef Thomas Keller of French Laundry fame -- in addition to opening and closing night parties. Plus, some of the city's best-reviewed restaurants (Girasol, Plan Check Kitchen + Bar, Fishing with Dynamite & more) will be dishing up signature dishes, L.A. Times foods staffers will lead culinary conversations and renowned chefs will showcase their kitchen skills.
The festival runs Friday, Aug. 29 through Sunday, Aug. 31. Opening Night tickets are $150. Tickets for each of the Saturday and Sunday events range from $100 to $125, and can be purchased on the event website.
3. BrewMasters Craft Beer Festival -- Galveston, Texas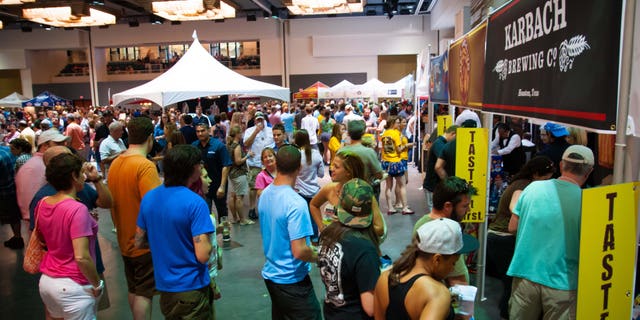 The fifth annual installment of this Galveston Island beer bash features a whopping 400+ varieties of craft brews. The festival festivities include the two signature events -- BrewLicious Brews and Foods Pairing and BrewHaHa Grand Tasting, plus a whole host of others like the BrewMasters PubCrawl, Beach, Brews and Bands, Texas Brewery Tasting Tours, educational events, industry experts and much more. Plus, a live music and fireworks finale at Palm Beach.
The event takes place at various locations across Galveston, Texas, from Friday, August 29 through Sunday August 31. Tickets are $75 for BrewLicious Brews and Food Pairing, $35 for general admission, $85 VIP for the BrewHaHa Grand Tasting, and range in price from $6 to $25 for other events. Tickets are available on the event website.
4. A Taste of Colorado -- Denver, Colo.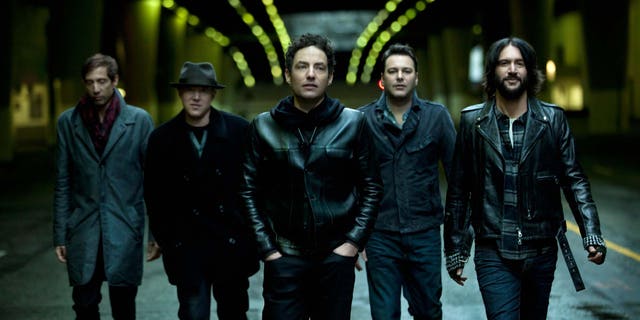 This end-of-summer celebration is a four-day tribute to Colorado cuisine, boasting more than 500,000 attendees, food from 50 area eateries, 250 vendors, six entertainment stages and a whole host of educational programs about the state's history and culture. They'll have traditional festival food, plus a slew of more exotic offerings. There'll also be a kid's zone, a lineup of country acts on a dedicated stage, a pep rally, Navajo artisans, the Wallflowers, the Commodores, David Cook of American Idol fame, R&B group En Vogue, fireworks and lots more.
The festival runs from Friday, Aug. 29 through Monday, Sept. 1. Admission is free, and tickets for food/drink can be purchased a la carte.
5. Hawai'i Food and Wine Festival -- Islands of Hawai'i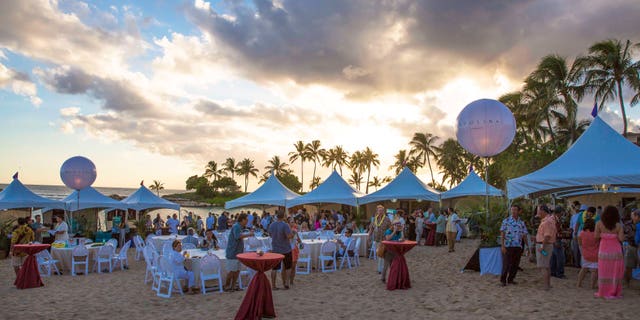 This 10-day foodie fest extends from Hawai'i to Maui to Oahu, showcasing a wide array of local cuisine and Hawai'ian culture. More than 80 internationally-renowned chefs, culinary personalities, and wine and spirit experts will be on hand for wine tastings, cooking demos, private dining events and more. Headlined by top names like Michelle Bernstein, Jose Garces and Masaharu Morimoto, the lineup of events includes a six course gala on the volcanic grounds of the Waikoloa Beach Marriott Resort; a dinner featuring dishes by 14 notable chefs, all inspired by the Lucky Buddha; a "Battle of the Brunch" chef showdown; a hands-on Laulima at He'eia event where participants can help restore an 800 year old fishpond or cultivate Taro side-by-side with chefs, and lots more.
The festival runs from Friday, Aug. 29 through Sunday, Sept. 7 at various locations throughout Hawai'i. Tickets for the events range from $5 to $1,000, and several packages are available. Tickets can be purchased on the festival website.
6. Southern Ground Music and Food Festival -- Hershey, Pa.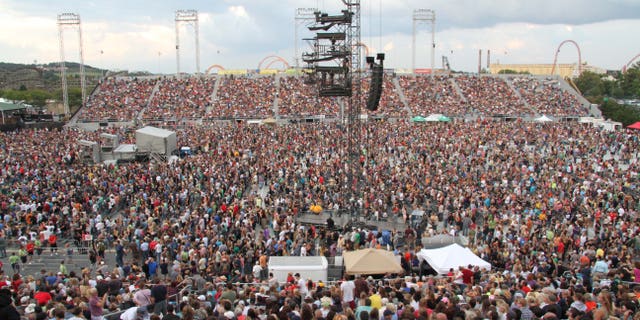 Nothing says summer like Jimmy Buffett and the Zac Brown Band and their toes-in-the-water tunes. The musical bigwigs are taking over Chocolatetown, USA (also known as Hershey, Pa.) for an end-of-season blowout. Buffett will take the stage Saturday night, the Zac Brown Band and guests Trombone Shorty & Orleans Avenue, Blues Traveler and The Wild Feathers on Sunday. In addition to great tunes, the two-day event will feature a curated selection of food truck cuisine, plus Chef Rusty Hamlin manning 'Cookie', aka, Zac Brown Band's tractor trailer-sized mobile kitchen.
The festival takes place Saturday, Aug. 30 through Sunday, Aug. 31 at Hersheypark Stadium in Hershey, Pa. Tickets range in price and can be purchased online.
7. New Mexico Wine Festival -- Bernalillo, New Mexico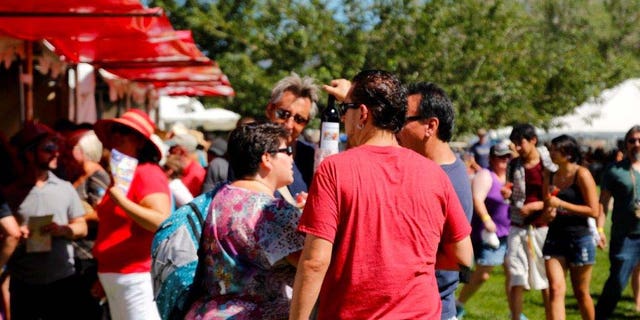 This annual commemoration of all things vino will feature 20 wineries from around New Mexico, including sparkling wine purveyor Gruet and, for the first time, Skarsgard Farms showcasing their Hard Apple Cider. Attendees will also get to enjoy an arts and crafts show featuring local artists; an agricultural product showcase with green chile, pistachios, pecans, goat cheese and more; a whole host of edible options from pizza to tacos to BBQ; a hat contest; live tunes and more. There are activities for anyone and everyone (even the younger set -- read: Kid's Zone).
The festival takes place Saturday, Aug. 30 through Monday, Sept. 1. at Bernalillo. Tickets are $16, or $40 for a three-day pass; free for kids 12 and under; $5.50 for 13 to 20, and can be purchased on the event website.