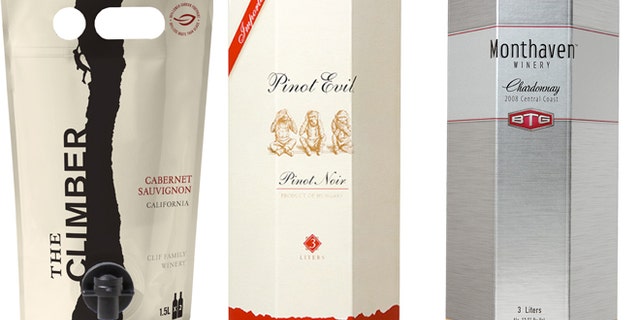 Box wine or boxed wine? No matter what you call them, they are a lot cheaper than their bottled and corked counterparts, and some are quite fine and drinkable.
Since they're stored in bags inside cartons, these wines are also practical since they are easily portable and tend to stay fresh longer, ideal for picnics or parties. The same holds true for wines in a bag that are missing the box.
One limitation, however, is that there is not a lot of range in the varietals offered; you're more likely to find Cabernet Sauvignon and Chardonnay as opposed to Grenache or Viognier. Click here to learn more about wine varietals.
Yet if packaging or selection is no object, then box wines can be a real value. Here are our picks for top box wines.
MONTHAVEN WINERY
Central Coast Chardonnay; $24 (3 liters)
The Monthaven Winery Chardonnay is full-bodied with a buttery mid-palate, and offers a clean finish. It is crafted from selected vineyards throughout California's Central Coast, with a focus on fruit from Santa Barbara and Monterey. The Santa Barbara components deliver rich tropical notes on both the nose and palate, while cool climate Monterey components deliver crisp apple notes and balanced acidity. Why is it in an eight-sided box? Octavin Home Wine Bar's unique, patent-pending octagonal packaging is designed to prevent oxidation.
CLIF FAMILY WINERY
The Climber Pouch California Cabernet Sauvignon; $16 (1.5 liters)
Clif Family Winery, who released the Climber Pouch on Earth Day 2011, will donate 1 per cent of all Climber Pouch sales to Trees for the Future. (Yes, that's the same Clif as in Clif Bar.) The portable and unbreakable packaging will ensure that you can enjoy this lush and plummy wine anywhere you go. Make sure to also try the Climber Pouch Chardonnay, which features intense white fruit aromas and a juicy palate of grapefruit, apple and melon.
See which Clif Family Wine made our list of Top 10 Wines Under $20
TURNING LEAF
California Chardonnay; $17 (3 liters)
This 3-liter box version of Turning Leaf's California Chardonnay represents even greater value than the Modesto winery's bottled offerings. Light and fruity, it offers peach and pear flavors in the mouth with a hint of oak on the finish. Read about pairing wines with take-out food.
PINOT EVIL
Pinot Noir; $24 (3 liters)
This offering from Octavin Home Wine Bar hails from the Ile de Beauté, otherwise known as Corsica. Winemakers Julian Halasz and Mario Pulido combine Old World and California winemaking techniques with a playful brand name (PI-NO EVIL; get it?)to create a light-bodied Pinot Noir with ripe cherry flavors and a smooth finish.
R. MÜLLER
Medium Sweet Riesling; $24 (3 liters)
The Landwein Rhein region of Germany is known for its impressive, full-bodied Rieslings, and this boxed Riesling is a great example. A nose of peaches and pears is echoed on the palate, finishing with a nice crispness. Try it with pasta in cream sauce, light seafood dishes or Asian cuisine.
DUCA DEL FRASSINO
Cabernet Corvina; $20 (3 liters)
Produced by Cantina di Soave from grapes grown in the Veneto region, Duca del Frassino has emerged as the first Italian boxed wine. Red cherry aromas and dark fruit flavors make this wine work well on its own or paired with meats, pastas and cheeses.
BODEGAS OSBORNE
Seven Red Wine; $21 (3 liters)
This boxed blend of seven red wine varietals is housed in Octavin's unique packaging, which can stay fresh for up to six weeks after opening. Made from primarily Spanish grapes, this blend has soft fruit flavors and a gentle acidity.
BLACK BOX WINES
Chardonnay; $22 (3 liters)
This premium brand, which produces vintage Merlot, Cabernet Sauvignon, Shiraz and Pinot Grigio, claims that once opened, their wines will remain fresh for more than a month. Their Chardonnay shows off aromas of pineapple, citrus blossoms and sugar cookies, mixing with crisp flavors of juicy lemon, apple and sweet oak.
FRENCH RABBIT
Pinot Noir; $9 (1 liter)
This red-fruit-driven Pinot from the Languedoc-Roussillon region of France is packaged in a lightweight, completely recyclable Tetra Prisma container which features a twist-off cap and collapsible design.
MORE ON GAYOT.com