Top Beers for Tailgate Parties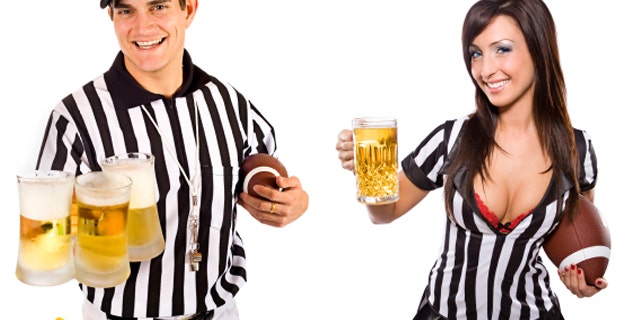 Football season is upon us, and while that certainly means lazy Saturdays and Sundays on the couch relaxing with beer in hand and pizza on speed dial, it also means early mornings firing up the grill with like minded fans in crowded parking lots. This time of year is for tailgating more than any other, and no exhaust pipe party is complete without cooler full of brews to wash down the nicely charred brats, burgers, wings, and pots full of chili.
You could, of course, buy a case of Bud and call it a day. But when there are so many spectacular brews to choose from it seems almost sad to pair an awesome day with the Bears, Vikings, Giants, etc. with anything but a beer perfectly suited to a crisp Fall day with good friends and greasily delicious food cooked over hot coals. And if you end up shirtless and painted in team colors along the way, that's the mark of a day well spent.
Here are a few bottles worth packing in the cooler alongside the face paint:
Great Lakes Brewing Dortmunder Gold – Brewed in Cleveland, a town with a proud football tradition and a contract out on Art Modell, Dortmunder was originally called The Heisman, making it just about the perfect beer to pack up for a productive Saturday of college football. A nicely balanced lager with an easy drinking malt and hops combo, it pours a rich gold – though it's unlikely to make it into a glass before a game. What's especially impressive is how much hoppy aroma and flavor is packed in without making it a bitter hop-bomb, as so many beers of late seem to be. It's toasty and warming, despite having a relatively light-body, with a crisp finish and almost creamy texture.
Penn Oktoberfest – Just across the border in Pennsylvania, Cleveland's arch-rival Pittsburgh brews up beer fit for a day of food and football at the Pennsylvania Brewing Company. In this case, it's a traditional German marzen that's just heavy enough to fortify against the cold without being so heavy you have to go easy on it in order to pack in a couple of more burgers. Nice yeasty aromas abound, with dry malt on the aftertaste and some interesting fruit up front. It has a little citrus to it with just enough carbonation to cut the grease from nachos and the massive quantities of grilled meats customary before taking in a game.
Narragansett Porter – The Patriots are still among the class of the NFL, so, with any luck, drinking like one might help out your team of choice. Narragansett Brewery is located on the cusp of Patriots country in Providence, Rhode Island and, not surprisingly, puts out cans that are right at home packed into a pregame cooler. The company's porter in particular is a nice change of pace. The nearly black brew is complex and heavy on the malt with an appealing tartness that seems almost out of place in a porter. It's not as heavy as many other porters, with fairly gentle carbonation and an easy sweetness that doesn't get cloying after three or four, thanks to a touch of bitterness from the hops. Plus, the brewery's "Gansett Girl" blog makes for some solid conversation around the grill.
Shiner Bohemian Black Lager – No tailgating brew list would be complete without a beer from the heart of Texas. Located west of the Texans and south of the Cowboys, Spoetzl Brewery has been in business since 1914 and the brewery's flagship, Shiner Bock, is a common sight at college and pro football tailgating all over the state and country. But the company also brews up a black lager called schwarzbier. With far more body and lip-smackingly bitter hops flavor than the average lager, it pours a deep black with some ruby highlights. Roasted malt flavors come through clearly, bringing out some coffee and sweetness, but even with the complexity and fairly bold flavors it's easy drinking. There's some unfortunate graininess to the texture, but if there's spicy foods at the party, this is the beer to bring. Though there's some heavy carbonation to the beer, so watch out for some impressively fiery brew-inspired belching.