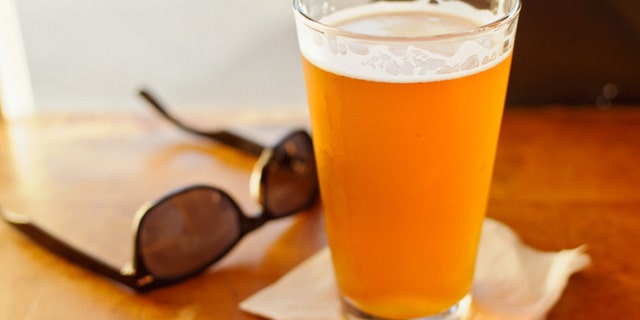 Summer is a thirsty season, one for which beer is tailor-made. Delicious, nutritious and refreshing, beer is a 100%-natural way to unwind after a long, hot day. Even better, beer is so cost-effective that even the finest brews rarely set you back more than a few dollars. From wheat beers and fruit beers to summer ales and brisk lagers, the flavor possibilities are endless, so why not break out of the mass-market mold this summer? Next time you're shopping, check out one of these world-class summer beers, and follow these simple steps: Chill. Sip. Chill. Repeat. Click here for photos of all of the beers
FRUIT/VEGETABLE BEER
21st Amendment Hell or High Watermelon Wheat
Price: $1.80 (12 oz.)
Nothing says summer like watermelon and beer. Known for creating innovative brews and creative monikers, the San Franciscan 21st Amendment Brewery marries summer's favorite fruit with the season's most beloved beverage. This American wheat beer is brewed with real fresh watermelon, resulting in a crisp, dry and refreshing brew with just a kiss of watermelon aroma and flavor. Available from April through September, it's packaged in a can, making it easy to transport to your outdoor summer excursions. At only 4.9 per cent ABV (alcohol by volume), it's light enough to allow one to kick a few back while enjoying a warm summer day.
CZECH PILSNER
Pilsner Urquell
Price: $1.35 (12 oz.)
The pilsner style has long been associated with thirst quenchers enjoyed best during the hot summer months. Pilsner Urquell means "the pilsner from the original source," and rightly so, as it originates from Pilsen, the birthplace of the most favored beer style in the world. Brewed since 1842, this iconic lager with noble Saaz hops grown in the region, soft clear water and Bohemian and Moravian barley is a well-balanced, slightly sweet, malty and hoppy, straw-hued brew that epitomizes the pilsner style. And, unlike the macro-produced American imitators of the pilsner style, it's quite easy to detect hop flavor in this one.
BELGIAN WHITE
Unibroue Blanche de Chambly
Price: $2.40 (12 oz.)
The Belgian-inspired Canadian brewery Unibroue is located in Chambly, a small town near Montreal. Introduced in 1992, its Blanche de Chambly (white of Chambly) was the brewery's first creation, named for its city of origin, and is a Belgian-style witbier packed full of spiciness. It delivers a hazy pour due to the fact that it is bottle-conditioned, meaning that its carbonation is derived from a secondary fermentation that occurs naturally in the bottle. The spicy flavors that are compliments of the coriander, orange peel and Belgian yeast in this brew give way to a smooth wheat beer character. The abundant Champagne-like carbonation in this beer makes it a summer refresher that packs a big punch in flavor. Read a review of Unibroue Quelque Chose, a Top 10 Winter Beer
AMERICAN PALE ALE
Dale's Pale Ale
Price: $1.50 (12 oz.)
Oscar Blues Brewery in Lyons, Colorado, was one of the first American craft breweries to package in cans. In 2002, the craft beer 'canning' pioneer introduced its flagship Dale's Pale Ale. This Rocky Mountain pale ale is setting the standard for quality canned beer and has helped convince many beer aficionados that great beer can come with a pop top. This hearty brew is copper-hued, has a rich aroma and logs in at 6.5 per cent ABV. While definitely hoppy, it's not overly bitter (for those keeping score, it weighs in at a respectable 65 International Bittering Units) and the citrusy hop flavor is backed up with a good dose of malt, resulting in a well-balanced beer.
AMERICAN IPA
Dogfish Head 60 Minute IPA
Price: $1.70 (12 oz.)
Dogfish Head is the first and only brewery to continuously hop its beer during the brewing process, which founder Sam Calagione first accomplished using an old-fashioned vibrating football game. He has since trademarked and patented the process and invented a machine that shoots the hops into the kettle. This beer is so named for the more than 60 hop additions over a 60-minute boil, which gives it an infusion of hop aroma and flavor without being overly bitter. Considered by many to be the gold standard of IPAs, this best-selling beer has become the brewery's flagship offering, and at only 6 per cent ABV it's the perfect session beer for hard-core hopheads. Although brewed on the East Coast in Milton, Delaware, this beer is an homage to the Pacific Northwest, utilizing Warrior and Amarillo hops grown in Washington State. This well-balanced IPA is easy-drinking and has a well-rounded hop character in the aroma, flavor and aftertaste, without too much hop bitterness. If the 60 Minute IPA isn't big enough for you, give their 90 Minute IPA or 120 Minute IPA a try. Read a review of Dogfish Head Indian Brown Ale, a Top 10 Fall Beer
AMERICAN BLONDE ALE
New Belgium Somersault
Price: $1.20 (12 oz.)
This summer quencher is a figure-friendly beer that weighs in at only 130 calories, making it an alternative to traditional 'light' beers. Rest assured, you won't give up flavor with the calories. This easy-drinking, amber-tinted blonde ale tumbles out with a citrus aroma from Centennial hops, and a soft apricot fruitiness paired with subtle ginger root tucked into the flavor. High carbonation contributes to this beer's refreshing finish. Somersault will pair well with a creamy goat cheese, and citrus grilled red snapper will also work well. Beer bonus: New Belgium Brewery, the third-largest craft brewery in the U.S., is an employee-owned company that is decidedly green; it captures methane from a wastewater plant, producing fifteen per cent of its electricity needs and purchases all of its additional energy from renewable sources.
BAVARIAN-STYLE HEFEWEIZEN
Sierra Nevada Kellerweis
Price: $1.50 (12 oz.)
Possibly the best way to end a long, hot day is by enjoying a classic hefeweizen. The brewery best known for its prowess in making the most sought-after pale ale brings us Kellerweis, its take on the Bavarian Hefeweizen style. It's one of the few American-brewed Hefeweizens made using the traditional Bavarian style of open fermentation, a difficult and labor-intensive technique that adds depth and flavor complexity. It uses a Bavarian Hefeweizen yeast strain that imparts a subtle banana and clove complexity along with a bit of lemon tartness and fresh wheat bread flavors. It pours with a huge frothy head and a hazy yellow-orange color, and the smooth malt flavor results in a satisfying refresher. Although many bartenders seem compelled to add lemon to this style, try it without first to appreciate the true taste the brewers intended.
FRUIT BEER
Pyramid Apricot Ale
Price: $1.40 (12 oz.)
Apricot is a flavor often associated with the warm days of summer, but Pyramid Apricot Ale can be enjoyed year-round. This aromatic unfiltered fruit beer has a distinctive aroma of fresh apricot, and is made with 50 per cent 2 Row Pale Barley and 50 per cent Malted Wheat, resulting in a smooth and malty wheat finish. The use of the assertive Nugget hops allows for a hoppy character and a proper balance between bitter and sweet. Capturing the essence of apricot, this highly carbonated brew is refreshing and very flavorful. While distinctively fruity, it's not overbearing. It has been a standard for the Pyramid brewery, the pioneers of wheat beers, since it was first introduced in 1994. This brew will make a good companion for appetizers, salads and desserts.
AMERICAN WHEAT
Samuel Adams Coastal Wheat
Price: $1.40 (12 oz.)
Some feel compelled to add lemon to a wheat beer, but there's no need to add the citrusy fruit to this American Hefeweizen from the Boston Beer Company. A pronounced lemon flavor and aroma comes through, thanks to the addition of the zest of California-grown Eureka and Lisbon varieties of lemon. The result is a balance of citrus tartness and sweetness, which is further offset by the spiciness of Hallertau Mittelfrueh and Spalt Spalter Noble hops. A real thirst quencher, this brew is a crisp and refreshing treat for a hot summer day. An ideal pairing is marrying this beer's citrus character with a tangy Caesar salad to bring out its peppery bite.
AMERICAN PALE WHEAT ALE
Lagunitas Little Sumpin' Sumpin' Ale
Price: $1.70 (12 oz.)
This brewery out of Petaluma, California, is known for using bucket loads of hops. First released as a summer seasonal in 2008, Little Sumpin' became a year-round offering in 2010 after its fans were hoarding it and demanding more. A cross between a wheat beer and an American IPA, it's brewed with three different types of wheat and packed full of hops. Its appearance is of a golden, orangeish, hazy hue, and its aroma and flavors include apricots, peaches, pine, clove, rose petals and spice — all compliments of the citrusy Centennial, Cascade and Citra hops. If you like this one, try its big sister, the Little Sumpin' Wild Ale! It's a higher ABV version fermented with Belgian yeast, which gives it a distinctive spicy Belgian character.

MORE ON GAYOT.com

More Great Summer Beers

Top 10 Sipping Beers

Top 10 Summer Wines