Top 10 outdoor dining restaurants in the US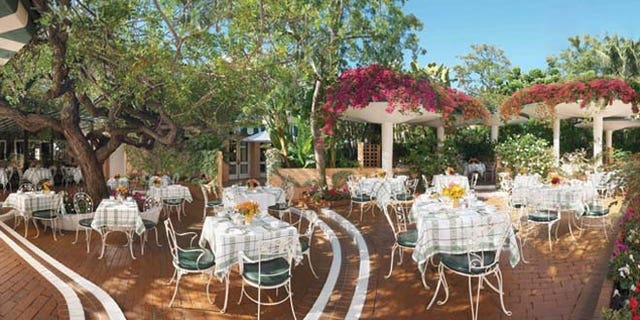 Is there a greater culinary pleasure than dining on good food outdoors on a beautiful day? Whether you want to eat well overlooking the beach, amongst vineyards or under the desert sun, we've got you covered from coast to coast. Feast al fresco at one of these top 10 outdoor dining restaurants in the U.S.
Click here for complete reviews of all of the Top 10 Outdoor Dining Restaurants
230 Fifth
230 Fifth Ave.
New York, NY 10001
212-725-4300

"Wow!" That's usually what's uttered by visitors to this rooftop Malaysian restaurant. The outdoor space is even open year round, with heat lamps plus thick robes to keep diners and imbibers warm during the winter.
Area 31
EPIC Hotel
270 Biscayne Blvd. Way
Miami, FL 33131
305-424-5234

The outdoor terrace at Area 31 offers skyscraper-to-bay-beyond views of Miami from the 16th floor of the EPIC Hotel. It's a perfect backdrop for cosmopolitan cocktails or one of the chef's sustainable seafood dishes.

The Beachcomber at Crystal Cove
15 Crystal Cove
Newport Coast, CA 92657
949-376-6900

The Beachcomber at Crystal Cove is one of the best on-the-beach restaurants in Orange County, California. The oceanfront patio of the Craftsman-style bungalow is a prime spot to enjoy coffee and beignets on foggy early mornings, or maple-glazed salmon as the sun sets.

Comme Ça
The Cosmopolitan of Las Vegas
3708 Las Vegas Blvd. S.
Las Vegas, NV 89109
702-698-7000

Buoyed by his success with Comme Ça in Los Angeles, it was easy for chef David Myers to open a second location in Las Vegas. His French brasserie in The Cosmopolitan of Las Vegas features views of Sin City's Eiffel Tower from its third-floor terrace.

John Ash & Co.
4330 Barnes Rd.
Santa Rosa, CA 95403
707-527-7687

At John Ash & Co. in Santa Rosa, Calif., a retractable glass patio expands the space considerably, allowing summertime guests to experience firsthand the property's surrounding vineyards. The menu features mostly farm-to-table Sonoma County ingredients, including herbs and produce from the restaurant's own garden.

La Mar Cebicheria Peruana
Pier 1 1/2, The Embarcadero
San Francisco, CA 94111
415-397-8880

The patio of La Mar Cebicheria Peruana showcases expansive views of the San Francisco Bay — a plus for an eatery that focuses on the fruits of the sea.

Piccolo Sogno
464 N. Halsted St.
Chicago, IL 60642
312-421-0077

The vast, ivy-flocked patio at Chicago's Piccolo Sogno is ideal for an al fresco Italian feast from chef Tony Priolo, who spent many years at Coco Pazzo.
The Polo Lounge
The Beverly Hills Hotel
9641 Sunset Blvd.
Beverly Hills, CA 90210
310-887-2777

Since its 1941 opening, The Polo Lounge has been a favorite celebrity dining destination in Beverly Hills. The gorgeous patio flowered in pink helps illustrate The Beverly Hills Hotel's nickname, The Pink Lady.
Ray's on the River
6700 Powers Ferry Rd. NW
Atlanta, GA 30339
770-955-1187

Taking good advantage of its position along Atlanta's iconic Chattahoochee River, Ray's on the River captures wide-span views of the riverscape. Many fish choices change seasonally, but you can count on Georgia trout and grouper to be listed regularly.

Rittenhouse Tavern
Philadelphia Art Alliance
251 S. 18th St.
Philadelphia, PA 19103
215-732-2412

In a city that relishes its outdoor dining opportunities, Rittenhouse Tavern manages to stand out from the crowd in Philadelphia. Former Le Bec-Fin chef Nicholas Elmi brings beautifully composed modern cuisine to the table, best served in the restaurant's charming hidden garden.
MORE ON GAYOT.com

Best Outdoor Dining Near You
Outdoor Dining from Coast to Coast
Top 10 View Restaurants Near You
Top 10 Outdoor Dining Restaurants in New York