Top 10 new restaurants in the U.S.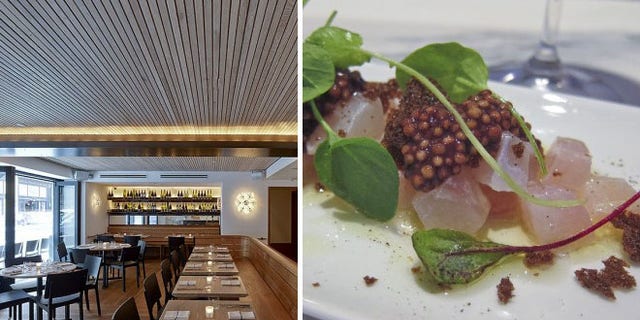 It's no surprise that some of the country's best new restaurants are run by big name chefs. In the West, we see molecular artistry displayed from the likes of Dominique Crenn, while star chefs Michel Richard and Wolfgang Puck bring their polished magic to top hotels. To the East, David Bouley has teamed up with a chef from the Far East — Yoshiki Tsuji of the Tsuji Cooking Institute in Osaka — to open a rarified Japanese spot in TriBeCa. Despite challenging financial times, or perhaps because of them, we can look to these ten exceptional new restaurants to help stimulate our imaginations, our appetites and our gastronomic passions. Click here to read complete reviews for each top 10 new restaurant.
AKA Rittenhouse Square
135 S. 18th St.
Philadelphia, PA 19103
215-825-7030
Look for stylish American cuisine at this new Philly spot that riffs on artisanal flavors and textures in novel small plates.
3127 Fillmore St.
San Francisco, CA 94123
415-440-0460
At her new French spot in San Francisco, Dominique Crenn creates surprising, tiny masterpieces that combine rustic ingredients with arresting molecular techniques.
Blue Morel Restaurant & Wine Bar
The Westin Governor Morris, Morristown
2 Whippany Rd.
Morristown, NJ 07960
973-451-2619
New Jersey scores another culinary ace in the hole at this sleek, seasonal Modern American hotel restaurant, which boasts an extensive wine list.
30 Hudson St.
New York, NY 10013
212-791-3771
David Bouley's new TriBeCa restaurant takes Japanese kaiseki dining to a new level. Read a complete restaurant review of Brushstroke
Caesars Palace
3570 Las Vegas Blvd. S.
Las Vegas, NV 89109
702-650-5921; 877-427-7243
Sin City's new best spot to see and be seen around the clock is star chef Michel Richard's 24-hour restaurant at Caesars Palace.
601 Pennsylvania Ave. NW
Washington, DC 20004
202-628-2888
Italian maestro Fabio Trabocchi spotlights regional dishes from Le Marche at this popular, modern trattoria.
531 N. Wells St.
Chicago, IL 60654
312-929-3501
While the Midwest may be better known for steakhouses than seafood, GT Fish & Oyster throws down the gauntlet — pristine oysters, lobster rolls, barbecued eel and ceviche might turn even hardened carnivores pescetarian.
Bal Harbour Shops
9700 Collins Ave.
Bal Harbour, FL 33154
305-864-8600
At this elegant izakaya-style restaurant from Stephen Starr, chef Makoto Okuwa proves he deserves having his own name above the door.
2202 W. Alabama St.
Houston, TX 77098
713-677-0391
Chef Soren Pedersen shows off his European culinary training and extensive knowledge of local food sources at this modern Houston bistro, which features farm-to-table dining and a chalkboard menu that changes daily.
Wolfgang Puck at Hotel Bel-Air
Hotel Bel-Air
701 Stone Canyon Rd.
Los Angeles, CA 90077
310-909-1644
After a massive refurbishing, the exclusive Hotel Bel-Air has put Wolfgang Puck in charge of the signature restaurant, where he dazzles with his own inimitable Cal-Med fare. Read a complete restaurant review of Wolfgang Puck at Hotel Bel-Air
MORE ON GAYOT.com
More New & Notable Restaurants across the U.S.
New York's New & Notable Restaurants
The Top 40 Restaurants in the U.S.