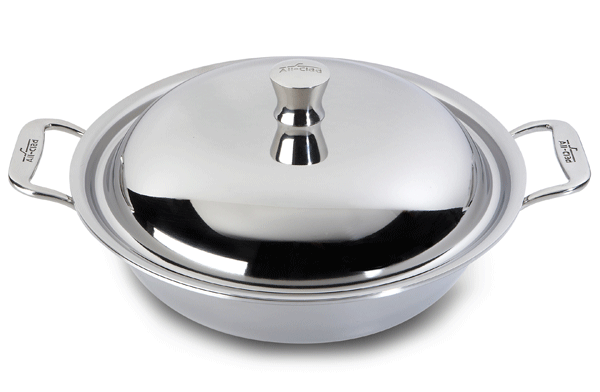 As the old saying goes, a cook is only as good as his or her tools. Why not give that special someone on your holiday list (who incidentally loves to whip you up delicious meals) the proper kitchen devices.
Some of these gadgets are cool. Some of them make cooking easier. All of these gadgets are designed for people who love to cook.
1. Microplane's Easy Prep Meat Tenderizer looks like a mini-buzz saw. Rock it back and forth across a steak and its mini-blades break down tough fibers sans pounding. Great for prepping before marinating. $19.95.
2. A Wüsthof knife can cost as much as a night on the town but it will be the last knife you ever buy. Wüsthof's new Vegetable Knife has holes along the cutting line that stop potatoes, squash, apples, etc. from sticking to the blade. $149.95.
3. All-Clad's All-American Casserole may cause sticker-shock but this pan can will last a lifetime. Stove-top-to-oven versatility means you can use it to cook chili, pan-roast chicken, bake cobblers, sear and roast tenderloin. Then carry it to the table and serve. It's that pretty. $199.95. Williams-Sonoma.
4. OXO's Corn Stripper quickly and easily strips the corn from the cob and catches it, too. Frozen is fine, but nothing beats fresh corn in a chowder or salad. $12.99.
5. Sharp's Steamwave Oven revolutionizes countertop cooking. With sensors galore, it steams, grills and microwaves. Just not all at the same time. $699.85.
6. The silicone LED Grill Light hooks onto a grill handle so Dad doesn't have to hold a flashlight in his teeth when grilling in the dead of winter. $19.95. Sur La Table.
7. Williams-Sonoma's Zoku Single Pop Maker makes a quick, healthy sweet treat for kids in no time. It turns out an ice pop in seven minutes flat. $24.95.
8. Sur La Table's Better Batter Whisk simultaneously scrapes and whisks. No more stopping and scraping down. Perfect for cake batter, frosting, sauces, gravies and melting chocolate. $11.95.
9. Sharp's PCI Air Purifier promises to eradicate odors from the air --and it does. Formerly tantalizing cooking aromas turn into eeewww-what's-that-smell a few days later. Sharp's PCI Air Purifier promises to eradicate odors from the air. It does. Bye-bye Brussels sprouts. $299.99.
10. Slap Sur La Table's Spill Stop Lid on a pot of boiling potatoes or pasta and boil-overs will be a thing of the past. $29.95.