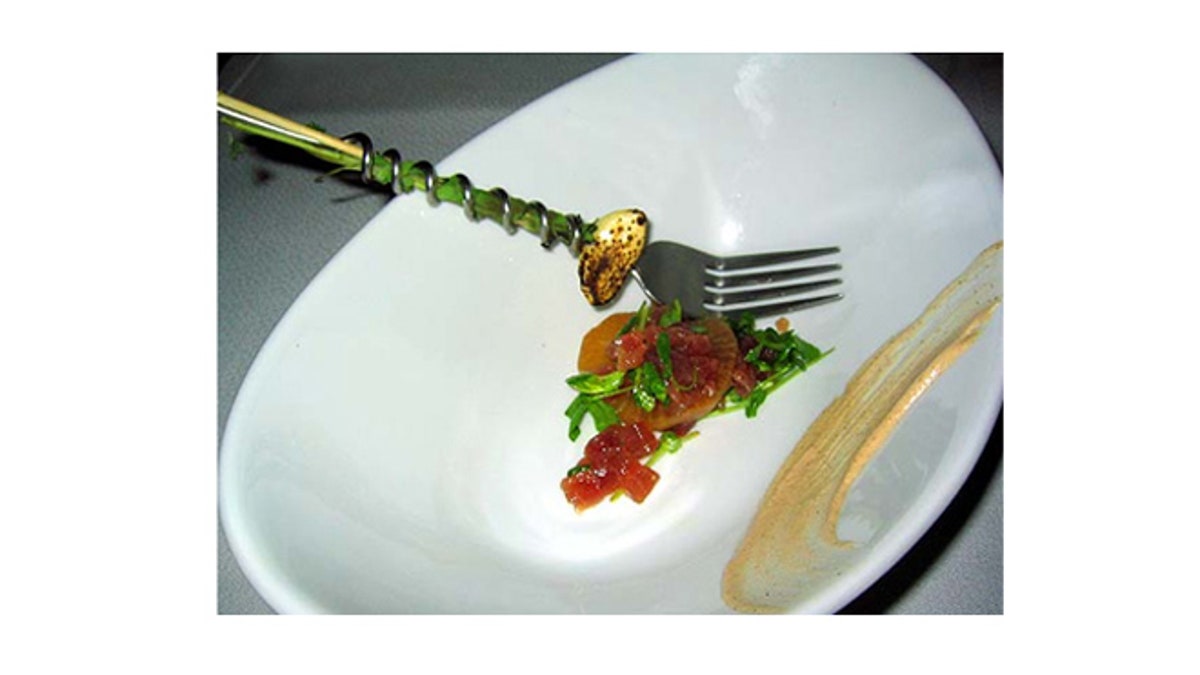 Molecular gastronomy — in which avant-garde cooking techniques and equipment are used to transform flavors and presentations — may be a divisive issue within the culinary community, but there's no doubt that some chefs create molecular cuisine that is not only thought-provoking but also revolutionizes the palate. Experience the best of this exciting epicurean frontier at these Top 10 Molecular Gastronomy Restaurants in the U.S., presented in alphabetical order. Cliock here for restaurant reviews of all Top 10 Molecular Gastronomy Restaurants in the U.S.
Alinea
1723 N. Halsted St.
Chicago, IL 60614
312-867-0110
Enjoy the well-crafted and oddly presented dishes, perhaps served on the tip of a skewer or a steel string swing, and you'll understand why this aptly named eatery is unlike any other American restaurant.
AnQi Gourmet Bistro by Crustacean
South Coast Plaza
3333 Bristol St.
Costa Mesa, CA 92626
714-557-5679
The cuisine at AnQi Gourmet Bistro by Crustacean takes cues from molecular gastronomy — starting with hand crafted cocktails such as the lemon foam-topped "Viet-no-jito" and carrying on such touches through the meal until dessert.
Atelier Crenn
3127 Fillmore St.
San Francisco, CA 94123
415-440-0460
In Dominique Crenn's fanciful atelier, dishes are served bathed in dry ice fogs, atop pristine logs, and in myriad unusual presentations that feel taken from a Tolkien novel.
Baumé
201 S. California Ave.
Palo Alto, CA 94306
650-328-8899
At Baumé, chef Bruno Chemel's passion for molecular gastronomy is expressed through various foams, spheres and dry ice preparations.
The Bazaar by Jose Andres
SLS Hotel at Beverly Hills
465 S. La Cienega Blvd.
Beverly Hills, CA 90048
310-246-5555
The master behind the molecular creations at The Bazaar is famed Spanish-born chef José Andrés, whose imagination is as big as his smile and charming personality. Enjoy a complete restaurant review and photo gallery of The Bazaar by Jose Andres
The French Laundry
6640 Washington St.
Yountville, CA 94599
707-944-2380
Since its opening in 1994, The French Laundry has compelled zealots from around the world to make pilgrimages to experience the culinary wizardry at work here.
Hugo's
88 Middle St.
Portland, ME 04101
207-774-8538
A regionally focused and always inventive culinary journey awaits at this Maine restaurant.
Moto
945 W. Fulton Market
Chicago, IL 60607
312-491-0058
Chef Homaro Cantu of Moto breaks all the rules, blazing trails that are both uncharted and titillating for those who view dining as a theatric, multi-sensory affair.
Nine-Ten
Grande Colonial Hotel
910 Prospect St.
La Jolla, CA 92037
858-964-5400
Chef Jason Knibb merges his Jamaican roots with successful experiments in molecular gastronomy at his SoCal restaurant.
wd-50
50 Clinton St.
New York, NY 10002
212-477-2900
Chef Wylie Dufresne has made a name for himself as a chemist and provocateur with his eccentric cuisine at wd-50 in New York. Check out a complete restaurant review and photos of wd-50
MORE ON GAYOT.com
All About Molecular Gastronomy
Check out "Top Chef" winner Michael Voltaggio's Molecular Dishes
A Look inside a Food Science Laboratory