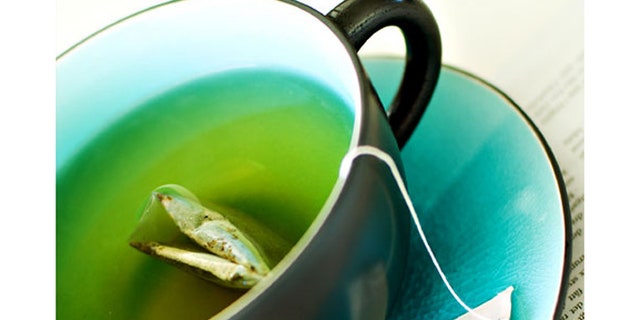 It isn't easy being green, at least when it comes to tea.
Despite its myriad health benefits, the brew still isn't as popular as its black variety cousin nor, of course, coffee. But slowly, people are wisening up to the fact that it can fight cancer and heart disease and lower bad cholesterol, and are starting to develop a palate for its delightful grassy flavor. If you're still new to this variety of Camellia sinensis, you will love the examples featured on this list, which contains many fruit-flavored "beginner's" green teas that balance the beverage's characteristic vegetal taste with other nuances, from coconut to mint. In that sense, this collection of top green teas isn't for purists who prefer their green tea unadulterated. But even longtime aficionados might find cool new offerings, including one that is made from Eleuthero (a cousin of ginseng) but which looks and tastes just like the best of its true green tea mates. Here's to going green.
Art of Tea Tropical Green Tea Pineapple
Price: $13 for 2.5 oz (avg. 40 cups)
This organic Art of Tea medley is a lovely intro into the complex world of green tea, easing you into its grassy flavors — which can be an acquired taste — with the help of safflower, cornflower, mango and bits of dried pineapple and papaya. The earthy green blend with a burst of passion flowers is great for an afternoon reviver.

Harney and Sons Green Tea with Thai Flavors
Price: $9 for 20 sachets

One of our favorite tea purveyors, the family-run Harney & Sons, makes this splendid, mellow, blended green tea spiked with coconut, vanilla, lemongrass and ginger. The delicate leaves should be steeped just three minutes. Available in silken sachets or loose.
Infuse Your Mood
Price: $8 for 20 tea bags
Infuse Your Mood tea from Sun Chlorella USA looks green, tastes green (in fact, it boasts a delicious, creamy, vegetal flavor) but is not made from the leaves of Camellia sinensis. Why then does it grace our list of the best green teas? Because it tastes greener and more well-rounded than many green teas we have encountered and because it is made from 100 per cent Eleuthero, a relative of ginseng. Eleuthero is considered an adaptogen, a metabolic regulator which has a balancing effect on the sympathetic nervous system. This means that it can calm you when you are stressed out and at the same time energize you when you feel tired. We have found this to be absolutely true after sipping a cup of this magic brew.
Numi Organic Gunpowder Green Tea
Price: $15 for 54 tea bags
Here's one of our favorite offerings of the Gunpowder tea variety. These are steamed leaves that are rolled up into tight pellets that explode with flavor once they are steeped in hot water — the smaller the pearls, the higher the quality. These organic, halal-certified and kosher beads from Numi deliver a kicky vegetal flavor.

Shangri La Organic Tropical Orange Green Tea
Price: $10 for a box of 15 silken pyramid bags
Shangri La's Organic Tropical Orange Green Tea has become our favorite pick-me-up. It tickles the nose with tantalizing orange aromas. On the palate, you get less orange, which is too bad, but instead you are treated to coconut and well-rounded tropical fruit flavors, which are just as awesome. Don't steep it too long, as it will turn bitter, killing the delicate flavors. All of Shangri La's tea gardens are Rainforest Alliance members, with strict standards for worker and environmental protection.

The Steven Smith Teamaker No. 39 Fez
Price: $14.99 for 15 sachets in string-tie carton box; $5 for 2 oz loose leaf
Get your fez on with Steven Smith Teamaker's No. 39. We like all of their teas' elegant, somewhat masculine packaging but we love what's inside. The Portland-based company's No. 39 "Fez" features spring-harvested Mao Feng full-leaf green tea from China with just the right amount of spearmint and myrtle, making the whole concoction nicely vegetative and just ever so faintly fresh and minty.
Teavana Blackberry Mojito Loose-Leaf Green Tea
Price: $7.80 per 2 oz. (25-30 cups); $15.60 per 4 oz.
Aside from its name, Blackberry Mojito Green Tea has nothing at all in common with the popular rum drink. Yes, it features mint, but its aroma reveals hibiscus flowers and raspberries while showing apple and plum on the palate. Blended with blackberry, raspberry, plum, apple, mint and green tea, it's lovely on the rocks on a warm summer day!

Thé du Hammam
Price: $14.50 for 20 sachets

This green tea-based melange, flavored with orange blossoms, rose petals, red fruits and green dates, originates from a traditional Turkish recipe. It's named after the evocative scent used to perfume hammams in the old days. It is elegant, comforting and soft without being weak, with a warmth that balances the grassiness of the Chinese green tea. We suspect its very unique, very distinctive flavor comes from the addition of dates. Le Palais des Thés' top-seller, Thé du Hammam can be purchased as loose leaves or in muslin sachets.
The Tea Spot - Meditative Mind Tea
Price: $10 for 2 oz loose leaf tea
This organic blend hits the spot with a tantalizing mix of green and white leaves, plus delicate rosebuds and jasmine. The cheery, golden color of the Meditative Mind brew gives way to a balanced taste, which is refreshing on its own or can be embellished with a dollop of honey. The jasmine pearls offer a soothing aroma while the rosebuds, touted for their anti-depression and anti-anxiety effects, promote a blissfully relaxed state. Om!
Zhena's Gypsy Tea Egyptian Mint
Price: $36 for 6 tins of 22 sachets (also available as loose leaf)
This organic, biodynamically grown Ceylon green offering is a perfect "gateway" tea for people just learning to love the distinct grassy taste of green tea. The Egyptian peppermint is both soothing and refreshing. If you're a purist expecting traditional flavors, this may not be for you, but if you have a fondness for mint, you will enjoy this winning combination with its hint of South American Stevia. Also fair trade-certified, gluten-free, kosher and GMO-free.
MORE ON GAYOT.com
More Tea Reviews
Learn about the different types of tea
More Gifts and products for Tea Lovers