While we all enjoy a wedge of lime or lemon with our beers on occasion, including fruit in the actual brewing process is still relatively novel. Belgians were the first to experiment with fruit, adding raspberry and cherry into the mix, and today brewers have taken things even further, sweetening their suds with apples, blueberries, bananas and more.
Take a look at Gayot.com's list of the top 10 fruit beers to find everything from tart lambics to crisp saisons to creamy strawberry beer.
1. Raspberry Redemption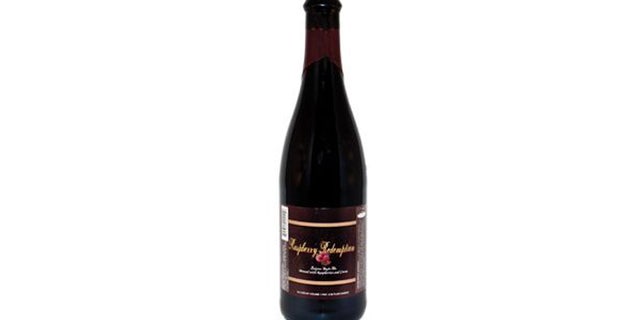 Joseph James Brewing Company - Henderson, NV
This microbrewery in Henderson, Nevada, is not shy about making extreme beers. Their Raspberry Redemption contains no sweet, syrupy fruit concentrate, but rather loads of the real McCoy. Eighty pounds of fresh raspberries are added during the boil. After the beer is done fermenting, it's transferred onto another 600 pounds of fresh raspberries, where it sits for three months, soaking up the true flavor of the fruit. Fifty pounds of Hershey's raw cocoa and Belgian candi sugar are also put in while the beer is cooking, which provides some sweet balance to the tartness of the true raspberry flavor of this beer. After bottling, this brew goes through a secondary fermentation, providing a natural carbonation, so this bottle-conditioned beer will have some natural yeast sediment left in the bottle after pouring.
Style: Belgian-Style Dubbel
ABV: 8.5 percent
Price: $11.99 for 750 ml
2. Lindemans Pomme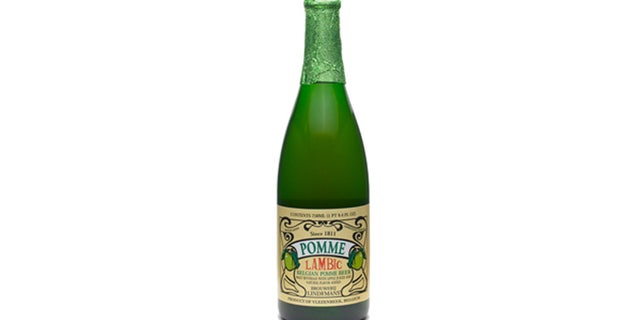 Brouwerij Lindemans - Vlezenbeek, Belgium
The Lindemans brewery has its roots as a family farm with a small brewery that began the commercial brewing of lambic ales in 1811. The fruit seasoning this lambic is apple (pomme is French for apple). Long before hops were common in most beers, fruits and herbs were used as bittering agents! As with all Belgian lambics, immediately after being brewed the beer is left in vats open to the outside air, where it is fermented by a variety of wild yeasts. The yeast provides plenty of tartness, as do the fresh apples that are added during a secondary fermentation. This apple lambic pours a light golden hue with a thick foamy head of tightly packed bubbles. An aroma of sweet and sour apple dominates, which may remind you of a Sour Apple Jolly Rancher candy. A Granny Smith Apple sweet and sour flavor continues as you sip, with sweetness up front turning to tartness in the aftertaste. Unlike ciders, which tend to be overly sweet, this lambic has other complexities compliments of the yeast. This beer has a diminutive 3.5 percent alcohol content, making it easy drinking.
Style: Lambic/Fruit
ABV: 8.5 percent
Price: $5.89 for 12 oz
3. Tangerine Wheat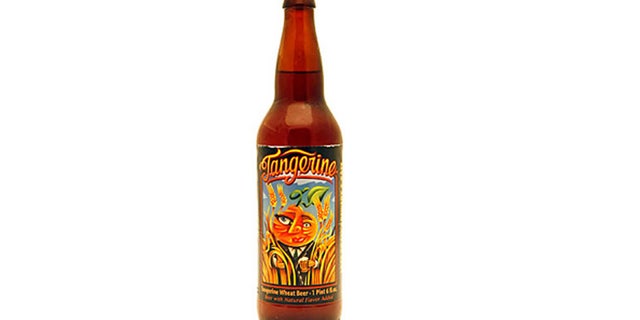 Lost Coast Brewery - Eureka, CA
One of the few breweries to be founded by women, Lost Coast Brewery in California's Humboldt Bay region began in 1986 when homebrewers Barbara Groom and Wendy Pound wondered what it would be like to open their own brewpub. From its humble beginnings, Lost Coast has grown exponentially and is now the 49th largest brewery in the U.S. and 36th largest craft brewery in the nation. This wheat beer pours a beautiful burnt orange honey color. Its aroma is anything but subtle and will remind you of a freshly peeled tangerine. Upon tasting, this beer makes a transformation, with an initial flavor delivering a mild tangerine sweetness that, after swallowing, turns into a tangy aftertaste with bitterness reminiscent of tangerine peel zest. Both flavors blend well with the combination of wheat and crystal malts and Perle finishing hops. Tangerine Wheat is one of Lost Coast's two fruit beer offerings, the other being its Raspberry Brown.
Style: Fruit Beer
ABV: 5 percent
Price: $3.69 for 12 oz
4. #9 Not Quite Pale Ale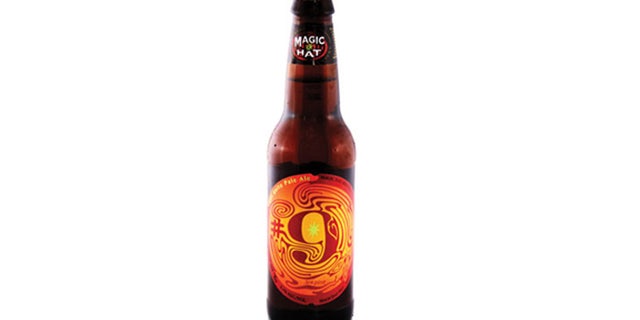 Magic Hat Brewing Company - South Burlington, VT
Magic Hat's flagship beer is shrouded in mystery, prompting questions such as: 'Why is it not quite a pale ale?' and 'What does the number 9 signify?' The answer to the first question is simple, albeit long: This beer is brewed with apricots, and while the aroma is loaded with this key ingredient, its flavor comes across with a subtle, citrusy sweetness with a touch of tartness, just as in the actual fruit. Fermented with the brewery's 150-year-old strain of top-fermenting English yeast, it's light-bodied and has mild hop bitterness, which are atypical of the average pale ale; hence it's not quite a pale ale. As for the mystifying #9, the brewery won't reveal its secret. Be sure to examine the inside of the bottle cap, which includes cryptic messages such as, "This cap will self destruct in 10... 9..." This beer is not for everyone, but if you like apricots, you'll probably enjoy it.
Style: Fruit Beer
ABV: 5.1 percent
Price: $7.99 for a six-pack
5. Peach Porch Lounger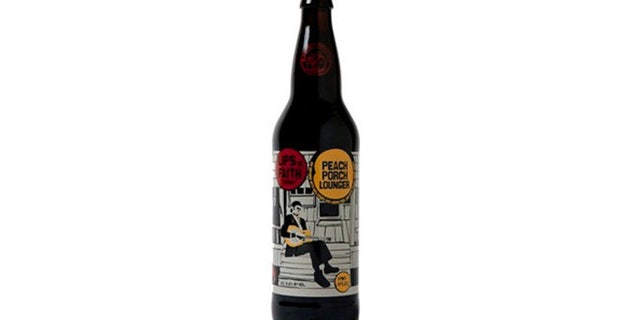 New Belgium Brewing - Fort Collins, CO
Released in 2012 as part of New Belgium Brewing's Lips of Faith series, this ale was crafted in honor of alternative hip hop and blues musician G. Love, a huge fan of the brewery who has been home brewing since high school. The hand-drawn label mimics the cover of The Hustle, the album containing his "Front Porch Lounger" tune this beer is named for. This saison contains peach juice, molasses, grits, biscuit malt, lemon peel and Brettanomyces yeast. The peach juice adds a sweet complement to balance the spicy Belgian funk from the yeast; and the bevy of other ingredients results in a complex, citrusy and tropical fruitiness. At a sturdy 9.4 percent alcohol strength, this beer is meant for sipping. Since G. Love wrote "Front Porch Lounger" on a porch, we recommend a porch as your perch for this peach.
Style: Saison/Farmhouse Ale
ABV: 9.4 percent
Price: $8.49 for 22 oz
6. Three Philosophers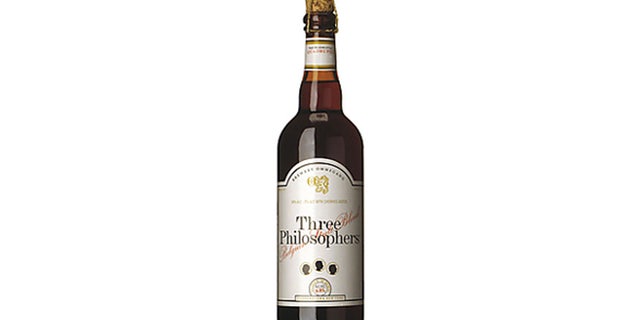 Brewery Ommegang - Cooperstown, NY
This interesting take on a Belgian style is actually partially authentically Belgian, as it's a blend of 98 percent Ommegang Quadruple from Cooperstown, New York, and 2 percent Liefmans Kriek, a cherry lambic from Belgium. The aroma is heavy with tart cherry and dark fruits, with a sweet malty backbone. Considering the small percentage of cherry lambic in the blend, it's not surprising that the cherries are not a main player in the taste profile. But the lambic nonetheless adds to the complexity of this malt-heavy ale. We also appreciate that the cherry character is tart rather than sweet, and that it shows primarily in the aftertaste. Typical for a quadruple, the alcohol strength is nearly 10 percent with a balance of sweet and savory.
Style: Quadruple
ABV: 9.8 percent
Price: $9.95 for 750 ml
7. Samuel Smith Organic Strawberry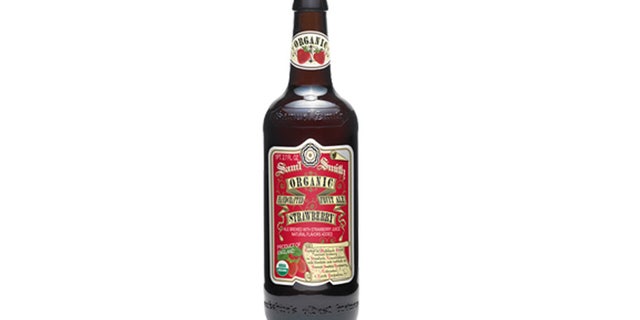 Melbourn Brothers All Saints Brewery - Stamford, Lincolnshire, England
This fruit beer is brewed and fermented at the small and historic Melbourn Brothers All Saints Brewery in Stamford, Lincolnshire, England, and then blended, conditioned and packaged at Samuel Smith's The Old Brewery in Tadcaster, North Yorkshire's oldest brewery. Not much has changed since the All Saints Brewery began brewing in 1825. Its manually operated brewing equipment still in use today includes an ancient grist mill and copper brewing vessels. The Lincolnshire region is known for producing excellent fruit such as the organic strawberries used in this ale. The bouquet of this beer boasts the authentic scent of fresh, ripe strawberries. It is spontaneously fermented with wild yeast, and while the complex yeasts contribute toward tart and sour flavors similar to a Belgian lambic, strawberry juice adds some sweetness to the balance. Strawberry, though a bit subdued, is the dominant flavor, and is further balanced by a creaminess and a touch of bitterness from the hops.
Style: Fruit Beer
ABV: 5.2 percent
Price: $5.99 for 18.7 oz
8. Smashed Blueberry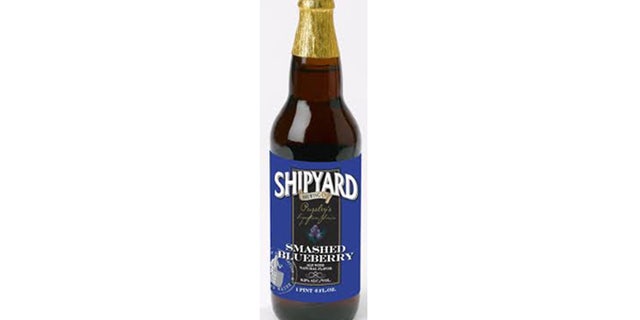 Shipyard Brewing Company - Portland, ME
Part of the Pugsley's Signature series, named after Shipyard Brewing Company's Master Brewer Alan Pugsley, this beer is a hybrid between a Porter and a Scotch Ale. Roasted barley and chocolate malt give it its Porter-like, dark brown color and chocolaty richness, while its English ale yeast and robust 9 percent alcohol strength place it in the parameters of a Scotch ale. The aroma is dominated by natural, fresh blueberry joined with scents of coffee and cocoa. The blueberry is present in the flavor, but subtle, just as this fruit is typically known to present itself. Those who don't care for fruit beers should like this one, as it's not your normal summer fruit beer.
Style: Fruit Beer
ABV: 9 percent
Price: $8.99 for 22 oz
9. Éphémère Blackcurrant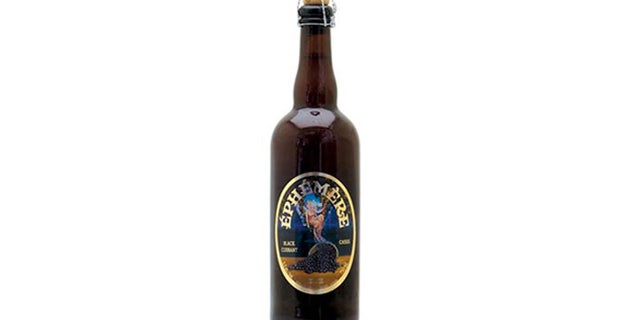 Unibroue - Chambly, Quebec, Canada
Made by the Belgian-inspired Canadian brewery Unibroue, this offering proves you don't have to be a Belgian to brew like one. The white ale features cassis (blackcurrant), a dark berry native to central and northern Europe as well as Asia. Its appearance is a thing of beauty, with pale red, pinkish hues merging into a white head. An aroma of citrus and spice comes through thanks to the Belgian-style yeast used in this wheat ale base. Only a touch of sweetness is noticeable, as the dry, tart flavor of the fruit is allowed to dominate. Crisp and refreshing, this highly carbonated, Champagne-like, effervescent ale is packaged with a cork and cage. Uniborue also makes an Éphémère Apple beer.
Style: Fruit Beer
ABV: 5.5 percent
Price: $7.99 for 750 ml
10. Wells Banana Bread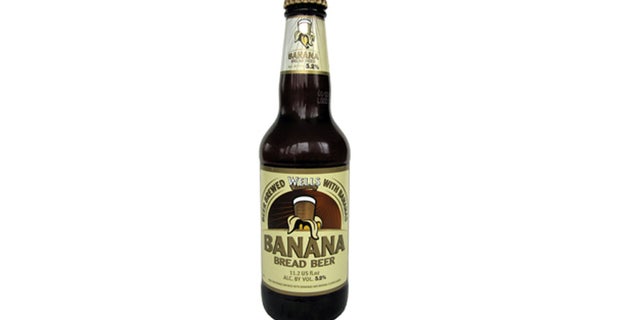 Wells & Young's Brewing Company - Bedford, England
Bananas may be one of the last fruits one would think of to put in beer, even though they are the preferred fruit of many. Produced by Wells & Young's Brewing Company in Bedford, England, this traditional English bitter is a dark golden ale made with fair trade bananas. Its aroma of banana and wheat may remind you of childhood memories of waking up to the smell of your mother baking this dessert bread. Up front, the banana flavor comes through and is blended with a backdrop of toasted malt for a bread-like taste similar to the baked good it's named for. The finish is dry and slightly sweet, and while it's perfect for dessert, this brew still tastes like a beer and is easy to drink.
Style: English Bitter/Fruit Beer
ABV: 5.2 percent
Price: $4.99 for 500 ml
More from Gayot.com
More Information and Photos of the Top 10 Fruit Beers