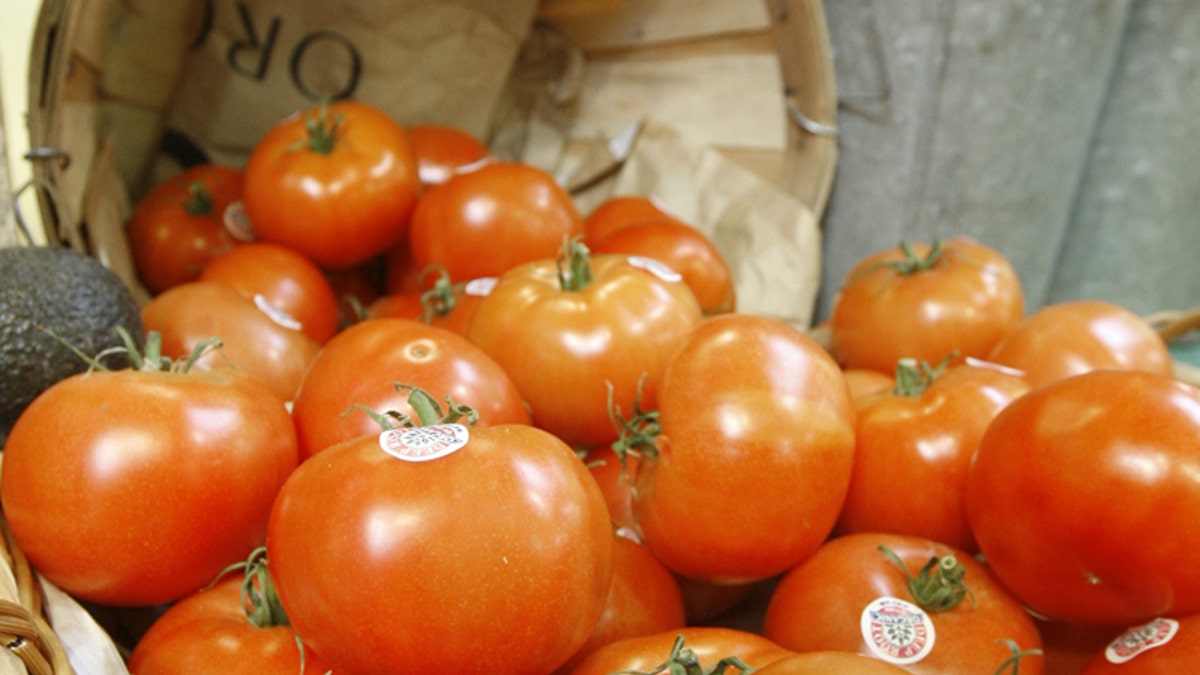 The high price of tomatoes and peppers has Mark Paradis teaching his culinary students a new lesson — substitutions.
"I haven't even contemplated buying one," Paradis, purchasing coordinator for Southern New Hampshire University's culinary school, said of vine-ripened tomatoes. His supplier's price for the produce recently doubled to $50 for a 25-pound case.
He also is trying to wean his chefs off fresh bell peppers, switching to canned and roasted ones instead.
"You're not going to see a fresh pepper as a garnish," he says. "If you're doing a salsa, you're going to have to do a roasted one, which means you're not going to have that crunch."
A cold snap wiped out much of Florida's tomato crop at the beginning of the year, causing wholesale prices nationwide to spike. Meanwhile, prices on peppers have more than doubled, sometimes to as much as $3 per pepper, according to federal data.
For people like Paradis, it has meant reducing his tomato order from four cases a week to one, and switching varieties. These days, he's buying plum tomatoes, an oval-shaped variety with a hardier skin and longer shelf life.
But how about at home, where fresh pasta sauce suddenly feels like an extravagance?
Supermarket tomatoes can now cost as much as $2.99 a pound, a 26 percent increase over last year. Red peppers can run as much as $3.49 per pound.
To satisfy your craving for salsa or for crunch and color in your salads, chefs and cooking pros offer one word: substitution.
Last summer, when tomato blight hit the East Coast, sustainability advocate and cookbook author Terry Walters made her salsa from tomatillos, a tomato-like husked fruit related to the gooseberry and frequently used in Mexican cuisine.
"Tomatillos are a great substitute," she says. "They're firm on the outside, they're a little crispy. They're great with the same flavors — olive oil, cilantro, fresh basil."
As for soups and classic pasta sauces, head to the center aisles of the grocer. Canned tomatoes can sometimes be better than fresh, especially before the hot summer brings tomatoes into their full glory.
"I would rather use good canned tomatoes out of season than a crummy hot house one," says cookbook author Mollie Katzen. "And what makes a pasta saucy doesn't need to be tomato. It can be olive oil and garlic."
Fresh tomatoes also can be stretched in, Katzen says, by using just one or two to coat a chunky mixture of cauliflower, onions, zucchini and other vegetables.
For salads, Katzen says, move away from the tomato-pepper-onion model and focus on fruit-nut-cheese salads, such as baby spinach with strawberries, walnuts and crumbled feta cheese.
But more than anything, these and other professionals say, the current shortage of tomatoes and peppers offers an opportunity to eat seasonally and locally, and to expand your vegetable repertoire.
"Spring is here!" says Andrew Swallow, co-founder of Mixt Greens salad boutiques, and author of the upcoming "Mixt Salads" cookbook. "Some of the best things in the world to put in salad are sugar snap peas, English peas, fennel, green garlic, spring onions. You have so many wonderful things in season that are being grown right now, you really shouldn't have to eat tomatoes. It's the same thing with peppers."
The local farmers market is the place to start. Perusing the stalls can open a world of new, tasty choices, such as crunchy watermelon radishes, baby yellow beets and cipollini onions, the sorts of produce that escape the notice of most supermarkets.
"One novelty item last year was husk tomatoes," Walters says. "You pull the husk back and they taste like a combination of tomato and strawberry. You're not going to find those at your grocery store. But you might find them at a farm stand or your local farmers market. And sometimes the search for the food is as nourishing as the food itself."
And one thing to remember: tomatoes and peppers actually are summer fruits. There's only a shortage if you think you should be eating them all year, which goes against the notion of local, sustainable eating to which most chefs subscribe.
"You shouldn't be eating tomatoes anyway," Swallow says. "They're not in season."