'Titantic' villain Billy Zane tapped as new Colonel Sanders to debut 'Georgia Gold' chicken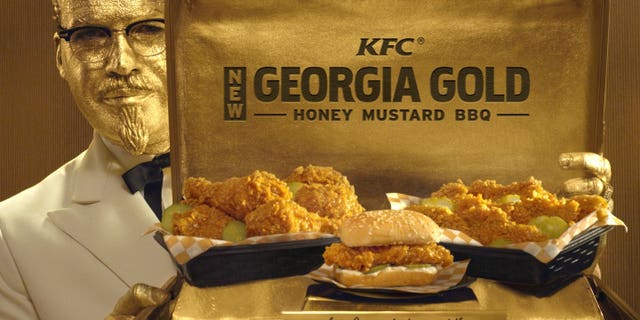 On the heels of its successful Nashville Hot Chicken, KFC is bringing a new regional favorite to the masses later this month.
Georgia Gold Honey Mustard chicken is basically fried chicken dipped a thinner version of honey-mustard dipping sauce. The chain says its version goes easy on the mustard, however, and diners who prefer something sweeter will flock to this.
The popular fast-food chain known for it's unique marketing campaigns is also bringing in a colonel to to be the gilded face of the Georgia Gold chicken.
And it's a little zany.
KFC UNVEILS DREAMY, YOUNGER-LOOKING COLONEL SANDERS
Actor Billy Zane, best known as the villainous Cal Hockley in 1997's "Titanic," is the new face behind the mustache and goatee. Zane will be playing the iconic Colonel Sanders in new campaigns to promote KFC's newest dish.
According to Adweek, the 50-year-old Zane was tabbed to play the colonel because of his history playing wealthy men on screen.
"Cal from Titanic was evil, and our colonel isn't evil. But the idea is to have an irreverent, playful take on things," said KFC CMO Kevin Hochman.
Zane's look in the new campaign is golden. Literally.
Dressed in the white suit and black tie, Zane appears coated in gold paint while walking around a gold-colored office. The golden look ties in with the chicken's distinctive glistening yellow hue.
"The whole idea of the campaign is, you don't have to be a millionaire to eat like one," Hochman said. "Billy Zane's playfulness comes through in the ad."
FOR THE LATEST FOOD FEATURES FOLLOW FOX LIFESTYLE ON FACEBOOK
Zane's turn as the legendary Colonel is just the latest in a series of KFC promotions utilizing different famous faces. In December, KFC released a "Nashville Hot record" album to promote their "Nashville Hot" chicken with tunes from SNL-alum Fred Armisen.
And in October, the chain ran ads featuring former "Mad Men" star Vincent Kartheiser as Colonel Sanders.