Tips on melting chocolate and hearts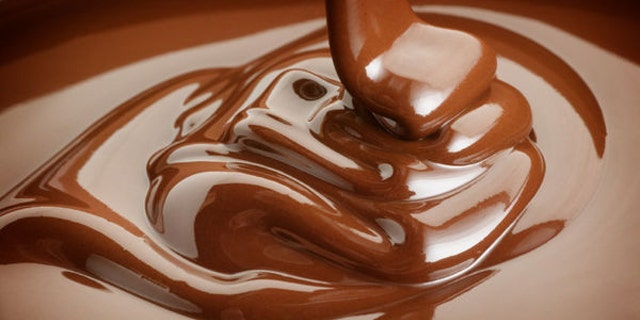 You've been watching it happen for weeks now – shiny, red, heart-shaped boxes of chocolates tied up in pretty pink and white ribbons piling up on store shelves, beckoning you to buy a dozen or so ooey-gooey sweets for your sweetie.
And if you did, you wouldn't be alone—over a billion bits of the mouth-melty bon-bons are sold in the U.S. each year for Valentine's Day.
But if your go-to of Godiva is making your yearned-for yawn, maybe up the ante this year by getting hands on—in the kitchen-that is. Making chocolate sweets might seem tricky --but, say experts, the key is know how to melt it like a pro.
"Chocolate has strong anti-oxidents and no cholesterol," says master chocolatier, chef Vivien Reimbelli of Perugina, the over 100-year-old Italian bean-to-bar chocolate making company, best known for their chocolate-covered, silver foil-wrapped, hazelnut confections, the Baci (which, fittingly, means kisses in Italian).
Check out how to make Baci in your own home.
And he's right. Since it was discovered by ancient Mayan culture, who were sipping ground cacao beans all the way back to at least 500 B.C., dark chocolate especially has shown itself to be not only good for the romantic heart, but the healthy one, too.
Studies show that, like olive oil, the purest forms of dark chocolate are full of healthy, monounsaturated fats. It reduces blood pressure, blood clotting, and improves blood flow to the brain. Chocolate contains the mood-boosting anti-depressant, serotonin, stimulates pleasure-pleasing endorphins in the body. And if you learn a kitchen trick or two, it can be a relationship-booster as well.
Making chocolate treats at home isn't as hard as you might think. If you happen to live in New York City and can get over to Italian food emporium Eataly, you can learn from Reimbelli himself today at 2pm and 6:30pm, respectively, in his duo of chocolate-making classes from Perugina's recently launched Scuola del Cioccolato.
But if not, never fear—chocolate making, says Reimbelli, is truly all in the wrist. "You have to stir, stir, stir!" he says of the process known as tempering, the method of melting chocolate and bringing it to just the right temperature. But finding a good bar of chocolate is first and foremost.
"You want a better-quality chocolate with a higher percent of cacao and less sugar. The regular grocery store stuff is much lower end, with more sugars, extracts, and additives than you want," says Katie Kimble, pastry chef and co-owner of the Cambridge, Mass.-based bakery and eatery, Area Four. Still, Kimble says, you don't have to seek out a special secret baker's haunt to find a decent bar.
"Go to Whole Foods and you can get much better quality chocolate that's still accessible, like Callebaut, a good quality, every day chocolate." Also, always store it in a cool (not cold—the 'fridge not being a good spot) dry, odor-free spot in your kitchen separate from other foods, advises Reimbelli, as chocolate can absorb odors easily.
When you're ready to get to tempering, be sure to set aside a good hour of time, says Kimble.
Fill large pot about three-quarters full with water, and set a medium to large stainless steel bowl inside, as stainless holds temperatures better and longer. Break your chocolate into quarters. Put about three-quarters of your chocolate in the bowl, set your flame or burner to medium-high heat, and start stirring.
"Melt it down until it's about 122 degrees F, stirring constantly. Once it's melted, pull it off the flame, and take half of the remaining chocolate and stir it in, agitating the chocolate for about 20 to 30 minutes until it cools it down and slowly gets it to actual structure that you need," says Kimble.
Add in half of the remaining the chocolate, and stir, stir, stir until a digital thermometer reads about 81 degrees F. Add in the rest and agitate constantly until the temperature rises to 90 degrees F.
If you want to make super-duper sure that the chocolate is at the right, silky consistency, Kimble advises coating the back of an everyday spoon with chocolate, tapping off the excess, and allowing to sit for 5 to 10 minutes.
"It should get matted, but remain slightly shiny as it hardens," she says. And don't worry about the brunt of your chocolate getting too hard while you wait. Your stainless steel bowl will hold the temperature for a while, but if you do notice the edges starting to harden, "You can constantly reheat and re-temper and keep working it," says Kimble. "That's the great thing."
At this point, you're ready to make sweets for (or with) your sweetie.
Kimble advises using anything from fresh fruit (strawberries are a classic) to dried fruit to pretzels to for dipping, or pouring the tempered chocolate into molds (easily and inexpensively found at craft stores like Michael's) and allowing the chocolate to harden. It's also a great, easy project to do with kids for the heart-shaped holiday.
"Kids like licking their fingers after the fact," laughs Kimble. And some adults do, too.