Throw mom a tea party this Mother's Day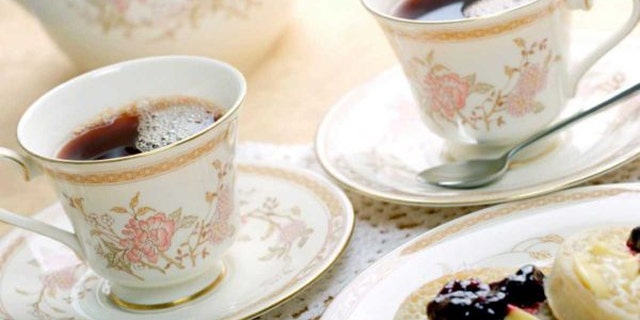 Looking for a new take on Mother's Day brunch? Try throwing a tea party instead.
Tea parties come in all shapes and sizes
"All ladies remember the tea parties they had when they were young, so a tea party theme is a great way to connect your guests to a warm familiar place," says Robin Popelsky, the director of events at the Bowery Hotel in downtown New York City.
You don't have to plan a big party months in advanced -- although you can if you want. Whether you are running low on ideas as to what to get mom or grandmom for Mother's Day, or you just want to do something nice, tea parties are an easy way to honor a mother. You can keep it simple and just sit down and have a cup of tea with her in the afternoon, or invite friends and family to partake in the celebration. The scale of the tea party is up to you. You can extend the invitation to the men, or opt for a mother-daughter afternoon. Whether you send out invitations in advanced or give your guests a call, remember to include a dress code. Do you want your guests in floral sundresses and fabulous hats? Let them know and encourage them to dress up.
Use colorful decorations
There are a number of low-budget ways to set up beautiful decorations for your Mother's Day tea. Chicago-based event planner Debi Lilly suggests using mom's favorite color when setting the table. Patterned wrapping paper makes a colorful runner and a budget-friendly decorative tablecloth, she says.
But don't just stop at your table, Lilly adds. Place fresh flowers on the coffee table and bathroom counter. You can also float candles in a glass vase for something different.
The length of your guest list will determine your table arrangements. If everyone can fit at one table, leave room in the middle for the food. If the forecast is for nice weather and you can easily set up a table and chairs in your yard, consider moving your party outside.
When it comes time for the tea cups, go through your china and tea sets. Mix and match patterns and colors. If you have extras, consider incorporating them into the decorations.
According to Popelsky, it is the small and frilly flairs that help turn transform a regular get-together into a tea party.
"Lace linen and tiny cups that make pinkies stand on end are the best way to set the mood," she says.
Serve finger foods
You don't have to plan extravagant entrées for your Mother's Day tea. Think simple sweets and bursts of color. Cream puff and mini chocolate éclairs can be found in the frozen food aisle and provide you with dainty no-cook deserts. Use berries as garnishes or place them in a bowl on the table.
Tier servers and cake stands are key for making your tea party feel authentic. Make some traditional tea sandwiches like egg salad and cucumber and cream cheese. Remove the crust and cut the sandwiches into bite-sized pieces. Scones, mini cupcakes and macaroons are other tea party favorites.
With all of your planning and preparation, make sure you don't forget about the tea! Offer a mix of black, herbal and green teas. Be mindful to have mom's favorite. Set out lemon, honey, sugar, milk, artificial sweetener and cream for your guests.