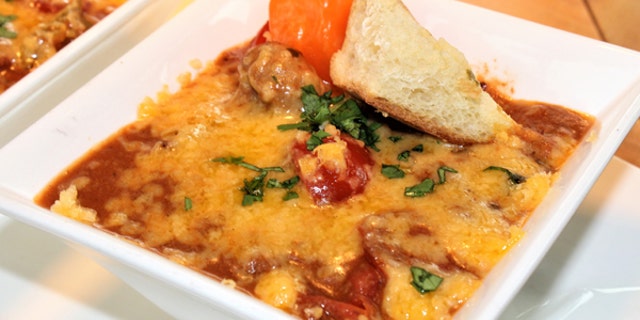 This Three Meat Chili from Monarch Rooftop & Indoor Lounge in Manhattan, is a great winter time dish, as it's hardy and warm. Paired with a bottle of wine, the dish is great as a starter or can be made into a meal with a good loaf of bread. The cayenne, chili powder, and cumin give this tasty recipe a natural kick from the combination of spices. Perfect for game day, it can be prepped a day in advance and is sure to be a crowd-pleaser.
Cook Time:1 hours
Prep Time:30 min
Total Time:1 hours30 min
Servings: 8
Ingredients:
2 teaspoons olive oil
1 pound ground pork
1 pound ground bison
1 pound ground beef chuck
3 cloves garlic, minced
2 red bell peppers small diced
1 jalapeno small diced
1 large white onion medium dice
1 tablespoon chili powder
1 tablespoon cumin
2 teaspoons chipotle chiles small diced
1 teaspoon cayenne pepper
Kosher salt and ground black pepper
One 28-ounce can tomato puree
One 28-ounce can crushed tomatoes
1 cup Guinness beer
8 oz red kidney bean
8 oz white navy bean
Preparation:
Heat the olive oil in a large Dutch oven over high heat and add the ground pork, ground bison and ground chuck; using the back of a wooden spoon, break up the meat into small pieces and cook until well browned, 10 to 12 minutes.
Add the garlic, bell peppers, jalapeno, onion, chili powder, cumin, chipotle, cayenne, 1 teaspoon salt and 1 teaspoon pepper, and cook, stirring occasionally, until the vegetables soften, 6 to 8 minutes.
Stir in the tomato puree, crushed tomatoes and beer, bring to a boil, then reduce the heat and simmer for 1 hour, stirring occasionally. Stir in the kidney and navy beans and cook for 10 more minutes.