Thieves steal 48.5 tons of chocolate from German industrial park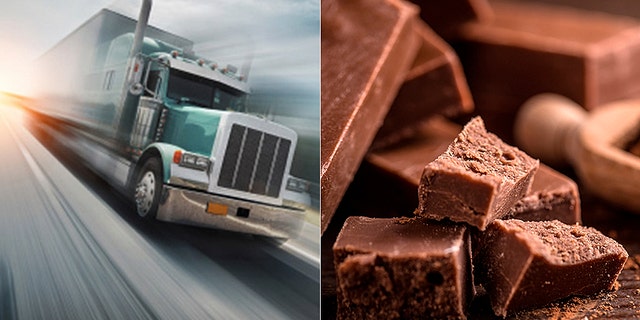 Chocoholics know just how serious cravings can be, but a crew of German thieves took it to a whole new level.
German police announced on Monday that two tractor-trailers hauling 48.5 U.S. tons of chocolate — valued at over $496,100 — were stolen from an industrial park in southern Germany on the evening of Jan. 26, according to the Associated Press. Authorities have since launched an investigation to find the thieves who made off with the sweet treats.
COUPLE FROM VIRAL POTPIE VIDEO PARODIED IN HILARIOUS SNL SKIT
On Jan. 27, one truck was found at a rest stop near the German-French border. Though the trailer was still full of the stolen chocolate, the driver fled on foot. The second trailer was soon afterward found near the French border in Lahr, with two thirds of the haul gone and no trace of the thief.
German police are currently appealing to witnesses who can come forward with any leads, but this isn't the first serious chocolate heist that has vexed authorities in the region. In August 2017, a truck carrying 22 tons of Nutella, Kinder Surprise eggs and Valparaiso chocolate fruit pearls was stolen in the central Hesse town of Neustad. The stash was estimated at somewhere between $59,000 to $82,000, Fox News reported.
PANERA BREAD RECALLS CREAM CHEESE OVER LISTERIA CONCERNS, SPARKS PANIC AMONG CONSUMERS
Time will tell if similar chocolate heists will continue to makes headlines across not only Germany, but the world: According to The Daily Meal, some experts believe that a looming chocolate shortage could become international reality by 2050.
The Associated Press contributed to this report.