These Peeps will give you brain freeze
Nothing says Easter like a sugar rush from those sweet and slightly crunchy marshmallow Peeps.  But what if you can a sugar rush and brain freeze at the same time?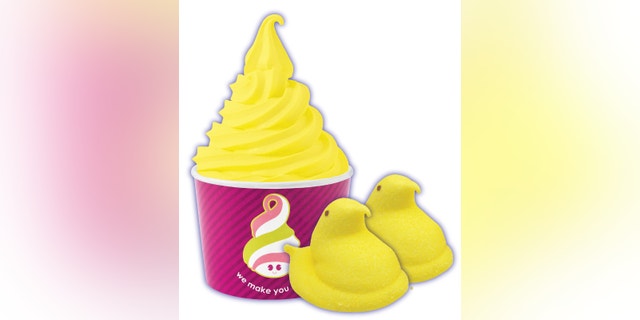 This Easter, frozen yogurt chain Menchie's is putting a cool spin on those candy chicks with Peeps flavored frozen yogurt.
It's bright yellow—just like the original chicks—but does it hold a candle to the original marshmallow treat?
We took to the streets to find out.
A lot tasters thought they tasted a hint of banana, pineapple or even cotton candy (huh?) --or thought the base was vanilla instead of marshmallow. (I guess it's easy to confuse them.)
But others got it right away.
"I've had it before," said one young taster.
"It's really sugary," said another. Sounds like a Peep to us.
Once people realized it was supposed to be a frozen take on Peeps, a lightbulb went off.
"It looks like a Peep and it tastes like a Peep! I definitely taste the marshmallow now."
"They did a good job, it tastes just like Easter," said another taster.
Another young taster said she thought it was a "really good idea" to serve a cold, creamy version of the springtime sweet.
Some said they would rather have the frozen yogurt over the original marshmallow.
But if we had it our way, we'd put a little crispy cereal in for texture.
Peeps frozen yogurt is gluten-free, non-fat and contains just 110 calories for half a cup—which is comparable to a serving of the marshmallow chicks that clock in at 140 calories for a package of five.
And while Just Born churns out the marshmallows all year long, Menchie's is only swirling Peeps frozen yogurt until end of this month.