The World's Most Over the Top Champagnes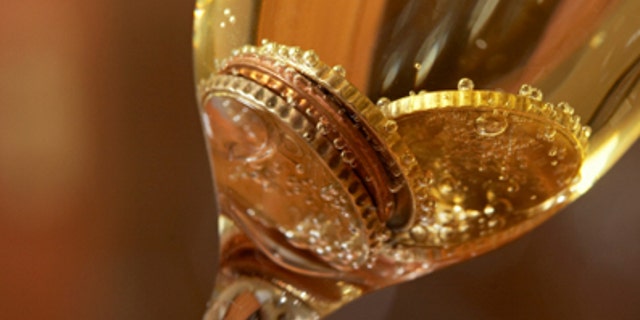 The champagne toast on New Year's Eve transcends tradition – it's almost a requirement. Even those who never touch a drop of the sparkling stuff the rest of the year often invest in a glass or two to raise in celebration and ring in the new year "right." But what about the people who live high on the hog and guzzle champagne year round? People like Mark Zuckerberg can afford to bathe in Veuve Clicquot Brut, so he'd have to reach a bit higher for a special New Year's toast.
Fortunately for the Facebook CEO, and all of the other billionaires still out there, champagnes can be just as pricey as other high end wines. Rare bottles are often auctioned for anywhere from several hundred dollars to several hundreds of thousands of dollars. But, as with most wines, a massive price tag doesn't necessarily mean they taste better. It just means they're hard to come by and someone with deep pockets is willing to write a check for a bottle or three. Make no mistake, these are prestige bottles that we, the little people, most likely will never be in the same room with, much less have the opportunity to take a sip from for the most expensive start to the new year imaginable. So, as if you needed something to make J. Roget in a plastic stem glass that much more disappointing, here are a few of the priciest champagnes available, ordered from barely attainable to those you'd be lucky to pour a glass of in your dreams.
Krug Clos du Mesnil 1995 ($850) – Clos du Mesnil is the Krug champagne house's single vintage statement bottle, and the 1995 edition is in particular demand since only 12,624 bottles were made. It's a lively light gold in the glass, with small sprite-like bubbles that turn to a rich foam on the palate. It's very citrus-driven for champagne, displaying muted almond and almost buttery undertones. In short, it's all sorts of tasty. Even better, it's within splurge distance for some more well-off households, even those that don't floss with spun gold.
Louis Roederer Cristal 1999 ($2,999) – Cristal has long been the choice of successful hip hop stars. But the ones who've broken through to mogul status won't want to raise a glass of the stuff that comes out of the taps in their mansions. They'll pick up a jeroboam (3 liter bottle) of vintage Cristal. Sure, it'll set them back a very pretty penny, but the creamy finish and light floral aroma with an almost coconut flavor makes it worth putting out another album, right?
Pernod-Ricard Perrier-Jouet ($50,000/case) – It pays to be friends with the ultra-rich, especially if your particular wealthy pal picks up one of these sets of 12 bottles being offered by Pernod-Ricard. Of course, the already astronomical price tag doesn't include the trip to Épernay, in eastern France, the only place these are sold. It does, however, include eight or more months of storage to properly age the champagne. That should be plenty of time to figure out whom to give a few of the bottles to.
Dom Perignon Vintage 1995 White Gold Jeroboam ($17,000) – The most expensive jeroboam in the world, this vintage not only exhibits the tiny bubbles and classic flavors of sweet citrus, toast and chalk flavors that Dom Perignon is known for, but the bottle is actually sheathed in white gold. It's the perfect bottle for your favorite oligarch to use to entertain supermodels this New Year's Eve.
Heidsieck Monopole Champagne 1907 ($35,000) – One of the few bottles with a story that lives up to its price, bottles of this champagne were aboard a cargo ship sunk by a German submarine in the Baltic Sea early last century. The cold water preserved the champagne perfectly and when a salvage team discovered the ship they brought up the bottles. Ten of these were secured by the Ritz Carlton Hotel in Moscow, which sells them for the stratospheric price of $35,000 each. A few still remain for the ultimate bottle service.