The ultimate BBQ road trip for 2013
What's almost as difficult as creating an itinerary for the South's essential barbecue stops is knowing how to spell the name of the dish itself. Depending on your location, you might come across crucial orthographic nuances like barbecue, barbacue, barbeque, BBQ, B-B-Q, Bar-B-Q, and even Bar-B-Que. To be clear, though, we can understand the staple as the slow cooking, and (very often) smoking, of meat.
Styles, like spelling, are distinct depending on the regional preference. "Barbecue" the verb means the process of roasting with indirect heat. The technique can often be used in the preparation of lamb, turkey, and chicken, but cuts of beef and pork generally make up the dominant styles.
Different styles also incorporate different garnishes, with some being as simple as a salt and pepper dry rub, while others are a complex mix of tradition and a particular pitmaster's choosing. After the meat is sliced, chopped, or shredded, sauces (which can also play a role in the cooking process) can be applied and range in viscosity and ingredients. Whether it should be vinegar-based, tomato-based, mustard-based, or even mayonnaise-based is a perpetual argument that's most likely to sway depending on where one is.
Barbecue (apologies to regional spelling purists) is more popular than ever on a national scale, which makes finding an abiding restaurant, cart, or food truck in most corners of the country not uncommon. For our purposes, though, we chose to focus on the South, since, quite simply, it's where our country's barbecue tradition takes root. Here more than anywhere else, it is a form of identity instead of a timely interest.
Our comprehensive road trip begins in Virginia and the Carolinas where whole-hog pulled pork reigns. As you count down the miles from start to finish, expect the meat (for the most part, except for several creative variations developed by some of the newcomers) to be dressed in either a vinegar-, tomato-, or mustard-based sauce. If not served on a simple white bun, then it's probably on a platter with baked beans, mayonnaise-based coleslaw, the occasional hushpuppy, and a tall cold glass of iced tea.
Part two stretches from the deep South up into the Midwest to take us through what is traditionally beef brisket, sausage, and rib territory. Whether they're serving out of a repurposed market, off a back porch, or even out of a trailer, the majority of these legendary joints forgo the frills to offer simply delicious smoked and/or grilled meat garnished in a range of rubs and sauces. Along with simple and common sides of crackers, beans, white bread, and pickles, meats vary along this route, with barbecued poultry and lamb sometimes finding a spot on the menu.
Our last leg covers the heart of the southeast. Across seven states, expect to find some of the country's best brisket, pulled pork, sausages, ribs, and even gator. Pits along this 2,253-mile route range from family-owned franchises to modest dining rooms with concrete floors and wooden tables. You're likely to find a variety of traditional rubs and sauces, including Alabama's white sauce, a mayonnaise-based condiment that's most often used to dress barbecue chicken.
To honor the diversity of barbecue culture, the stops on our road trip are unranked. Instead, our map is meant to highlight local landmarks that both honor the culinary tradition as well as think creatively about the future of this Southern staple. You say BBQ, I say barbecue — it's simply a matter of personal taste.
This year's road trip takes us to even more essential barbecue joints than last year, while also branching out to include an entire additional leg. Along with stops from last year's lineup, we collected reader, staff, and regional expert recommendations to cover 5,120 miles (that's almost twice the length of I-40) over 16 states. Building again on last year, the 60 restaurants listed were in part provided by the recommendations of informed chefs, pitmasters, and barbecue experts (there is a culture), as well as the broad knowledge of the Southern Foodways Alliance, a University of Mississippi-based nonprofit that seeks to study and document Southern foodways.
1. Fiorella's Jack Stack Barbecue (Kansas City, Mo.)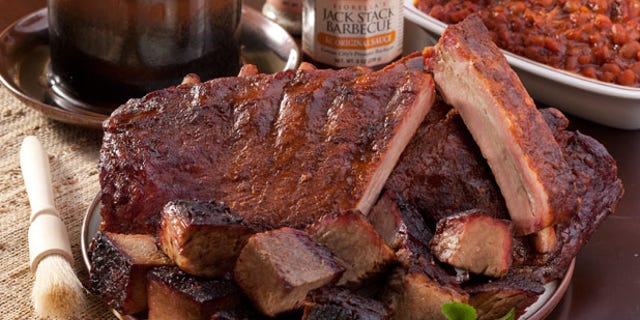 Russ Fiorella opened Smokestack BBQ in 1957. His eldest son, Jack, worked at Smokestack until 1974, and then started his own place, Fiorella's Jack Stack. Over the years, Fiorella's has opened three more locations and the menu has expanded from the original six item-menu Jack borrowed from his father to include hickory-smoked lamb ribs, Angus beef steaks, brisket, beef, and the restaurant's signature Kansas City beef, pork, and ham burnt ends.
2. Short Sugar's Pit Bar-B-Q (Reidsville, N.C.)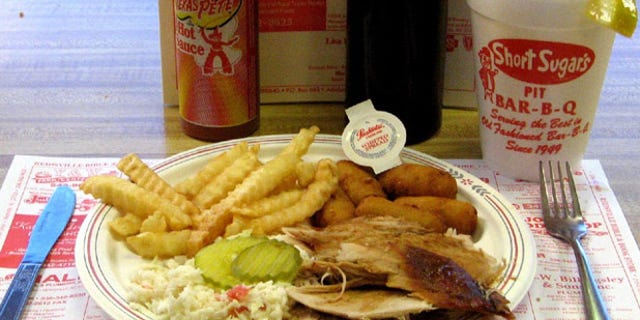 Short Sugar's Pit Bar-B-Q was established in an old gas station in November, 1949, by current owner David B. Wilson's father-in-law, Johnny Overby, in an area that didn't have much barbecue at the time. The original restaurant only had counter service, but a dining room, takeout, and curb service were added in 1982. Short Sugar's has won many awards over the years. In 1982, at an annual Barbecue Bowl organized by members of Congress from North and South Carolina, it won the blue ribbon.
Signature dishes include three North Carolina styles: sliced, chopped, and minced, all served with homemade sauce that is more brown than red. Popular sides include baked beans, potato salad, and slaw. While Short Sugar's barbecue is its most popular offering, the homemade chili made from an 1949 original recipe from 1949 is also popular, as are the hot dogs, plain or with some of that chili. Johnny Overby formulated the original sauce recipe when he set up shop, and it hasn't changed since. "We have a very distinct sauce which sets us apart from other barbecue restaurants," Wilson told The Daily Meal. Short Sugar's Pit Bar-B-Q does not sell its sauce commercially, but it does ship it throughout the U.S., including Hawaii, for those who can't make the trip.
3. Checkered Pig (Danville, Va.)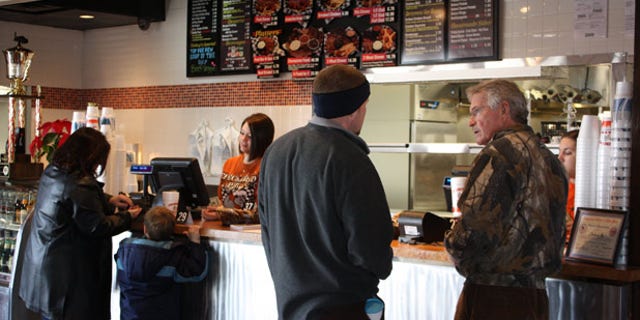 The Checkered Pig got its name from its beginnings as a roadside catering business at the Martinsville Speedway. From its humble start it grew into a full-blown restaurant that expanded to include another Virginia location in Danville in 2009. Its nickname (and original name of the restaurant), "Pigs-R-Us," is a testament to the quality and flavor of their award-winning ribs and roasted pork sandwiches. A favorite of locals and tourists alike, Checkered Pig BBQ in Danville even has a drive-thru window to provide quality BBQ on the go.
4. Red Bridges Barbecue Lodge (Shelby, N.C.)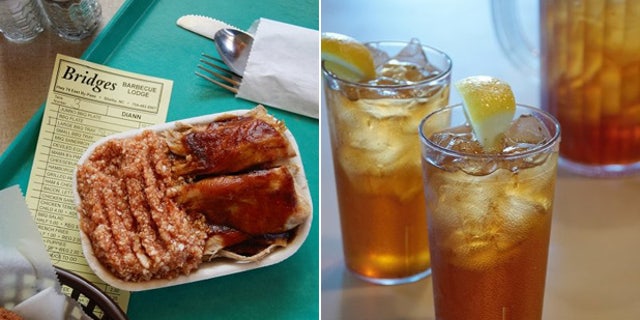 Red and Lyttle Bridges officially opened Red Bridges Barbecue in 1949, when they moved their original restaurant, Dedmond's Barbecue, to uptown Shelby (the restaurant moved to its current location in 1953). When Red died in 1966, Lyttle ran the business by herself until she was 80 years old and had to retire. Today, their daughter, Debbie, runs Red Bridges Barbecue Lodge with her children Natalie and Chase. They cook their pork over hickory wood overnight, a method that has remained unchanged since Red Bridge's opening. The restaurant is open Wednesday to Sunday, serving North Carolina barbecue classics like hushpuppies alongside pulled pork sandwiches. A standard BBQ plate comes with a red, vinegar-based slaw and beans, and more ambitious diners can top off their meal with some banana pudding.
5. The Pit (Raleigh, N.C.)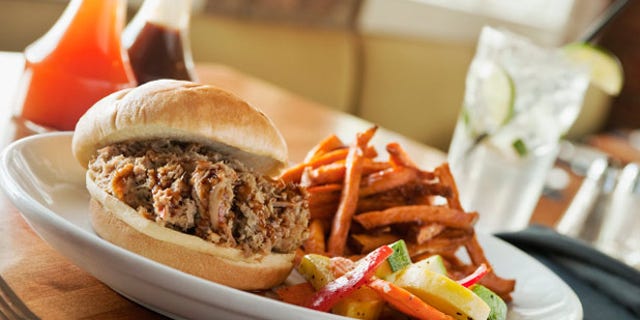 The Pit opened almost five years ago in the warehouse district of downtown Raleigh. Greg Hatem, who is from Halifax County in eastern North Carolina and grew up cooking pigs each fall, came up with the idea to establish a serious restaurant to honor his state's best-known food, partnering with celebrated local pitmaster Ed Mitchell and including a full bar with cocktails, beer, and wine — an amenity rarely found at barbecue joints.
Mitchell has since to open his own place in nearby Durham, but The Pit remains a great Raleigh favorite for its signature eastern North Carolina-style chopped whole-hog barbecue. The hogs are raised free-range in North Carolina farms which meet the standards of the Animal Welfare Institute, and they're cooked the way it's been done for nearly 150 years in the region, for about 12 hours, with plenty of smoke from hickory and oak. The meat is removed from the carcasses, and everything is blended together — shoulders, legs, ribs, and belly meat with a bit of cracklins added. Then the pork is seasoned with The Pit's special vinegar-based sauce, which gives it a hot, tangy flavor that's just a little bit sweet. "When they're done," said Samantha Hatem, who handles media relations for her husband's Empire Eats restaurant group, "the meat is so tender, you can cut it with a butter knife. It tastes great with a nice smoky flavor even without the sauce, but when you add the sauce? That's perfect barbecue,"
Signature dishes include the chopped barbecue plate for $12.99, which includes two of more than a dozen side dishes, many of which change seasonally. One of the most popular is coleslaw.
6. Sweatman's BBQ (Holly Hill, S.C.)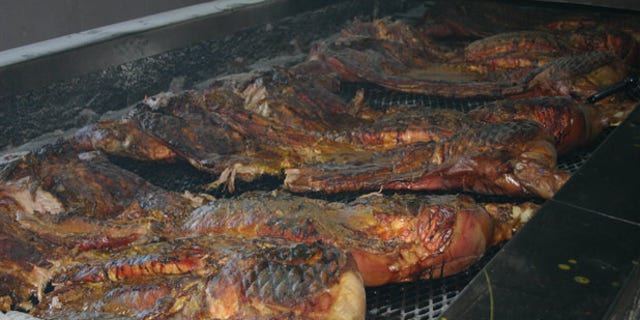 Harold "Bub" and Margie Sweatman opened their first Holly Hill barbecue restaurant in 1959. When the business failed, they cooked for special events for friends and families — but then tried again in 1977, buying an old farmhouse and converting it into Sweatman's BBQ. At first, the Sweatmans raised their own hogs, but as business boomed, they turned to local markets. Only open on Fridays and Saturdays, Sweatman's cooks whole hogs over oak and pecan wood for 12 to 14 hours, basting them with a mustard-based sauce. The late Senator Strom Thurmond was a fan of Sweatman's, as are actor Ian McKellan and television personality Anthony Bourdain.
In 2011, Sweatman's was sold to Mark and Lynn Behr who are also Holy Hill residents, who also purchased the family recipes to maintain authenticity.
7. Maurice's BBQ Piggy Park (West Columbia, S.C.)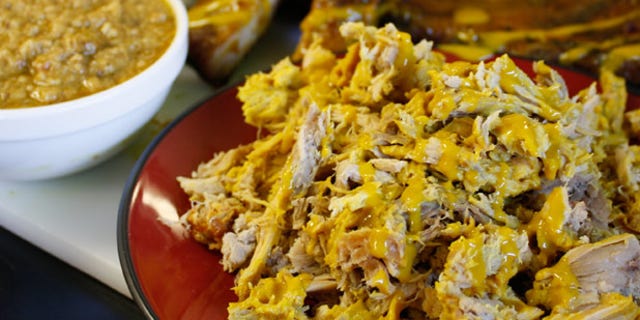 Maurice's BBQ Piggy Park has been an institution in the South — and founder Maurice Bessinger has been a polarizing figure — since 1953. Bessinger learned how to barbecue from his father, Joseph Bessinger, who owned a barbecue business in Holly Hill, S.C. After his father's death, Maurice carried on the tradition with his own establishment. He also found time to head up the National Association for the Preservation of White People, and had to be forced by the Supreme Court to integrate his dining room.
Bessinger's sons, daughter, and grandchildren now run Piggy Park, which currently boasts some 11 locations around the Palmetto State, and Bessinger senior has retired and, he once said, changed his prejudicial beliefs after becoming a born-again Christian.
Meanwhile, Piggy Park's pigs, which are sourced from the restaurant's own organic free-range farm, are pit-cooked over hickory coals for 24 hours — the chain spends $100,000 a year on wood — then basted with the restaurant's own mustard-based Southern Golden BBQ Sauce. (There are also original hickory, spicy, and honey sauce varieties as well as a trio of vinegar pepper sauces — original, hot chipotle, and habanero.)
8. Franklin Barbecue (Austin, Texas)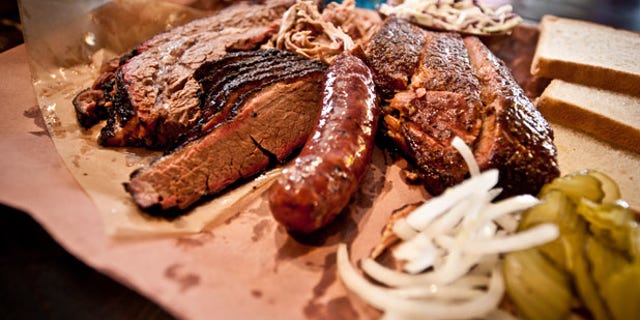 Opened in 2009 by Aaron and Stacy Franklin, Franklin Barbecue started serving barbecue from a little vintage trailer, but has since moved into a brick-and-mortar location, and has just announced plans to expand the cooking facilities. At Franklin Barbecue, meats are served by the pound, with a focus on all-natural brisket and pork spareribs. "We still do it the old-fashioned way; we spend long hours smoking the meats over oak," said the folks at Franklin Barbecue to The Daily Meal. "Order brisket by the pound and get your choice of lean or fatty. Throw it on a piece of white bread with pickles and onions, and go to town."
9. Baker's Ribs (Dallas)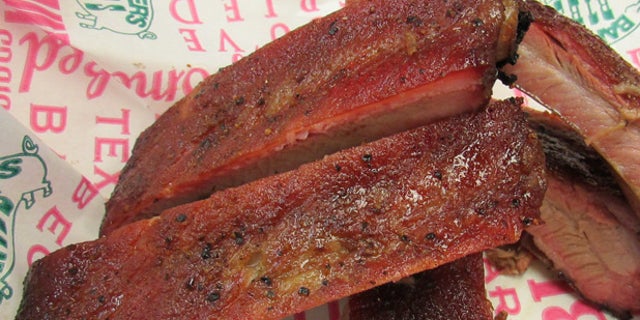 Since 1988, Baker's Ribs has been serving St. Louis-style pork ribs. Originally from Dallas, the restaurant has evolved into a mini chain (they have nine restaurants throughout Texas and one transplanted outlet in Minneapolis). The chain firmly believes in serving hickory-smoked BBQ and hence keeps wood-burning barbecue pits in their kitchens. As the name suggests, go there for the ribs, without sauce.
10. Hard Eight BBQ (Coppell, Texas)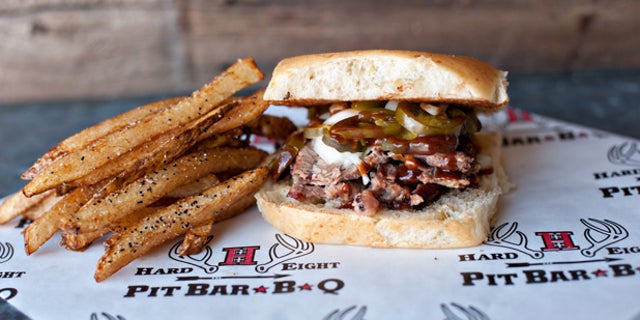 Roughly a decade old, the folks at Hard Eight BBQ in Coppell, Texas, pride themselves on the breadth of their menu; in addition to a wide variety of BBQ, they serve pork chops, rib-eyes, and other nontraditional barbecue cuts. When you go, don't be surprised by the wait, since a line is the norm. When your turn finally comes along, you'll find yourself standing in front of the pit, where you can order your desired meat (anything from pork ribs, ham, sausage, and sliced brisket to shrimp poppers) by the pound. The portions might seem a little too bountiful, but at least they warn you: above the pit hangs a sign that reads, "be careful not to over order — your eyes may be bigger than your stomach." It's best to heed this advice if you plan to sample their delicious homemade sides and desserts, too.
See the full road trip at The Daily Meal
More from The Daily Meal
The Ultimate American Fried Chicken Roadmap
30 Best Restaurants to Watch a Sunset
25 Bars with Jaw-Dropping Views
21 Best Beach Restaurants Around the World