The U.S. Navy Adopt-a-Chef Program Bringing Pros on Board to Improve Food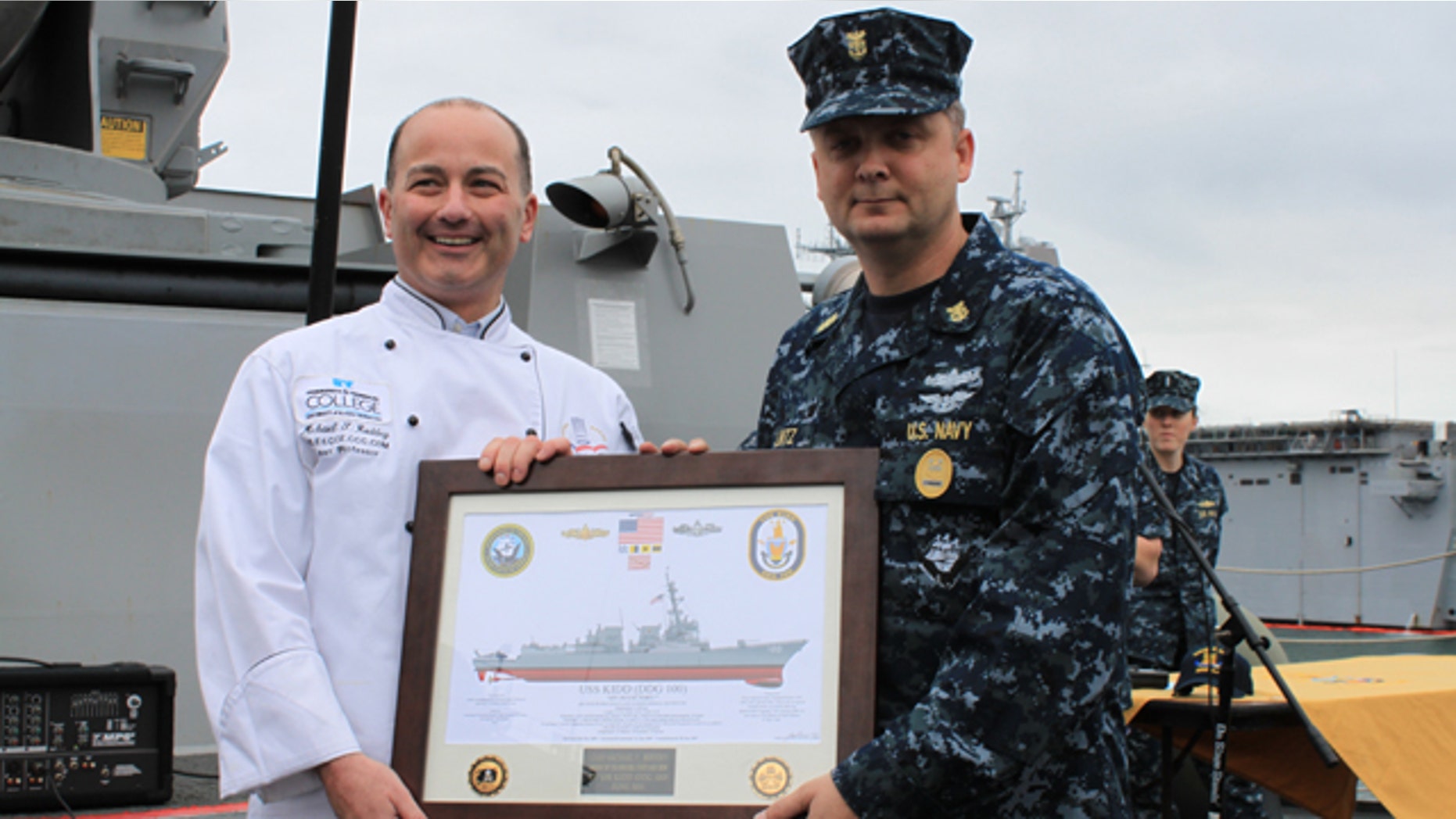 The USS Boxer, an amphibious assault ship with one thousand sailors was his first ship. The USS Kidd, an Arleigh Burke-class guided-missile destroyer with three hundred sailors, was his second. "The Boxer's galley cooks were the galley cooks," says professional Chef Michael Roddey. "The Kidd's CSs (Culinary Specialists) also had a degree of shipwide duty they were responsible for in addition to feeding the crew," he says. "I don't think I've ever seen people work that hard."
Roddey has twice volunteered for the U.S. Navy's Adopt-a-Chef Program where civilian chefs donate their time and expertise aboard U.S. naval vessels. Seven weeks ago he was cooking on the Kidd.
The USS Kidd has some of the Navy's most sophisticated weapons systems including Tomahawk and surface-to-air missiles, gun systems and anti-submarine torpedoes. It can fight air surface, and subsurface battles simultaneously, provides protection for aircraft carriers and battle groups and is an escort to Navy and Marine Corps amphibious forces and auxiliary ships. It also has a "dog machine."
That's a soft-serve ice cream machine, explains Chief Petty Officer Raushaun Atkins who provisions the ship and oversees the CSs. "The sailors love it," she says. Sure it lacks the demonstrable importance of say, an MK41Vertical Launching System but it makes the sailors happy. Taking care of the sailors who feed the sailors who man and maintain this shock-and-awe-inspiring guardian of freedom is a priority for Commanding Officer Jennifer Ellinger. "Morale," she says simply, "is based on the quality of the food."
"My CSs are as important as any sailors or warriors in the U.S. Navy," says Cmdr. Ellinger. They're as important as my engineers who supply power, as my technicians who provide water, as my sailors who fire the weapons and man the combat systems." Cmdr. Ellinger directed Supply Officer, Lt. Javier Araujo to "work all the channels through the system" to get the Kidd a chef. Lt. Araujo got Michael Roddey.
As Culinary Arts and Hospitality Department Chair at the University of Alaska/Fairbanks' Community and Technical College, Roddey has the flexibility to spend a week at sea. While underway, chefs absorb the ship's 24/7 rhythms and see how the CSs prepare four meals a day for three different messes (officers, CPOs and crew). The fourth meal, "mid-rats," ("midnight rations") feeds sailors who work the overnight. Mid-Rats CSs are also responsible for prepping breakfast and baking the next day's bread, muffins, cookies and desserts. "We don't have storage," explains Chief Atkins, "so we have to bake."
Roddey wasn't there to re-invent the wheel—"they already turned out a good product," he says —but to improve it. To do that, he had to "first observe how things were done and wrap my head around their skill sets." CSs work from "menu cards" that are in a twenty-one day rotation. Being at sea for extended periods generates, among other things, culinary monotony. Better meals with eye-appeal were Roddey's goal. He was like an efficiency expert that also had to demonstrate his suggested improvements.
Searing meat concentrates flavor, he showed, and seals in juices, while tenderizing improves texture. Blanching vegetables - shocking them in boiling water before cooking - intensifies color and improves taste. Seasoning with salt and pepper throughout cooking exponentially boosts flavor. Undercooking hot pasta gives it a nice bite, but cook all the way through for pasta salad, which firms up in the fridge. "I think these kids get good theory and knowledge in the Navy's technical school, but not a lot of hands-on until they're on a ship," he says.
Lack of space forced CSs to roast frozen turkeys. Not good idea. Sailors might know nothing about the proper culinary context for roasting a turkey but they sure know what turkey should taste like. Roddey suggested moving turkey back in the rotation when "reefers" (fridges) would be emptier and could accommodate defrosting birds.
To fix lopsided baked goods created by the ship's list, Roddey propped up pans or rotated them before the batter set to even out the final product. He made streusel and sugar toppings so that a single recipe yielded three types of muffins.
"The CSs too often lose track that what whey do is an artform," says Cmdr. Ellinger. An outside chef's passion, preparation, technique and presentation reminds them of that, she says. Adopt-a-Chef unquestionably contributes to the CSs professional development but it's great for the rest of the ship, too. That's because, as says Chief Atkins, "a sailor eats with his eyes."