The Truth About Smoothies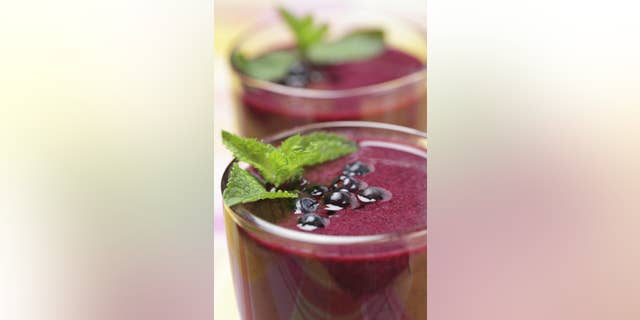 Smoothies are all the rage these days and why not? A tall, frosty and super-tasty shake that's also good for you almost sounds too good to be true … and frankly sometimes it is. In truth a smoothie is only as healthy as the ingredients that go into it.
Some commercially-made smoothies, even seemingly healthy ones, are sugar-laden concoctions that pack upwards of 600 calories and the carb equivalent of six slices of white bread! But you can avoid this kind of smoothie disaster by dusting off your blender and making a healthy one of your own. It's easy!
Whip it Up Healthy
As a dietitian and a smoothie lover, a healthy smoothie is one that provides a nutritious mix of fiber, protein, vitamins, minerals, and antioxidants. Blend the right of ingredients and you'll get 100 percent of the daily-recommended amount of many important vitamins and minerals — all in just one serving. Smoothies make it convenient to get these nutrients, too — great when you are on the go, perfect when it's too sweltering to cook, and a deliciously sneaky way to get kids to have more fruit!
Make it Smoothilicious
Summer is perfect for DIY smoothies because ripe, flavorful fruits are so abundant. To keep calories down be sure to use whole fruit rather than canned fruit in syrup or calorie-laden juices. If you like your smoothie on the sweet side, skip sugary additives and just use a zero-calorie natural sweetener such as Stevia or Splenda.
For luscious creaminess without a lot of fat and calories, nix ice cream or frozen yogurt and instead add a scoop of protein powder along with ½ cup of unsweetened almond milk. Another great tip: use frozen fruit instead of fresh fruit because the frigid mass of fruity pulp will give your smoothie a richer consistency.
Sip 'n Go Meal
It's true! Your smoothie can be a light, nutritious and refreshing summertime meal. A meal-worthy smoothie should contain between 300-350 calories, about twice what you'd want in a snack smoothie, and by combining ingredients that are rich in fiber and protein your smoothie will fill you up and give you the energy boost you need to keep up with your day.
There are lots of tasty high-fiber ingredients to choose from: berries, apples, melons, pears, flax, chia seeds — even high-fiber cereal. For lean protein, go with plain Greek yogurt, low fat milk, soymilk, or protein powders. To add a kick of exotic flavor (with zero fat or calories) toss in some mint, cinnamon or vanilla extract and blend away.
Banana Berry Smoothie
Bananas and berries, oh my! This tasty, refreshing breakfast drink has enough protein and fiber to keep you feeling full until lunch.
Ingredients
1/3 cup raspberries
1/3 cup blueberries
1//3 cup blackberries
½ ripe banana
1 5.3 oz. container fat-free Greek yogurt
1 cup ice
Preparation
In blender, combine raspberries, blueberries, blackberries, banana, Greek yogurt and ice. Blend until smooth and frothy Pour into glass and enjoy. Serves 2.
Actual Nutritional Content
Per Serving: 69 calories, 14 g carbohydrate, 4 g fiber, 4 g protein, 0 g total fat, 0 g sat. fat, 10 mg sodium