The Surreal World of Pizza Cakes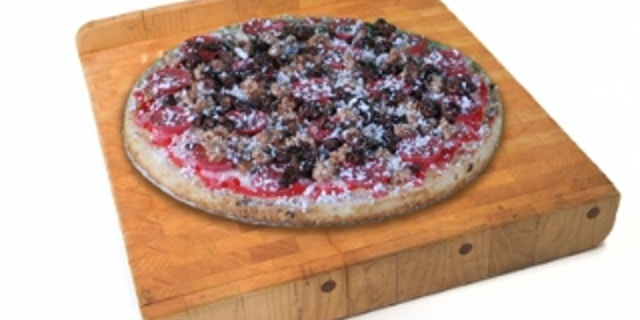 "Must Have Meat" has pepperoni, sausage, hamburger and bacon. Ground beef with onions, pickles, mustard and ketchup is found on "Cheeseburger, Cheeseburger." "Look Mom, I'm Eating my Veggies" sports green peppers, green olives, mushrooms, tomato chunks and onion. "Pizza Brownie Supreme" offers a layer of chocolate frosting topped with pepperoni, sausage, mushrooms and green peppers over a brownie crust. But these aren't Pizzas, they're Debbie Meyer's "Pizza Cakes."
"I hate to say it, but I have to come clean. I have to give my husband the credit," Meyer says. The former attorney and confirmed chocoholic originally from tiny Vine Grove, Kentucky was an accomplished home baker who wanted to "do something with baking." Lots of people want to do "something with baking." Most of the somethings they make -- cookies, brownies, cupcakes -- make as much an impression in the baking universe as yet another star in the Milky Way. Yawn.
Scott Meyer off-handedly turned to his wife and said, "If you could make a cake that looks like a pizza, then, I'd be behind it." Maybe he was really engaged in the idea. Maybe there was a game on TV. Maybe he wanted some peace and quiet. Whatever. Game on. Eighteen months later Meyer introduced her first Pizza Cake.
Don't be fooled. Other so-called "pizza cakes" are usually basic layer cakes made pizza-ish with a sprinkling of gummis and M & Ms. Meyer's cake looks like a cross between a thin-crust and a deep-dish pizza with sauce, cheese and pepperoni. She makes all toppings by hand with modeling chocolate, fondant, Rice Krispies treats, toffee and cookie crumbs. It's a white chocolate cake "crust" (studded inside with dark chocolate chips) with fondant "sauce" and white chocolate "mozzarella." Looks like a pizza. Tastes like a cake.
"I wanted to emulate what you'd see and get at a real pizzeria," she says. She offers basic "pies" on her website (www.mypizzacake.com) which you decorate from a list of existing toppings like "sausage," "mushroom" or "olives" and specialty ones like the meat and veggie toppers. "The cheeseburger pie, that one was just for fun," she says.
After Scott's pizza cake throw-down, Meyer took minimum-wage jobs at local Cincinnati bakeries on weekends and nights, learning how to bake in volume and how to mold and sculpt - while still holding down a full-time job and caring for the law firm of Scott, daughter, Tess and son, Grant.
Then she went to work in her own kitchen making the "crust." It had to be dense enough to support the weight of the toppings without getting crushed or soggy, but also soft and moist. Layers of frosting or sweetened fruit make regular cakes sweetly satisfying. This one had to satisfy with just a single layer. And it had to look real. Merely looking good without tasting good (like many weddings cakes, but strangely not groom's cakes) would have meant failure, she says. She made a slew of different recipes, toting sample after sample to Scott's office, getting feedback from his co-workers. They settled on an inch-and-a-half high white chocolate cake.
Then, she littered her counters with real pizzas and ingredients and studied and sliced to determine color, texture and size. "I was ready," she says, "to monkey around with modeling chocolate and fondant." Modeling chocolate is a thick Play-Doh-like paste made by mixing melted chocolate with corn syrup. It tastes kind of like a Tootsie Roll. White modeling chocolate can be dyed any color. Fondant, that ultra-smooth surface which covers wedding and other fancy cakes, is a pliable confection made with water, confectioner's sugar, corn syrup, gelatin, glycerin and coloring. Modeling chocolate and fondant are to a baker what a lump of clay is to a sculptor.
Pepperoni was the biggest challenge. "It's more than red. It's shades of red, brown, orange, yellow and white. It's practically speckled," she says, "hold it up to the light." She starts with red modeling chocolate, mixes in cookie crumbs and other things she won't reveal. Rice Krispies treats coated with toffee and cookie crumbs are the building blocks of hamburger and sausage. She completes the illusion by shipping in a heavy-duty corrugated white cardboard pizza box.
"I had to make them realistic, but they also couldn't be so onerous that I couldn't reproduce them by myself, in my own kitchen, on a national basis," say Meyer. There are large, elaborate, three-dimensional sculpted cakes out there that cost thousand of dollars and take days to make. These aren't those cakes. These are for kids' birthdays and dads. Father's Day is huge for her.
She makes large and medium sized "pies" but no cupcake-sized ones, thankfully not adding to the over-saturated cupcake market. She tried it but the scale was all wrong. "Real pizzas don't come in that size. A cupcake pizza just don't look realistic," she says. Besides, it was a lot of work and when she was done, the cupcake pepperoni pizza "looked like a pizza with an eye staring back at you," she explains. Who wants that?
Meyer figured out a way to make puttering around the kitchen her livelihood. Her business has grown to the point where she hires a local bakery to bake the "crusts." She still makes all the topping by hand, though, and decorates each cake herself. Family and friends pitch in when she gets busy.
Scott is justly proud of his wife. Unlike the rest of the family, he is the sole member of the family who hasn't been corralled or coerced into making ingredients or decorating pizza cakes. "It's just not his thing. Scott's the big concept guy," laughs Debbie.
Click here for more stories from Foxnews.com's Food and Drink section