The most Instagrammed restaurants and bakeries of 2017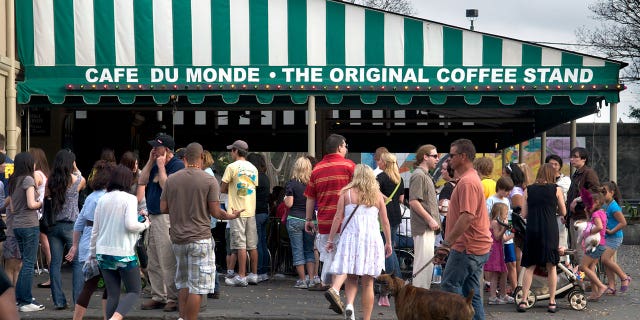 Think back to all the restaurants and cafes that you've captured on your Instagram storya nd scrolled past on your feed this year. If you or the people you follow live in New York, Chicago, or Los Angeles, there's a good chance those snaps helped boost your favorite eateries to the top of Instagram's list of the most-'grammed restaurants, bars, bakeries and cafes in the U.S. in 2017.
On Wednesday, Instagram released it's year in review, separating its list of the most popular eateries in the country into two separate categories: the most-Instagrammed restaurants and the most-Instagrammed bakeries and cafes.
Ironically, the most-photographed "restaurant" is actually a rooftop bar: the sprawling 230 Fifth in New York City, which is located 21 floors up and offers spectacular views of Manhattan, including the iconic Empire State Building. Over the summer, 230 Fifth offers ultra-photogenic glasses of frosé, and in the winter, visitors can don a plush red robe and sip drinks in a heated plastic igloo strung with colorful twinkle lights. Can you say Instagram bait?
Topping the list of the most-Instagrammed bakeries and cafes of the year is the Kim Kardashian West-approved Cafe du Monde in New Orleans. Interestingly enough, it's not the scenery Instagrammers are after: The iconic cafe's original location is a simple indoor-outdoor pavilion covered in unassuming round tables and chairs underneath a classic green-and-white-striped awning. But you're guaranteed a few dozen likes — at least — if you post a pic of a pile of Cafe du Monde's pillowy beignets all but hidden under a heavy dusting of powdered sugar. Add an overused-but-still-great caption like "beignYAY," and you just might break 100 double taps.
Elsewhere on the two lists are upscale sushi spot Nobu Malibu in L.A., Voodoo Doughnut in Portland, Stubb's barbecue joint and concert venue in Austin, and, of course, Katz's Delicatessen in N.Y.C., where you can sit in the exact table from "When Harry Met Sally…" (there's even a helpful sign hanging above their table). And national chains weren't immune from Instagrammers' camera flashes: seafood restaurant Catch's N.Y.C. and L.A. outposts both made the list, as did the Hard Rock Cafes in N.Y.C. and Orlando, the TAO Asian restaurants in N.Y.C. and Las Vegas, as well as the original Starbucks in Seattle.
See all of the most-Instagrammed restaurants, bars, bakeries, and cafes of the last year — the data is sourced from January 1, 2017 to mid-November — below.
Most-Instagrammed Restaurants:
#1. 230 Fifth
#2. Nobu Malibu
#3. Catch LA
#4. Katz's Delicatessen
#5. TAO Downtown New York
#6. Cindy's Rooftop
#7. San Pedro Fish Market and Restaurant
#8. Mr. Purple
#9. Hard Rock Cafe New York
#10. Stubb's Austin
Most-Instagrammed Bakeries and Cafes:
#1. Cafe du Monde
#2. Voodoo Doughnut
#3. DŌ Cookie Dough Confections
#4. Taiyaki NYC
#5. Little Damage
#6. Starbucks Seattle
#7. 3 Arts Cafe at Restoration Hardware
#8. Dominique Ansel Bakery
#9. Serendipity 3
#10. Sugar Factory