The McRib is back and now there's an app to track it down
The McRib is back and now that it's 2016, McDonald's is releasing the sandwich with a mobile-friendly twist.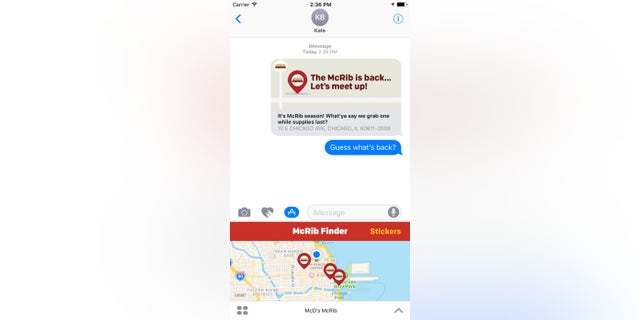 If you're a fan of the processed barbecue pork sandwich, now you can track it down fast than ever with a brand new iPhone app. Along with the sandwich, McDonald's is now promoting the McRib Finder, which works as an SMS texting service to help you quickly find the nearest McDonald's that serves the limited-edition item.
If you're thinking this sounds like a marketing gimmick, you might be right McDonald's is now spending more on digital advertising to attract younger customers with features like mobile ordering and rewards programs.
"A restaurant locator is table stakes, but customers don't always rely on the resources we provide them," Paul Matson, director of social engagement for McDonald's told Digiday. "But here's a piece of information only we would know: Who's serving the McRib?"
More from The Daily Meal
McRib Producer Hit with Complaint Over Alleged Animal Abuse
Daym Drops Review the McRib; Waiting on Auto-Tune
Travel and Dining Blogs: Austria's Deep-Fried McRibs and More
Cult Sandwich McRib Returns Nationwide
The McRib was first introduced nationally to the McDonald's menu in 1981 and has developed a cult-like following since the chain only brings it back for a few weeks each year. And not every U.S. location carries the sandwich.
In 2014, McDonald's has released a video in its line of myth-busting videos starring ex-MythBuster Grant Imahara to show how the sandwich is really made. The video shows slices of pork shoulder being ground up while water, salt, dextrose, and preservatives are added to the mixture. The pork is then formed into its well-known rib-like shape via machines.