The 'Chizza' moves to Singapore, KFC rolls out chicken-pizza hybrid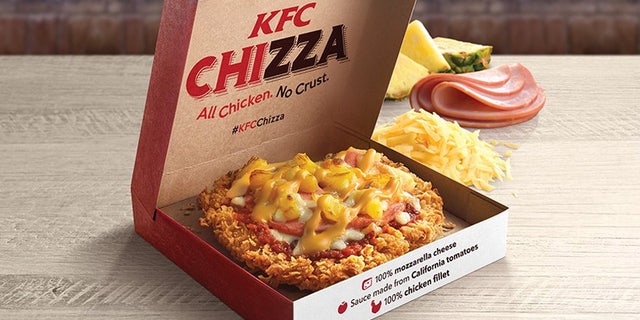 Brace yourselves, Singaporeans: The Chizza is now available at a KFC near you.
After making its debut on the fast-food chain's Philippine menu in 2015-- and later appearing at French and Japanese locations-- the Chizza — a pizza-topped fried chicken mashup — has made its way to the Lion City.
Made with a flattened breast of fried chicken in place of pizza dough, KFC Singapore's version of the Chizza is topped with pizza sauce, a chicken-based ham product, pineapple chunks, mozzarella cheese, and the restaurant's signature cheese sauce before it's baked. (Its predecessors had pepperoni and occassionally green peppers, but no ham.)
GREAT OR GROSS: WACKY FOOD CREATIONS
On its official website, KFC Singapore describes their new Chizza as "the best of both" and the "ultimate mashup" of pizza and fried chicken, but social media users have mixed feelings.

Some are ecstatic over the news that the Chizza is potentially on its way to world domination.
But others seem insulted by the mere existence of KFC's hybrid:
This isn't KFC's first attempt at marrying chicken and pizza, nor is it the first time they've used fried chicken in items that traditionally call for bread. KFC Hong Kong released Napoli Crispy Pizza Chicken in 2015, which was basically an order of fried chicken with sauce and cheese baked on top, and KFC introduced America to the Double Down sandwich — made with two filets of fried chicken breast instead of bread buns — in 2010.
FOR THE LATEST FOOD FEATURES, FOLLOW FOX LIFESTYLE ON FACEBOOK
KFC Singapore's Chizza, however, might be the chain's first item to be marketed for Valentine's Day, as seen in their recent heart-shaped Chizza ad:
KFC has yet to announce when, if ever, the Chizza will make its way to the U.S.