Miller High Life, the 'Champagne of Beers,' is debuting Champagne-sized bottles for the holidays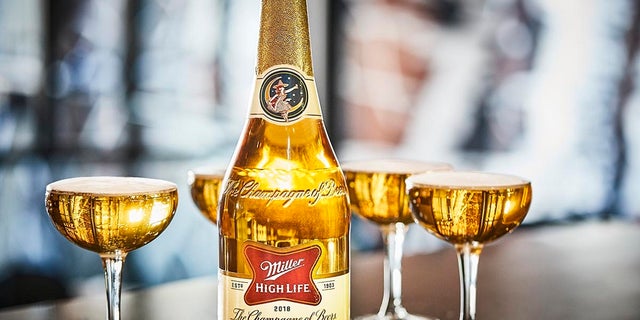 On New Year's Eve, partygoers cheers with Champagne as the clock strikes midnight. But according to Miller High Life brand lore, in 1903, some people broke tradition by toasting with the beer instead, because it had launched just days before on December 30.
Due to its relevant timing and bubbly mouthfeel, the brew has arguably lived up to its slogan as the "Champagne of Beers." More than a century later, the brand is paying homage to the nickname with a new, limited-edition Champagne bottle in stores and bars nationwide — while supplies last.
While you can't quite pop a cork off this guy, you can peel off the sparkly gold tin and festively twist off the cap without having to use an opener.
The design isn't hard on the eyes either. The label — complete with the girl in the moon — is very vintage chic, but perhaps the price is the best part of all. The 750-milliliter sloped glass bottle of golden lager costs just $3.49.
A Miller High Life spokesperson told The Daily Meal that the exact locations that are selling the product are unknown, but that they'll be available in stores and bars nationwide in places one would typically purchase liquor or beer. But if worst comes to worst and you just can't find one, you can always watch the ball drop with one of the 101 best beers in America.