The best tacos in America
When you close your eyes and picture a perfect taco, what do you see? Is it the Ortega taco-night special: a hard-shell taco, spiced ground beef, shredded cheese, lettuce, and tomato? Or is it something from your favorite taco stand: two small corn tortillas, shredded pork, onions, and cilantro? Or maybe something in between?
First, let's define what exactly a taco is. By the broadest definitions, it's a handheld, folded, unleavened flatbread encasing something edible. And while some companies might be able to get away with calling the Choco Taco or Taco Bell's waffle taco a taco, for our purposes we're defining a taco as meat or vegetables placed onto a warmed tortilla, with the express purpose of folding it and eating it with one hand. And man, there are some amazing tacos out there.
One great thing about a taco is that it's one of the most democratic foods known to man. You'll find them at the most homespun, rustic roadside shacks as well as on the menu at some of the country's most high-end Mexican restaurants. One reason they're so popular is because they're so inexpensive, usually selling for just a couple of bucks. The low price and smallish size also makes it easy to become a self-styled taco expert, as seeking out great tacos and eating as many different varieties as possible is as honorable a pastime as any. On our quest for the country's best, we tracked down not only authentic Mexican offerings but also Tex-Mex tacos and a few that are decidedly not authentically Mexican but delicious nonetheless.
Even though tacos trace their roots to Mexico, they're quickly becoming more and more of an American staple. The 2012 census found that nearly 17 percent of the U.S. population is now Hispanic or Latino, up more than three percent from 2002. This increasing cultural influence has certainly made its way into the food we eat, with results that are decidedly positive. From Baja-style tacos (grilled or fried fish typically topped with slaw, pico de gallo, and sour cream-based sauce) to chopped meat from a cow's head (cabeza), the possibilities really are limitless.
Tacos are a food that inspires fierce loyalty. Ask someone in Texas (Austin, in particular) where the country's best tacos are and they'll tell you've found it. But head to Los Angeles and you'll meet people convinced that there's nothing better than a perfectly fried fish taco. And you know what? They'll both be right. New Yorkers have complained for years that it's tough to find a great taco in their city, but in recent years several have been introduced that rival the best you'll find in Mexico. Over in Chicago, a town that has never exactly been a taco paradise, the Maxwell Street Market is becoming a world-class taco destination.
In order to assemble our ranking of America's best tacos, we asked more than 200 of the nation's leading food writers and taco authorities to send over a list of their absolute favorite tacos in the country. Not taquerías, mind you, but individual tacos they believe to be the absolute finest offering from their favorite taco shops. We asked them to include only brick-and-mortar taquerías as opposed to trucks, carts, and the like (that's a ranking for another day, and also rules out Los Angeles' popular Ricky's). We also didn't include breakfast tacos, because most would agree that those are an entirely different food altogether.
We rounded out their submissions with tacos mentioned in best-of lists, both in print and online, as well as our personal favorites, and then assembled a list of more than 150 tacos, which we divided by region: East Coast, Midwest, Texas, Southwest, and West Coast. We then invited our panel of experts to vote for their favorites. At the end of the day, we were left with the 50 best tacos in America.
Some of the tacos that made the cut are certainly surprising. In posh Riverside, Conn., for example, an unassuming carnitas taco has won over legions of fans, and in Denver a slab of sweet and sour braised pork belly with candied garlic is quickly becoming one of the city's must-eats.
So what makes a taco great, exactly? We polled our experts and most replied with similar qualifications: Great tacos are simple, with clean, vibrant, and varied flavors, each component able to stand on its own. A perfect taco is balanced in flavor, and not loaded down by extraneous add-ons. The tortilla should be super-fresh and ideally handmade. The filling doesn't have to be too simple or fancy, just made with care and an eye for balance and moisture level. The toppings, be it onions and cilantro or chipotle harissa, should brighten, heighten, and tie the whole taco together.
Thanks to a growing Latino population and technological advances like, say, the Internet, not only are there more great tacos out there than ever before, but it's becoming easier to track those tacos down. A truly great taco is nothing short of a work of art.
1. La Taqueria, Carnitas Taco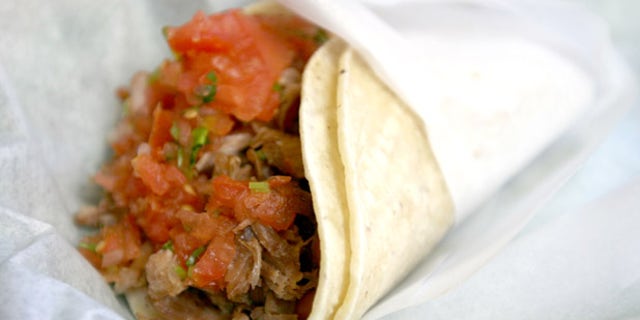 San Francisco, California
When it comes to leaders of a culinary genre, there are few restaurants in America with greater gravitas for their respective focus than San Francisco's La TaqueríaTaqueria has for tacos. That challenges it, and its tacos (carnitas among them, quite arguably the best) with quite a heavy reputation to live up to. La TaqueríaTaqueria, just one of the Mission's casual Mexican joints, does things the way they should be done: fresh. As if the amazing rice-free burritos weren't enough (you'll never notice it was even missing), there are the tacos. To prepare the carnitas, chef/owner Miguel Jara slow-cooks chunks of pork shoulder in caulrdons of bubbling lard until tender, then roasts it until it's crispy and tender. When tucked into a double layer of corn tortillas and topped with pinto beans, onions, and pico de gallo (and cheese and avocado if you choose), there's no better taco in America.
2. Los Tacos No.1, Adobada Taco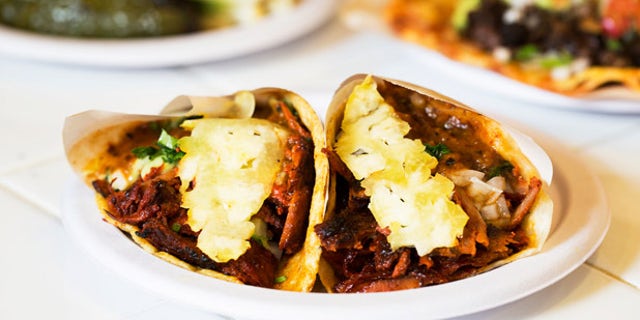 New York, New York
With Los Tacos No. 1 setting up in Chelsea Market, there's about one thing to say on behalf of taco-crazy New Yorkers when it comes to defending their assertions that they now have one of America's best tacos: God help you. West Coasters who haven't even sought out the city's best will likely have too much of a chip on their shoulder to admit it, many so-called East Coast taco experts haven't a leg to stand on to combat the cliché that there are no good New York tacos anyway, and it's going to seem pretty outrageous to declare a place open for a year as one that serves one of America's finest, so good luck with all that. But who cares anyway?
Texans and Californians be damned, it's true. Los Tacos No. 1 serves a taco so good that you could dare anyone to taste it blindfolded against their supposed classic favorite confident and they'd secretly be worried they'd choose Los Tacos No. 1 instead. And Californians and Texans should have no reason to begrudge them anyway — it's a collaboration of three close friends from Tijuana, Mexico, and Brawley, Calif., for crying out loud, guys who heard the East Coast plight. Forget reason. Let's go to taste.
You really can't go wrong whether you go with adobo or pollo, but the winner is the red chile-marinated pork, the adobada. Moist. Salted. Flavorful. Sweet but not cloying. Accoutrements. Proper moisture and accurately delivered tortilla. There are expertly prepared salsas. Dress it yourself. You'll shut up because your mouth will be full and you will be happy. (You shouldn't need to undersell them New Yorkers, but like dealing with that difficult friend, loved one, or sibling, you know well enough that introducing your West Coast friends to Los Tacos No. 1 will mean bumping into them there getting their fix.)
3. The Shed, Chicken with Green Chile Taco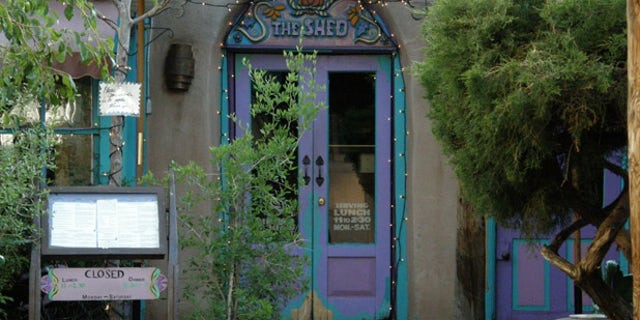 Santa Fe, New Mexico
Santa Fe is known for its green "Hatch" chiles, and their nearly supernatural ability to pair perfectly with just about any type of food you can think of. At The Shed, in business since 1953, their chiles are grown especially for them and are brought in fresh daily, then processed on-site. One of the best applications of this spicy green sauce that you'll find in the city is on the restaurant's Taco Plate: two fresh blue corn tortillas with baked chicken topped with green chile, cheddar cheese, onion, lettuce, and tomato. The chicken is perfectly cooked, but the chile is the real star of the show (as is the stellar posole that comes with it).
4. Torchy's Tacos, Trailer Park Taco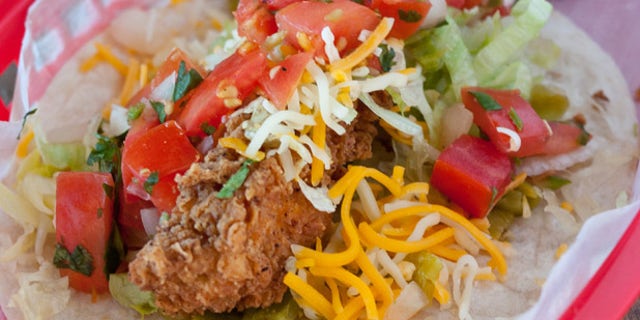 Various Texas Locations
At Torchy's, which has locations throughout Texas (centered in Austin, Dallas, and Houston), owner Michael Rypka has created tortilla-bound concoctions that are nothing short of devilish, and made fresh every day. There's the Brush Fire (Jamaican jerk chicken, grilled jalapeños, and mango), the Dirty Sanchez (scrambled eggs with fried poblano chile, guacamole, escabeche carrots, and shredded cheese) and The Republican (grilled jalapeño sausage with shredded cheese and pico de gallo), but the wildest and most delicious creation on the menu is the Trailer Park, a massive, battered and fried hunk of chicken breast, topped with sautéed green chilies, lettuce, pico de gallo, and shredded mixed cheese on a flour tortilla from El Milagro, topped with poblano sauce. If you prefer to "get it trashy," they'll replace the lettuce with cheese sauce. And who needs lettuce when cheese sauce is an option?
5. El Real Tex-Mex Café, Chicken Puffy Taco
Houston, Texas
Located inside a restored theater in Houston's Montrose neighborhood, El Real serves Tex-Mex classics like chile con carne, nachos, and Frito pie, but we recommend you head directly for the San Antonio Puffy Taco Plate, with smoked chicken. The deep-fried and puffed-up shell gets a smear of refried beans, then the smoked chicken (smoked whole before being shredded) is liberally applied. Lettuce and tomato come on top, and it's a taco you're not likely to forget any time soon.
6. Mexicali Taco & Co., Carne Asada Taco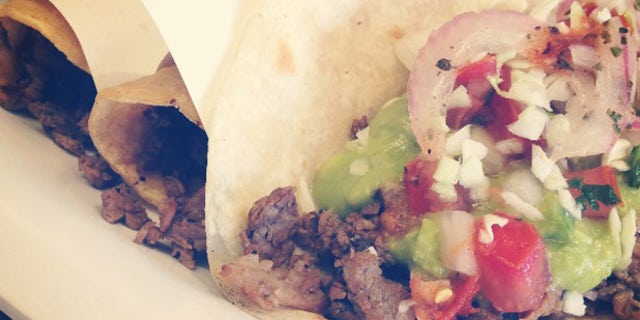 Los Angeles, California
Mexicali Taco was founded by two friends, Esdras Ochoa and Javier Fregoso, in 2009, and it quickly carved out such a niche as one of the best taco stands in the already crowded Los Angeles scene, two years later they opened a brick-and-mortar location. The tacos here don't play around: they're big and full of meat, and the carne asada is prepared the right way, seasoned with a secret blend of spices and char-grilled on a smoking hot fire. You haven't had truly great carne asada until you've had it from Mexicali.
7. Tito's Tacos, Tito's Taco with Cheese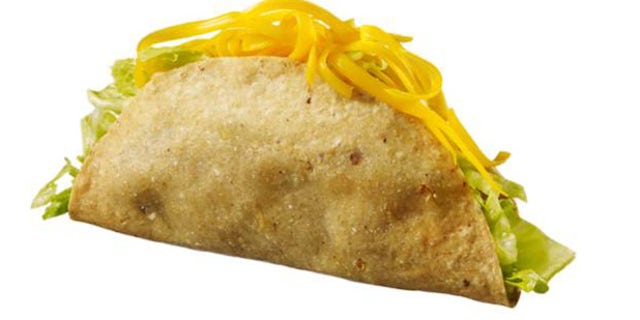 Culver City, California
This Los Angeles Westside institution is famous for its plump burritos (like one with chili con carne and refried beans that people dream about), but for good old American-style tacos — the kind purists scorn — it's hard to beat this place. The beef is long-cooked and shredded, not ground. The shredded cheddar is tart, and the julienned iceberg is crisp and cool. It's nothing short of hard-shell taco perfection.
8. La Super-Rica, Adobado Taco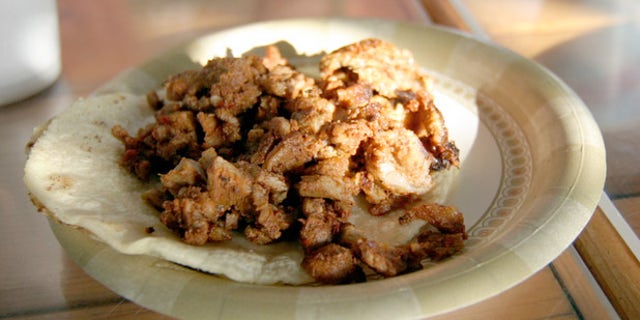 Santa Barbara, California
The fresh flavors and simple but perfect presentations at this casual, counter-service Santa Barbara landmark draw long lines on a daily basis (this was local resident Julia Child's favorite Mexican restaurant). Though the vegetable tamales, cheese-stuffed pasilla chiles, chorizo quesadillas, and the like have strong followings, it's hard to beat La Super-Rica's exquisitely minimalist adobado tacos: just made-from-scratch corn tortillas (you can watch them being patted by hand, through a window into the kitchen, while you're waiting to order) laden with marinated pieces of pork with plenty of crispy edges. That's it. Add pico de gallo or other condiments from the salsa bar, and there you are.
9. Chico's Tacos, Chico's Taco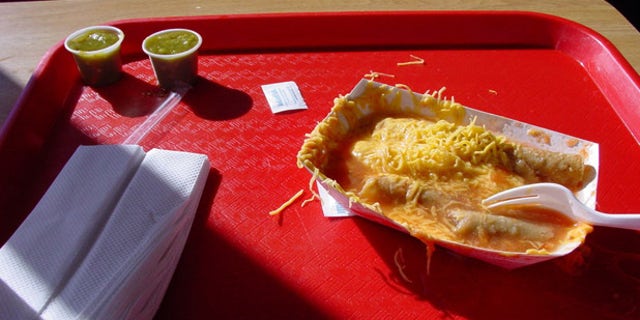 El Paso, Texas
The best way to explain how Chico's serves one of America's best tacos is to say how improbably bad this small chain and its fare appear at first. Signs outside the drab, unimpressive buildings give no indication of its signature dish: three rolled "tacos" containing ground beef covered in finely shredded cheese, all soaked in translucent red "salsa" in a white cardboard boat, and topped with jalapeño salsa. Take the cheese, which is so finely shredded you could swear you see powder. But something happens with that first bite. The "flautas" are crunchy, but soaked in the salsa, the crispness begins to give.
And though it's more like a thin broth, there's surprisingly good flavor. The heat of the broth melts the cheese, turning it into a soupy mess of flavor punched up by the heat of the jalapeño sauce. There's a hot, dip-with-every-bite experience, and no need for plastic utensils. You pick one up, bite, dip, and bite again until they're gone and you're left with a quarter-inch of cheese and sauce that begs drinking.
10. Birra Zaragoza, Birria Tatemada Taco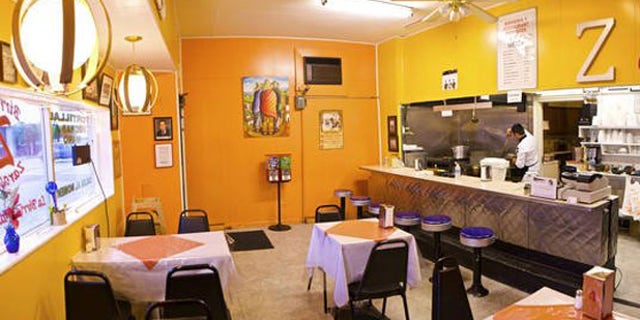 Chicago, Illinois
At Chicago's family-run Birrieria Zaragoza, goat is the name of the game. Namely, the roasted goat taco, or birria tatemada, based on a recipe that's more than 100 years old. The goat is steamed for around five hours, then rubbed with an ancho chile-based red mole sauce before being roasted and served on house-made corn tortillas with fresh condiments including onion, cilantro, red salsa, and roasted chiles.
You can request any part of the goat you like, but we suggest you go with the pistola, or shank. It's juicy, tender, and full of flavor, a bite worth seeking out if you're even a passing fan of falling-off-the-bone meat. And who isn't?
See forty more excellent taco choices in the full article here.
More from The Daily Meal:
How Countries Eat Avocados Around the World
10 Bizarre Breakfast Cereals You Won't Believe Ever Existed