The best pumpkin patches in America
It really isn't Fall until you have a perfectly curated selection of pumpkins on your front porch or stoop.
Pumpkins punctuate the coming of colder weather, a new season. We just wouldn't want to celebrate Halloween without a spooky jack-o'-lantern on our doorstep, or Thanksgiving minus a freckled white mini-pumpkin in a cornucopia.
This year we considered some of the biggest and best pumpkin patches across America to come up with our top list. We took into consideration size, family activities, festivals on-site, pick-your-own option, and of course, food.
We picked the farms with the largest selections of pumpkins so you're sure to come home with a variety of squashes and gourds for decorating and carving. We also took into consideration activities and festivals hosted on site. Walters' Pumpkin Patch in Kansas has a human gerbil wheel for kids to roll in and our number one on the list, Siegel's Cottonwood Farm in Illinois, has a baby chick nursery. Pinch us. Lastly, because food truly is our number-one priority, we made sure all of these farms had plenty of good eats to munch on, because pumpkin-picking works up a serious appetite! Sample apple cider donuts at Craven Farms in Washington and pick up a pumpkin pie from New York's Wright Farm, just for starters.
Our list includes picks from all over the country. Did your favorite spot make it?
1. Siegel's Cottonwood Farm, Crest Hill, Ill.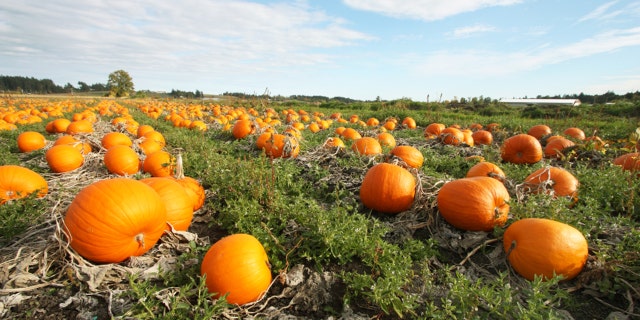 Patrons can pick from thousands of pumpkins at Siegels's Cottonwood Farm. And while this farm has plenty of the usual farm activities like hayrides and zoo animals; it is the unique kid-friendly activities that shoots this farm to the top of our list. Youngsters can be entertained with the cock-a-doodle-coo puppet choir or take a ride on the train. And the older kids (and adults too!) can try their hand at zombie paintball. Also, there is a baby chick nursery on site. Need we say more?
2. Shady Brook Farms, Yardley, Penn.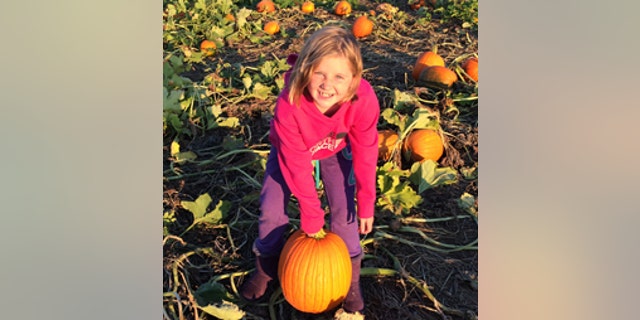 You come to Shady Brook Farms for the Pumpkinfest during the day, but stay after dark, for a haunted tour of the farm. Pumpkin-picking abounds along with hayrides, pony rides, inflatables, and a corn maze in daylight. But at night the corn maze comes alive with ghouls and ghosts, and the barn and hayride get "haunted."
3. Baughers Orchards and Ranch, Westminister, Md.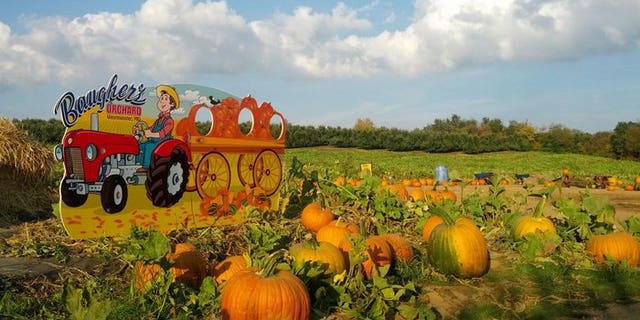 Baughers Orchards and Ranch caters to the entire family. Every weekend in October is the Fall Harvest Festival. Groups can spend the entire day picking pumpkins from their expansive patch, petting farm animals, and tasting from the fruit market and bakery. Baughers even has its own beehive to pollinate the fruits and vegetables on the farm. Don't leave without tasting some of the honey.
4. Jumbo's Pumpkin Patch, Middleton, Md.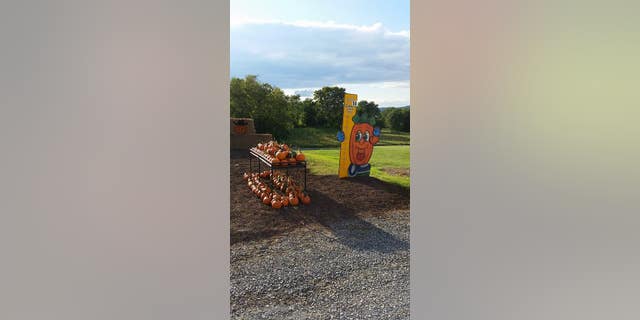 This 131-acre farm was founded in 1970 by the Huffner family and opened to the public in 1994. On weekends, Jumbo's welcomes visitors to its 30-acre pumpkin patch. While at the farm, be sure to stop by the craft attic and market to scour through 3,000 square feet of trinkets, baked goods, and fall decorations.
5. The Great Pumpkin Farm, Clarence, N.Y.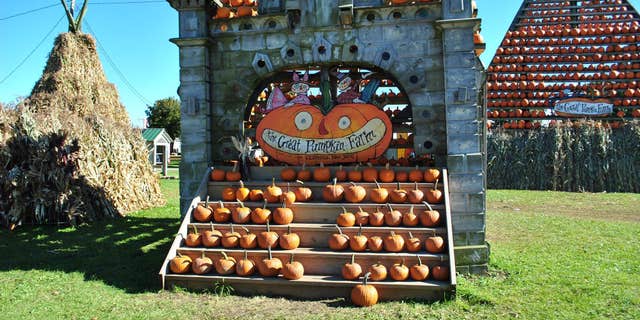 The Great Pumpkin Farm has plenty of pick-your-own pumpkins to choose from, but it is the fun festival activities that set this fall farm aside from the rest. From regular costume competitions, pig racing, pie-eating contests, and even a zombie mud run, this farm has something fun for every member of the family. The farm's most extensive event is Oktoberfest, September 18 to 20, complete with food, entertainment, and a raffle offering $15,000 worth of cash and prizes.
Check out more of the nation's top pumpkin patches.
More from The Daily Meal
How to Make a Starbucks Pumpkin Spice Latte at Home
The Craziest Corn Mazes in America
Here's the 1 Drink That Will Make You Forget About the Pumpkin Spice Latte
The 10 Best Pancakes in America