The best nonstick pans for everyday cooking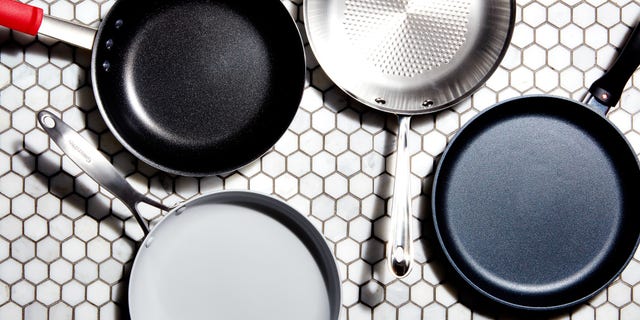 Maybe you're a nonstick pan fanatic like me. Or maybe you shy away from nonstick pans because of safety concerns. Either way, if you're a home cook, you probably agree that there are some cooking tasks — omelettes, French Toast, crepes — where only nonstick will do.
I recently decided to ditch my collection cheap nonstick pans and cook primarily with stainless steel. But I still wanted a good — no, great — nonstick pan for situations that demand that super-smooth cooking surface. So I did a little research and found the most popular ceramic, porcelain-enamel coated, and classic nonstick pans on the market. Then, with the help of a fellow egg-flipping and nonstick pan-loving cook, Tommy Werner, I started testing them.
First, Tommy and I cooked a pancake in each pan — no cooking oil allowed — to see how easily the pancakes flipped. Then we fried an egg in each pan, again without using cooking oil.
We also took into consideration the weight of the pans, how quickly they heated up, and how evenly they cooked the food. One thing we didn't taking into consideration? Epi's own line of nonstick cookware. How could we be impartial about the line that bears our gorgeous name?
Because I only called in pans that had already been well reviewed, they all performed pretty decently in the workout we gave them. Still, some clear winners stood out. Here are our testing notes, including which pans were our favorites.
Our Favorites:
GreenPan Paris 10" Ceramic Nonstick Fry Pan
GreenPan is a relative newcomer to the pan market, and has been remarkably well-received (GOOP touted it as the best alternative to Teflon). The patented ceramic nonstick coating is manufactured without PFAS and PFOA, is scratch-resistant, and is both oven and dishwasher safe. The pan I tested comes from the more economical Paris collection; at $50 it sits right in the middle, cost wise, of the pans we tested. I loved the look, feel, and heft of the pan — it was the perfect medium weight, making it a breeze to use. And both the pancake and egg lifted perfectly off the pan's super-slick surface. The biggest perk? The white ceramic coating is so much prettier than traditional black nonstick. - Katherine Sacks
Kyocera Ceramic Coated Nonstick 10" Fry Pan
Japanese company Kyocera has long been an Epi favorite for their ceramic pans and knives. This nonstick option ($36.49 on Amazon) is no exception. PTFE-, PFOA- and cadmium-free, the pan has a thick aluminum base clad with a stainless steel plate that makes for quick and even heat distribution. During testing it was nice and light in my hand, and the slick cooking surface made the eggs and pancakes easy to slide around and flip. - KS
Cuisinart Contour 10" Hard Anodized Open Skillet
Essential cookware company Cuisinart wins high marks for this pan from The Sweethome thanks to its durable construction and slick nonstick surface. (The $32 price tag doesn't hurt either.) With an anodized aluminum core, this pan heats up quickly and evenly. It's oven safe up to 500 degrees F and a reinforced nonstick cooking surface makes for easy cooking and cleanup. During testing, this was one of my favorites — the metal handle and light pan felt good in my hand and heated up evenly and quickly, making it easy to cook with. My pancakes and eggs easily slide around the pan, proving this was a nonstick pan that could do the deed. - KS
Scanpan Classic 9.5" Fry Pan
Scanpan, a Denmark-based cookware company, has been making quality cookware for 60 years, and at some point in their history their pans became the preferred nonstick option in the Epi Test Kitchen. This ceramic-based fry pan ($80) is scratch-resistant and features an aluminum-coated body. In testing, the pan took longer than the others to come up to heat, and I noted that it was very bottom heavy. But once up to temperature, it provided an effective nonstick surface for both our pancake and egg test. - Tommy Werner
And the Others:
Tramontina 10" Professional Nonstick Restaurant Fry Pan
The top-rated pan from the uber-picky editors at The Sweethome is made from commercial grade aluminum with a high quality PFOA-free, dishwasher safe nonstick surface. It's touted for its even heat transfer and superior durability, and at $35 it's fairly affordable. But I didn't love the rubber handle — although it would make transferring the pan from the cooktop to oven super easy — and the cooking surface didn't seem as smooth and nonstick as others. Overall, it fell in the middle of my nonstick pan loves. - KS
Calphalon 10" Signature Nonstick Fry Pan
This bottom-heavy skillet is dishwasher-safe and PFOA-free. It also weighs almost three pounds, which made it among the heavier of the pans I tested. The pancake test revealed a few hot spots, which isn't a huge deal — but for a $50 pan, it's enough to keep it out of our top-ranked slots. - TW
Swiss Diamond 10.25" Nonstick Fry Pan with Lid
This Swiss company — an old standby in the world of nonstick pans — mixes real diamond crystals into their patented nonstick coating to create strong, PFOA-free cast aluminum pans that are consistently top rated. This model is oven-safe up to 500 degrees F and has a stay-cool ergonomic handle, making it ready for frittatas or other stovetop-to-oven recipes. But in testing, this pan was the heaviest of the bunch — it was noticeably bulky during cooking. The pan took much longer to heat up than others, and the surface wasn't as slick — the first pancake didn't flip easily and the egg stuck slightly. And at $110, this pan is one of the most expensive on the list, another negative in our book. - KS
T-fal Professional Total Nonstick Thermo-Spot Heat Indicator 10.5" Fry Pan
This Amazon bestseller features a stainless steel disc — dubbed the "Thermo-Spot heat indicator" — for even heat distribution and anti-warp protection. (The T-Spot also supposedly serves as an indicator for when the pan is up to temperature, but I didn't notice any visual changes). The pan is oven-safe up to 400 degrees F, dishwasher-safe, and, at $30, pretty cheap. And during testing, the grip was one of the most comfortable among the pans I tried. But I found that the Thermo-Spot created an unpleasant hot spot right in the middle of the pan that browned a part of the pancake faster than the rest. Buy — and fry — with caution.- TW
All-Clad D3 Armor Stainless Steel Fry Pan
This $95 pan, which the company recommends as a sort of hybrid pan, is stainless steel with a bonded matrix bottom surface — it looks kind of like a honeycomb. That surface is meant to allow for proper browning while helping to release foods that tend to stick on stainless steel, such as fish or eggs. As it turns out, "looking like stainless steel" also means "cleaning like stainless steel." The egg actually stuck to those honeycomb pockets, even when oil was used in cooking. This is a cool pan, but nonstick it's not. - TW