The best new restaurants in the US
For some of us (you know who you are), travel is just an excuse to eat. So in our fifteenth annual Hot Tables spectacular, we've rounded up our favorite new restaurants in some of our favorite food cities, including San Francisco, New York, Atlanta, and more. The result? Eateries so good that you may never want to go home again.
1. Watershed on Peachtree, Atlanta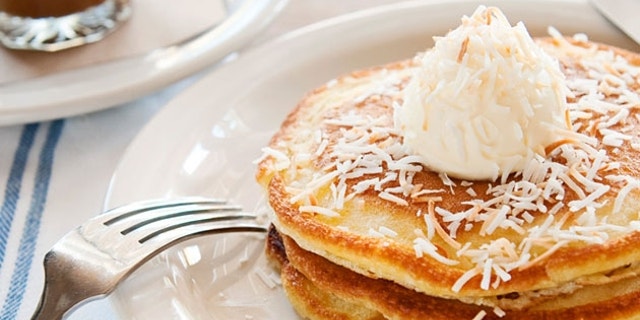 The scene: Once a scruffy Decatur café with cinder block walls, Watershed has been made over as a stylish downtown spot serving zingy Louisiana food to a packed dining room and bar—the spillover from the 180-seater hangs out on a patio overlooking Peachtree Road.
The food: Many stick to the bar for spicy bites like catfish goujonettes in lettuce wraps, but there's more going on in the back dining rooms, where you can taste Louisiana-born Joe Truex's take on jambalaya, which combines fried oysters, butter-poached shrimp, and fried-rice fritters over aromatic crayfish étouffée. His scallop schnitzel with anchovies, capers, and a fried quail egg is brightened by a squeeze of lemon and a glass of terrific vermentino.
Dish to get: Watershed's already-famous fried chicken, marinated for two days and fried in lard and ham fat, is served on Wednesdays only and goes quickly (1820 Peachtree Rd.; 404-809-3561; entrées from $18).
2. The Ordinary, Charleston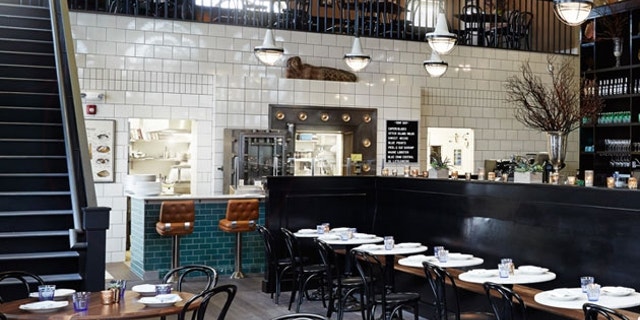 The scene: Upper King—the stretch of King Street just north of the well-touristed city center—continues to surprise locals and visitors alike with its proliferation of gems such as this grand two-level, 90-seat seafood restaurant set in a 1927 Bank of America building. A celebration of coastal Carolina mollusks and fish, it arrived in a wash of good will: James Beard Award–winning chef/owner Mike Lata runs city favorite FIG.
The food: The raw bar, in front of the bank's vault door, churns out slender Caper's Blades oysters on the half shell, banded rudderfish tartare, and triple shellfish towers that would impress a robber baron. The kitchen on the other side of the vault door prepares grouper-cheek sandwiches with chowchow tartar sauce, and barbecued white shrimp with charred bread to sop up the buttery, spicy sauce.
Dish to get: If triggerfish is in season, don't miss the restaurant's schnitzel treatment of this local reef dweller; it's thin, crisp, and bursting with sweet flavor (544 King St.; 843-414-7060; entrées from $24).
3. Spoon Bar & Kitchen, Dallas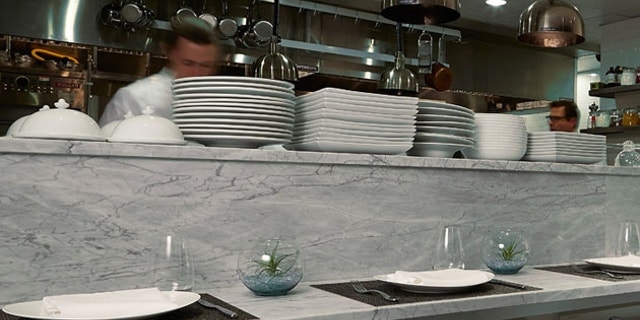 The scene: It's quite astounding to find such hamachi and char in landlocked Dallas—and in a high-end Preston Road–area strip mall, no less—but here they are, served in a simple white 58-seat dining room and bar filled with glittery Dallas ladies slurping oysters and sipping champagne. It's helmed by John Tesar, who is known for his food at the city's Mansion on Turtle Creek.
The food: Tesar cooks with prodigious technique and fine-dining flourishes. Thinly pounded bigeye tuna drapes over foie gras like crimson peau de soie. Razor clam tartare arrives gilded with Pacific sturgeon caviar, and a bravura smoked-eel headcheese with caviar tastes lighter than its porcine cousin. Big spenders have assorted caviars and bottles of white Burgundy to consider.
Dish to get: Grilled octopus with crispy pork belly, black garlic, piquillo peppers, and avocado—the flavors are layered with rare precision (8220 Westchester Dr.; 214-368-8220; entrées from $30).
4. Oxheart, Houston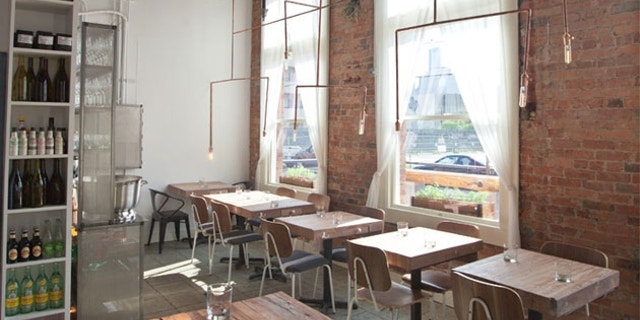 The scene: Don't let the name mislead you: Oxheart refers to a variety of heirloom tomato, not beef offal, and this 31-seat Warehouse District restaurant is an homage to the hearty enjoyment of fruits and vegetables. It's also a bit of a show: Ten stools around a U-shaped counter are the front-row seats for watching husband-and-wife chefs Justin Yu and Karen Man (young locals who trained among the culinary elite of Copenhagen) as they hover around a kitchen island with their small and laser-focused team. Expect as seatmates a motley assortment of food stylists with iPhones.
The food: Yu and Man offer a nightly seasonal menu, a garden menu, and a seven-course tasting menu. In spring, you might find brassica and chicory with goat's whey, chrysanthemums, and herb oils, as well as gently steamed gulf barrelfish with smoked pine nuts. A rye bread–sunchoke pudding is tempted to the sweet side by a dash of molasses and those perfect first strawberries of the season.
Dish to get: You're at the mercy of the season with this nightly changing menu, but look for okra in summer. This kitchen is reputed to flip okra haters—never an easy task (1302 Nance St.; 832-830-8592; set menus from $49).
5. Hog & Hominy, Memphis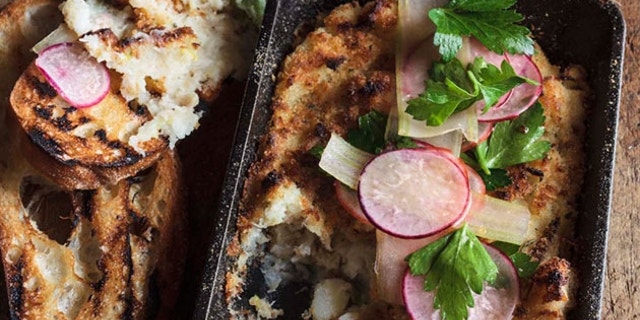 The scene: A gable-roof bungalow was stripped to its studs and retrofitted with subway tiles and blond-wood tables to create this cool East Memphis restaurant. It has an open kitchen with a brick pizza oven and an outdoor boccie court to keep the overflow crowd engaged. (There's room for 75 in all.) Owners Andrew Ticer and Michael Hudman have crossbred pork-and-bourbon-focused Southern dude food with small plates and brick-oven pizza for a place that appeals to everyone, from families to the flannel-and-fedora-wearing crowd.
The food: Duck sausage with brussels sprout slaw and a mortadella corn dog with caraway beer mustard count among the early favorites, though the poutine with neck-bone gravy is hard to resist. The 'Shrooms wood-oven pizza is topped with porcini, smoked mozzarella, arugula, and porcini-shiitake cream sauce, while the Sunshine State pizza with arugula pesto sports a Tennessee treasure: Allan Benton's hickory-smoked bacon. In case anyone needs further reminder that this is the South, there's a killer peanut butter pie for dessert.
Dish to get: The Buffalo pig's tails with pecorino vinaigrette and pig's ears is the dish everyone orders on a dare and then raves about for months afterward (707 W. Brookhaven Circle; 901-207-7396; entrées from $13).
6. Restaurant R'evolution, New Orleans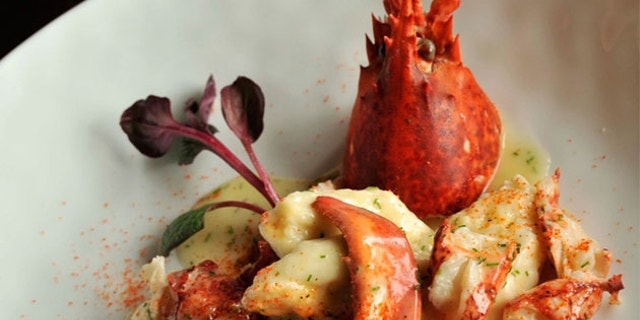 The scene: Set in a warren off the courtyard of the Royal Sonesta Hotel, this meandering 160-seat restaurant features a different mood for each room—from the plush parlor with its hand-painted murals and antique teardrop chandelier, to the Market Room with its gleaming exhibition kitchen, to the stained-oak bar with its dim gas lamps and selection of house-infused ratafias. All of which adds up to a level of ambition and polish that the French Quarter hasn't seen in years.
The food: The menu—a collaboration between Creole culinarian John Folse and Chicago hotshot Rick Tramonto—features more than 50 items that illustrate the range of influences of Louisiana cuisine. Snapping turtle soup with Madeira, sizzling oysters with smoked butter, and crawfish-stuffed flounder create a sense of place; jamón Ibérico de bellota and sugar-cured foie gras with blueberry gastrique promise a high level of luxury. Not to be ignored are the terrific house pastas, including a tajarin with gulf crab and saffron. After dessert, the mignardises come in a lacquered jewelry box; you open the drawers to find all the goodies.
Dish to get: Crabmeat-stuffed frog's legs Niçoise epitomize the hearty pleasure and sophistication of this kitchen (777 Bienville St.; 504-553-2277; entrées from $19).
7. The NoMad, New York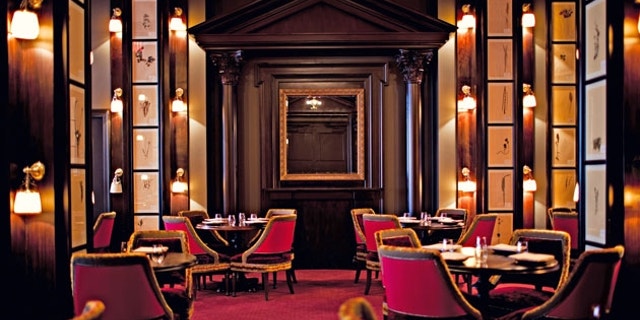 The scene: Power players commingle with an after-work bar crowd in a plush setting behind the NoMad Hotel's lobby, north of the Flatiron District. The vibe is buzzy and energetic—even on weeknights, the bar is three deep. If you want to try one of barman Leo Robitschek's justifiably celebrated cocktails (like the Fig and Thistle—a blend of Excellia Blanco tequila, Cardamaro, fig preserves, and lemon), attempt to nab a seat in the hotel's library.
The food: Urbane club food as reinvented by chef Daniel Humm (whose other restaurant, Eleven Madison Park, holds three Michelin stars). Think marrow-crusted beef tenderloin, ornate seafood platters, and suckling pig confit.
Dish to get: The roast chicken for two. The bird is stuffed with foie gras and truffles, presented whole tableside, and then whisked away and carved and plated in the kitchen (1170 Broadway; 347-472-5660; entrées from $20).
8. Ramen Shop, San Francisco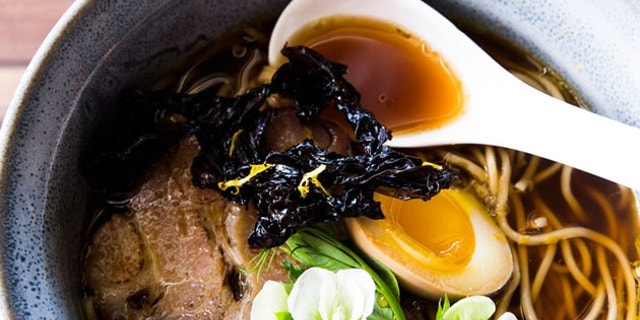 The scene: Three Chez Panisse veterans bring the feel of a tiny Tokyo noodle shop to an Oakland place with a long Douglas fir counter and rusted stools.
The food: The three ramen on the menu change nightly along with a couple of appetizers such as citrus and greens topped with flakes of wok-smoked cod. Order an exceptional ice-cream sandwich for dessert.
Dish to get: Ramen with pork broth, spit-roasted pork, a soy-marinated egg, pickled ginger, and Mendocino nori (5812 College Ave.; 510-788-6370; entrées from $13).
9. Mintwood Place, Washington, D.C.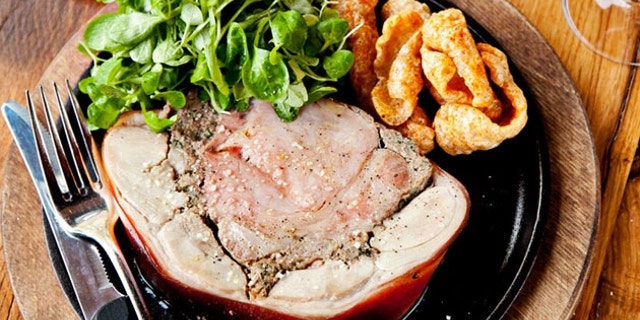 The scene: Rife with loud-and-crowded restaurants, bars, and clubs, the Adams Morgan neighborhood has long appealed to congressional aides and interns. But this smart 80-seat bistro has brought in a much broader swath of Washingtonians, including the Obamas, who have joined the exceptionally diverse clientele in crowding into the coffee-colored leather booths and shouting over the considerable din.
The food: Elevated Franco-American comfort fare. Steak tartare perks up with the crunch of finely diced fried potatoes, while seasonal shad roe comes anointed with a melting sheet of lardo rather than the expected bacon and veal reduction. Even with such upscale bistro offerings as cast-iron Amish chicken and duck breast au poivre, there's still place on this menu for a delicious flame-grilled bacon cheeseburger.
Dish to get: The beet and goat cheese "mountain pie," pressed between slices of bread and cooked in a wood-burning oven (1813 Columbia Rd. N.W.; 202-234-6732; entrées from $17).
See more of the best new restaurants in the world
More From Conde Nast Traveler:
Amazing Waterfalls Around the World