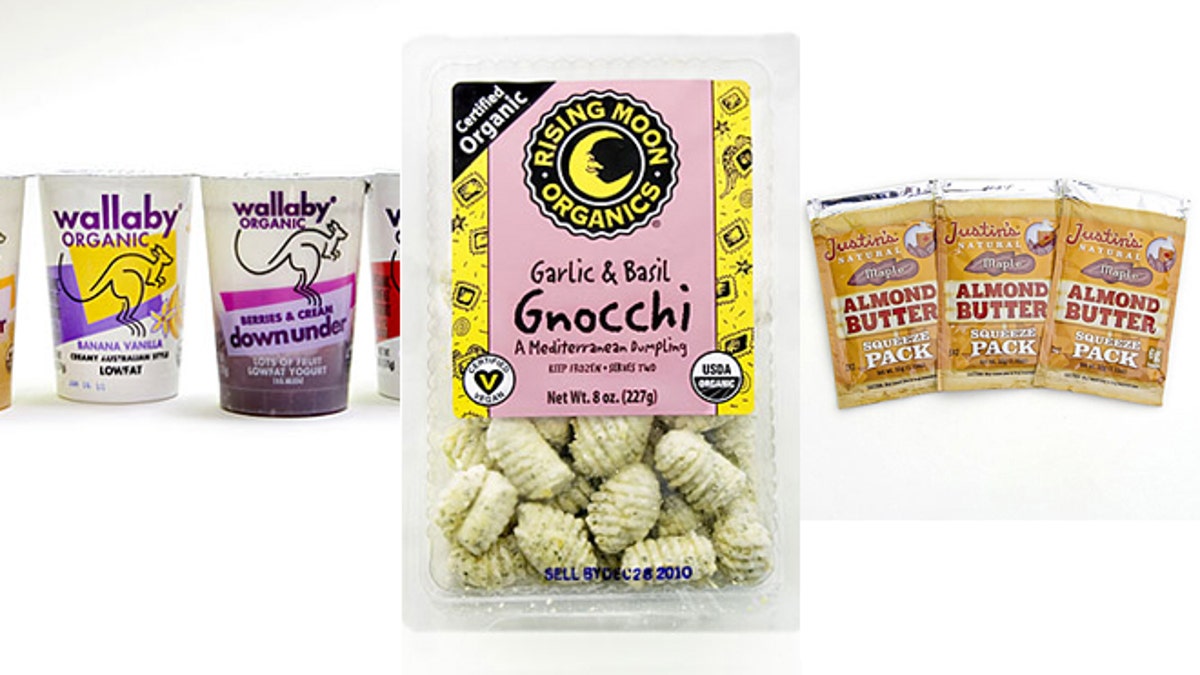 If you load your shopping cart with the same foods every time you visit the grocery store, it's time to shake things up. Recently, a whole generation of healthy new foods has been popping up on supermarket shelves. We did the legwork for you by sampling the newest products and came up with 10 to add to your shopping list.
Breakfast Bread: Thomas' Bagel Thins
Finally, a big bagel without all the calories. These pre-sliced Bagel Thins are as wide as a bagel but thinner and lighter so each one has only 110 calories. We especially like the 100% whole wheat variety. It's got a clever combo of 5 grams of fiber and 6 grams of protein that's guaranteed to keep you full all morning long. But don't just save these for breakfast. Top them with a scoop of tuna for lunch or a tablespoon of hummus or peanut butter for a healthful snack.
Nut Butter: Justin's Natural Maple Almond Butter Squeeze Pack
Move over peanut butter and jelly. This maple-laced almond butter marries sweet, salty and savory all into one. Perfectly sized in convenient, portable 2-tablespoon squeeze packs, it makes a smart spread for topping an apple or whole-grain crackers. It's completely free of hydrogenated fats and has only 2 grams of saturated fat, and is surprisingly low in sodium (only 70 milligrams) and sugars (only 3 grams). One squeeze pack provides 200 calories, 17 grams of total fat and 6 grams of protein.
Snack: Planters NUT-rition Omega-3 Mix
Go ahead and munch on a handful of this tasty combo of walnuts, dried cranberries and dark chocolate-covered soy nuts. Your heart will thank you and so will your taste buds. The perfect mix of sweet and crunchy, it contains plenty of heart-healthy nutrients like alpha-linolenic acid, vegetable protein, fiber and antioxidants. Unlike most snack foods, it's completely sodium free. In the right portions, it's figure friendly too, with 160 calories per quarter-cup serving.
Condiment: Crofter's Superfruit Spread
Slather a spoonful of this organic fruit spread on your toast or English muffin for a powerful flavor punch and some big health benefits. These tart yet sweet preserves are made from a blend of antioxidant-rich organic morello cherries, blueberries, wild cranberries and red grape concentrate. Lightly sweetened with organic fair trade cane sugar, it has one-third less sugar than traditional jams and jellies. Just one tablespoon provides 50 percent of your daily dose of vitamin C for only 30 calories.
Cereal: Kashi Heart to Heart Warm Cinnamon Oat Cereal
Sweet, spicy and seriously crunchy, this cereal stands up to milk. It doesn't hurt that it's good for your ticker too. Each ¾ cup serving is low in sodium and offers 5 grams of fiber, loads of B vitamins and powerful antioxidants like vitamin E and green tea, white tea and grape seed extracts. It's waistline friendly as well with only 110 calories and 5 grams of sugar per serving.
Yogurt: Wallaby Organic Downunder
Wallaby Organic Downunder yogurt tastes both rich and indulgent thanks to lots of real fruit and creamy organic yogurt made from milk produced by a handful of small organic dairy farms. Unlike other yogurts which can be overly sweet, this one comes in grown-up flavors like Strawberries & Cream, Mango Tangerine and Pink Grapefruit. So spoon it up. One 6-ounce container supplies 20 percent of your day's calcium. What's more, it's completely free of artificial sweeteners or colors and is packed with live, active cultures like L. acidophilus, L. bulgaricus, S. thermophilus and bifidus for a healthy digestive system.
Pasta: Rising Moon Organics Garlic & Basil Gnocchi
If you love homemade gnocchi but can't find the time to make your own, Rising Moon's organic gnocchi is almost as good as the real thing. Just like homemade, it's crafted from a short ingredient list. Scan the label and you'll find organic potatoes, unbleached flour, sea salt, garlic, basil and parsley – that's it. Each half-cup serving is filled with energy-promoting complex carbs and 3 grams of filling fiber. It cooks in just five minutes, so keep a container in your freezer and serve with a tossed salad for a healthy dinner in a hurry.
Dessert: Ciao Bella Sorbet
Ciao Bella's artisanal sorbet makes the ideal ending to a warm-weather meal. You can find it in exotic flavors like Sicilian Blood Orange, Sicilian Lemon and Dominican Coconut. Because it's made from real fruit and organic cane juice it's free of high fructose corn syrup and artificial colors. Each half-cup serving ranges from 60 calories for the Blood Orange to 190 calories for the Dominican Coconut.
Side Dish: Near East Roasted Garlic & Olive Oil Pearled Couscous Mix
Bigger and meatier than traditional couscous, this pearled couscous mix - also known as Israeli couscous - is the perfect side dish for a busy weeknight. While it takes a little longer to cook than quick-cooking couscous (about 20 minutes total), its hearty texture and intense garlic flavor make it worth the wait. Pair it with roast chicken or transform it into a vegetarian entrée by stirring in chopped baby spinach and rinsed, drained cannellini beans. Prepared according to package directions each 1-cup serving contains 270 calories and 3 grams of fat.
Dried Fruit: Sunsweet Antioxidant Blend
Made from tart red cherries, blueberries, cranberries and dried plums this dried fruit blend is loaded with antioxidants believed to improve heart health, fight cancer and prevent cognitive decline. Naturally sweet, these pre-cut fruit bits make it easy to squeeze an extra serving of fruit into your day. Not only are they ideal for topping dried cereal, oatmeal or yogurt, they also make a handy snack. Simply prepack ¼ cup servings into baggies, and store for a quick, portable snack when you're on the go for only 130 calories.
Check out the slideshow of the best new health foods
More from Cooking Light
Best Fast Food Sandwiches and Burgers