The best fried chicken in America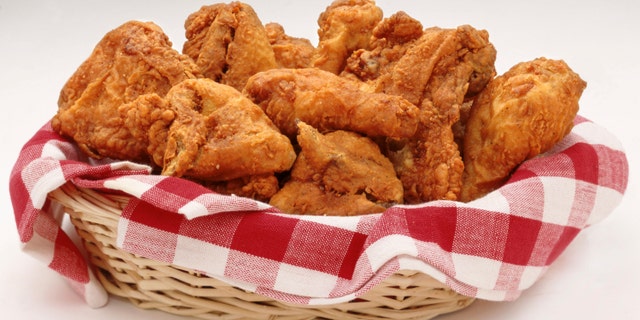 Is there any food more representative of American cuisine than fried chicken? It has deep and meaningful roots in the nation's history, distinct regional preparations across the country (from skillet-fried to cornmeal-crusted), and it has inspired food lovers emigrating here from other nations to create their own versions of it (Korean fried chicken is particularly popular right now, but there are plenty of other varieties to speak of).
So in honor of National Fried Chicken Day, which is July 6, here is a thoughtfully curated, comprehensive guide to the best fried chicken this country has to offer.
Fried chicken has its roots in country kitchens of the South, soaked in buttermilk, shaken in a brown paper bag with seasoned flour, and prepared in a cast-iron skillet filled with bubbling liquid lard. The oldest fried chicken recipe on record is published in The Virginia House-Wife, written by Mary Randolph in 1828. Since then the American classic has been prepared in countless ways — from soaked in a spicy vinegar-based marinade and deep-fried, Peruvian-style to served upscale in four-star restaurants with maple-honey butter or other accoutrements.
For the purposes of creating this list, The Daily Meal called on its network of contributors and experts across the country, who know their local food scenes like the back of their hands, to weigh in on the issue. We also did intensive national research and looked at reference guides and literature written on the state of fried chicken in America. The result is a guide organized by city, listing the leading fried-chicken establishment in the area followed by honorable mentions in many cases. The cities range from New York City to Charleston, S.C. to Dallas, and many places in between.
So which establishments made the list? There's President Obama's favorite Chicago spot, Harold's Chicken Shack, known for serving up the star of the show with no frills, just white bread and hot sauce. The fried chicken at Willie Mae's Scotch House was a no-brainer, and the James Beard Foundation agrees — they named it an "American Classic" in 2005. And the list wouldn't be complete without Gus's World Famous Fried Chicken in Mason, Tenn., which has been delighting locals and visitors alike with crispy, juicy chicken for decades.
Check out these highlights from the list.
New York City
Pies 'n' Thighs: Brooklyn, N.Y.

The fried chicken at this Williamsburg gem is seasoned liberally with black pepper, cayenne, and paprika, making for a potent and flavorful golden-brown crust. The atmosphere is laid-back, yet charming, with tables lined with gingham tablecloths and enough seating for only a few lucky guests at a time. The flaky homemade biscuits and rotating selection of pies make for outstanding accompaniments to the juicy, expertly executed chicken.
Honorable Mentions:
Momofuku Noodle Bar: New York City
Rack and Soul: New York City
Charles' Country Pan-Fried Chicken: New York City

Chicago
Harold's Chicken Shack: Chicago

Known as President Obama's favorite fried chicken place in Chicago, Harold's has become a small local chain as it has expanded due to popularity. But despite having numerous locations across the city, Harold's never sacrifices the quality it's known for. The chicken comes simply with white bread and hot sauce, and there are no frills about it — but with a product that tastes this outstanding on its own, there are no embellishments needed.
Honorable Mentions:
Crisp: Chicago
Izola's: Chicago
Big Jones: Chicago

Washington, D.C.
Birch & Barley: Washington, D.C.

Located near Logan Circle in Washington, D.C., Birch & Barley bases its diverse and deceptively simple dishes around the complex flavors of its collection of 555 artisanal beers. Since 2009, it's been serving up a wide variety of styles and flavors, including a fair share of fried delights. Some might be drawn to the fried peach pie, but the real treat is the fried chicken and waffles with buttered pecans and maple-chicken jus served during brunch. Food & Wine rated it as some of the best fried chicken in the nation, and named chef Kyle Bailey the People's Best New Chef Mid-Atlantic. Famous patrons who couldn't resist some down-home cookin' include Rosario Dawson, Jessica Alba, Kevin Blackistone, and Pauly Shore. It must be the sweet/savory balance that Birch & Barley so skillfully strikes, with its heavily breaded, flavorful chicken and the hearty pecan-waffle combination.
Honorable Mentions:
Central Michel Richard: Washington, D.C.
Cork Market & Tasting Room: Washington, D.C.

Charleston, S.C.
Jestine's Kitchen: Charleston, S.C.

Jestine's often has lines trailing out the door, which has led some naysayers to dismiss the spot as a "tourist trap" — whatever your opinion, Jestine's fried chicken is worth the wait. It's been lauded as not only the best in the city, but also in the state, the world, the galaxy, and even the universe. The fried chicken served here is traditional, pure Southern comfort, and is available in all-white and all-dark meat orders. The kitchen serves up all things thoroughly Southern, and both Rachael Ray and Anthony Bourdain have graced its seats. Jestine's made Food Network's "Best Of," Oprah Magazine's "O's Charleston's Travel Guide," and it received the Reader's Choice Award from Southern Living magazine in 2009. The kitchen is named after Jestine Matthews, who kept house and cooked for generations of owner Dana Berlin's family. She lived until the age of 112, proving that no amount of fried-chicken indulgence is guaranteed to do you in.
Honorable Mentions:
Husk: Charleston, S.C.
Martha Lou's Kitchen: Charleston, S.C.

Mason, Tenn.
Gus's World Famous Fried Chicken: Mason and Memphis, Tenn.

The original Gus's is in Mason, with a second location in the nearby city of Memphis — both locations take their time when it comes to frying chicken, often taking twice as long to complete an order than the estimated time, but the wait is nothing once you take a bite of the heavenly chicken. The golden-brown crust on the outside locks in the juicy exterior, just as it should, and the seasoning of salt and cayenne shines through. So kick back at a gingham tablecloth-covered table, listen to the tunes playing from the jukebox, and await the arrival of a meal well worth it.

Boston
Trina's Starlite Lounge: Boston

Trina's has a lot of things going for it, as one of Boston's quirkier eateries featuring delicious, creative renditions of a dizzying variety of cuisines and cocktails. Since 2009, people have been drawn to the vintage-noir, vaguely Southern vibe of the place, but others head to Trina's for its famous chicken and waffles, which got the restaurant named one of Bon Appétit magazine's 2010 top 10 places for fried chicken in the country. Head chef Suzanne Maitland tops a buttermilk waffle with a piece or two of fried chicken and drizzles it with hot-pepper maple syrup. Paired with a signature Trina's brunch cocktail (like maple bourbon), this $14 meal is not one to miss. Thankfully, even overworked restaurant industry employees can enjoy a leisurely brunch at Trina's — they host a special "industry brunch" from 12 p.m. to 4 p.m. every Monday to cater to industry schedules.
Honorable Mentions:
Summer Shack: Boston
Highland Kitchen: Somerville, Mass.

Seattle
Ma'Ono Fried Chicken & Whisky: Seattle

Ma'Ono is the re-vamped version of Seattle favorite Spring Hill, known for its wildly popular Fried Chicken Mondays. The new-and-improved concept is in the same location, featuring the same chef, Mark Fuller, but with a Hawaii-inspired menu that features fried chicken every night of the week, served alongside kimchee, rice, and dipping sauces. And for those with green sensibilities, you can rest assured that your chickens were raised naturally in Mt. Vernon, Wash. Don't forget to check out their exhaustive list of whiskeys to wash down all of the fried chicken.
Honorable Mentions:
Ezell's Famous Chicken: Seattle (Widely known as Oprah's favorite fried chicken spot)
The Kingfish Café: Seattle

Austin, Texas
Max's Wine Dive: Austin, Texas

"Fried chicken and champagne? … Why the hell not?!" That is the question. It's also the slogan of this Texas joint. The Austin location features a casual, industrial décor and top-notch food from chef Erica Beneke. Don't miss their house-made jalapeño- and buttermilk-marinated chicken, deep-fried slow and low, served with mashed potatoes, collard greens, and Texas toast.
Honorable Mention:
The Highball: Austin, Texas

New Orleans
Willie Mae's Scotch House: New Orleans

Miss Willie Mae has been serving up mind-blowing fried chicken from a shack attached to her home for more than 30 years. The low-key operation remained a local treasure until 2005 when the James Beard Foundation honored it with its "American Classic" award and let the rest of the nation in on the secret. A few weeks after winning the award, Willie Mae's Scotch House was destroyed by Hurricane Katrina, so members of the Southern Foodways Alliance pulled together to rebuild the cherished chicken establishment. Mae's great-granddaughter runs the Scotch House now, upholding the same dedication to unadulterated Southern cuisine that the restaurant is so well known for.
Honorable Mentions:
McHardy's Chicken & Fixin': New Orleans
Jacques-Imo's: New Orleans
Coop's Place: New Orleans
San Francisco
New Golden Daisy: San Francisco

We often think of fried chicken being a Southern delicacy, but this Chinese restaurant has managed to adapt the old classic into something newly delicious — and incredibly addicting. New Golden Daisy serves platters full of their famous fried chicken drumsticks for just about $5 a pound and fans of this place can't get enough. The skin is perfectly crispy with hints of ginger, garlic, and scallion, and the meat is tender and moist. SF Weekly recognized New Golden Daisy for its surprisingly flavorful drummettes that stand out amongst the rest of the menu, so next time you're in San Francisco, be sure to stop by for a pound or two or three of these exquisite little chicken bites.
Honorable Mentions:
Ad Hoc: Yountville, Calif.
Little Skillet: San Francisco

Los Angeles
Roscoe's House of Chicken and Waffles: Los Angeles

This late-night spot has been serving up fried chicken and waffles since 1976, and has since expanded into a small local chain of restaurants. The list of celebrity diners is endless (which is no surprise considering its Los Angeles locale), but the regulars include Snoop Dogg and Larry King — even President Obama made a pit stop at Roscoe's during a visit to Los Angeles. The chicken is fried fresh to order and make sure to ask for your waffles to be cooked extra-crispy to avoid the potential for sogginess.
Honorable Mentions:
Son of a Gun: Los Angeles
Campanile: Los Angeles

Dallas
Fearing's: Dallas

Located in The Ritz-Carlton Dallas, Fearing's features modern Southwestern-American cuisine with a farm-to-table approach (think barbecued duck tamales or Nantucket scallops with pecan-crusted short ribs). But the real treat comes during the weekend brunch, which features Granny Fearing's "Paper Bag Shook" Fried Chicken — an authentic version of the Southern classic. Choose from one of the many dining venues on-site, from the outdoor patio to the more upscale Gallery; if you're dining chef-side in Dean's Kitchen, or at the Chef's Table, look for the ebullient chef Dean Fearing himself, who is often present.
Honorable Mentions:
Babe's Chicken Dinner House: Roanoke, Texas
Bubba's Cooks Country: Dallas
Click here for more from The Daily Meal:
15 Cheapest Ways to Eat at the Ballpark
The Best (and Worst) Hot Dogs to Buy
9 Best Chip Flavors You've Never Heard Of
8 Ice Pop Flavors You Didn't Know Existed