The best cruise ships for amazing food
When it comes to dining on cruise ships, some people probably picture hordes of tourists pushing and shoving their way to generic mediocre buffets stocked with whatever messy scraps are left by the previous diners.
These people obviously haven't been on a cruise lately — or more likely, have never even set foot on one — because some of the best culinary experiences in the world can be had while heading between destinations aboard ships from high-end lines like Crystal and Celebrity, to popular party and family lines like Disney and Royal Caribbean.
When looking at what qualifies as the best, we paid specific attention to the amount of dining options, the types of cuisine, and the overall quality. With this approach, we were able to keep a somewhat level playing ground regardless of the cost of each trip.
As you're likely aware, cruises can go for a few hundred dollars for a short hop into the tens of thousands, but an all-inclusive luxury liner with a handful of fine dining choices might not necessarily rank better than a more affordable one with options galore.
Then again, it also might.
The only way to find out for sure is to read on. Beside, in the end, any of these ships (and a whole host of other contenders) would make for a fantastic voyage. It's really just about what each vacationer is looking for.
We're certain after reading this article, the only thing you'll still be looking for is time in your schedule to book the trip.
1. Oceania Marina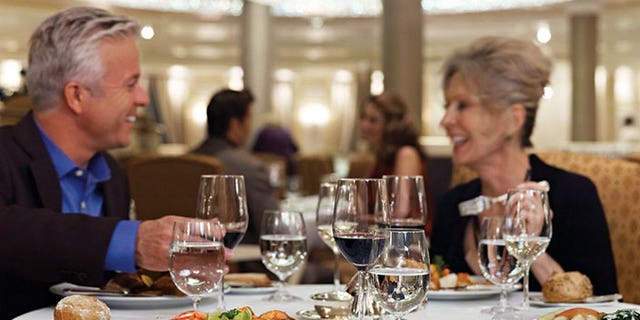 Oceania Cruises often claim to have the best cuisine at sea (especially on the Marina, which has the most options), and with master chef Jacques Pépin as the line's executive culinary director, it's hard to argue with them. And the best part? Oceania has open seating so guests can sit wherever and whenever they would like, and there are absolutely no dining surcharges at any restaurant on the ship. Period. Whether guests choose continental cuisine in the Grand Dining Room, Italian specialties at Toscana, steaks at the Polo Grill, French fare at Jacques, semi-private vintage wine and gourmet food pairings at Wine Spectator Magazine's La Reserve, or any of the other dozen restaurants aboard (there's even the Bon Appétit Magazine Culinary Center for guests wishing to improve their own cooking skills), they can expect a top-notch experience without needing to bring their wallets or keycards — except, of course, to get back into their staterooms, where there's also complimentary room service.
2. Silversea Silver Spirit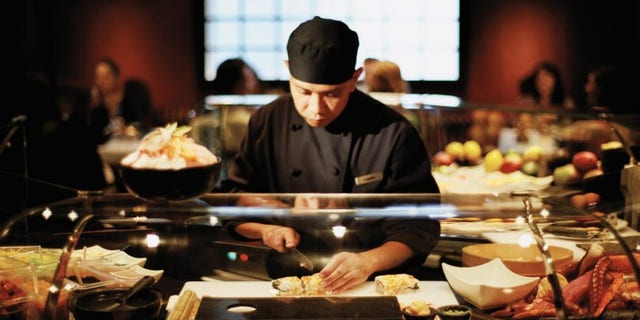 Although guests on Silversea's Silver Spirit might be tempted to stay in their luxurious suites all day (Silversea offers all-suite accommodations), there are six fantastic dining options aboard — all of which are fine dining, and none involve any extra fees (except for reservations). The main restaurant features modern international cuisine, a bar and grill serves poolside eats during the day and grill-your-own seafood and steaks at night, Seishin has Asian fare and a nine-course tasting menu, Stars is a small plates supper club, Le Champagne is the only Relais & Châteaux wine restaurant at sea (it has a six-course menu with wine pairings, of course), and La Terrazza has enticing Italian food. Try staying in your room now. (Although, did we mention the room service is served course-by-course by butlers? Because we probably should have gotten that out there sooner.)
3. Crystal Serenity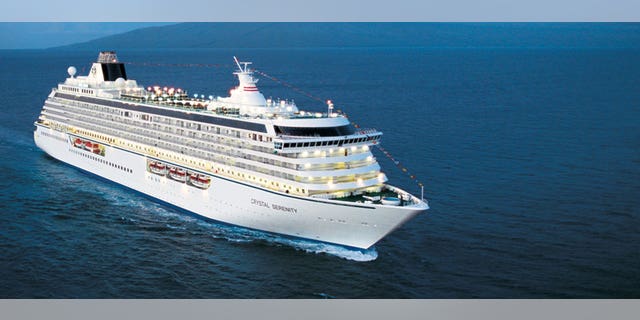 Although it debuted back in 2003, the Crystal Serenity can still best newer and larger ships 13 years later — and a lot of this has to do with that fact that Crystal was the first luxury liner to partner with superstar chefs and restauranteurs. Starting with the Crystal Dining Room (the main room, which rarely, if ever, repeats menus), to Prego (which includes dishes from Piero Selvaggio's Valentino in Los Angeles), to Silk Road and the Sushi Bar (featuring Nobu-trained chefs), to winemakers' dinners in the Vintage Room, and even the occasional appearance by Alan Wong (of Alan Wong's Honolulu), there's something for everyone (and probably multiple things for everyone) aboard Crystal, especially thanks to all-inclusive prices.
4. Royal Caribbean Anthem of the Seas/Quantum of the Seas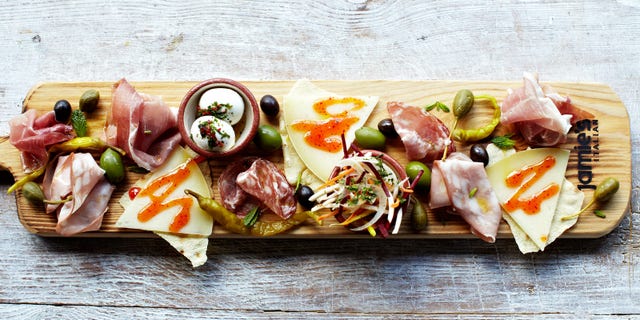 The number four spot has to go to both ships, because the two newest members of Royal Caribbean's Fleet, the Anthem of the Seas and Quantum of the Seas, have almost exactly the same dining options. Both feature the complimentary restaurants American Icon Grill (comfort food), Chic (contemporary cuisine), Coastal Kitchen (California Mediterranean fusion), The Grade Restaurant (Continental), and Silk (Pan-Asian fusion) and the same six other smaller venues, and both also have fee dining at Jamie's Italian (by celebrity chef Jamie Oliver), Michael's Genuine Pub (by culinary genius Michael Schwartz), Wonderland Imaginative Cuisine, Chops Grille steakhouse, and Izumi Japanese. The difference? The Anthem has a Johnny Rockets, but the Quantum has the Kung Fu Panda Noodle Shop. At all eateries, there are no set dining times, no assigned seats, and no required formal nights. Check the schedule, check the destinations, but rest assured that whichever Royal Caribbean ship you choose will be an absolute dining delight.
5. Regal Princess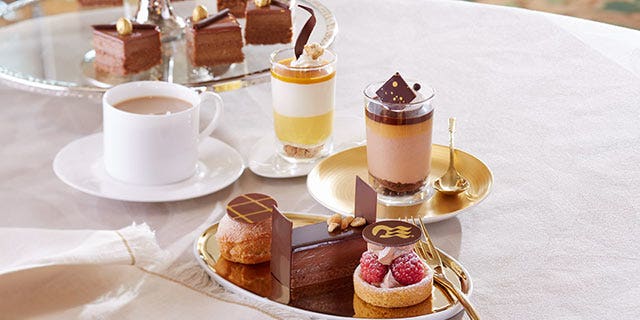 With the recent emphasis in the cruise industry on dividing shipboard dining between free and fee restaurants, it was refreshing to see Princess take care of its passengers without asking for much extra — especially on the new Regal Princess. To start, the ship has three main dining rooms — Symphony, Allegro, and Concerto — with the first featuring two dinner seatings (5:45 p.m. and 8:15 p.m.) and the latter two offering "anytime" dining. This mixed style is rare and much appreciated, as most cruise lines pick one or the other, which can alienate some passengers. There are also two cafés, two pizzerias, a pastry shop, an ice cream bar, a grill, room service, and the Horizon Court and Horizon Bistro, the ship's buffet. The latter is the gem of dining aboard the Regal, and its highlights include made-to-order omelettes (which are then delivered to your table) in the morning, a similar option for sandwiches at lunch, and themed dinners. There are also seven fee dining options, including a gelateria, a grill, a seafood bar, a crab shack, and a fondue restaurant.
For a special treat, try a Norman Love-created chocolate-wine pairing flight, followed by a stroll on the Princess SeaWalk, a gross-bottomed walkway that extends 30 feet over the edge of the ship.
Check out more magnificent meals you can only find on the high seas.
More from The Daily Meal
Here's What People Ate and Drank on the Titanic
25 Best Slow-Cooker Recipes That Aren't Soup or Stew
50 Vegetarian Recipes for Meatless Mondays
50 Vegetarian Recipes for Meatless Mondays