The best cheap olive oils for cooking — and the ones you shouldn't buy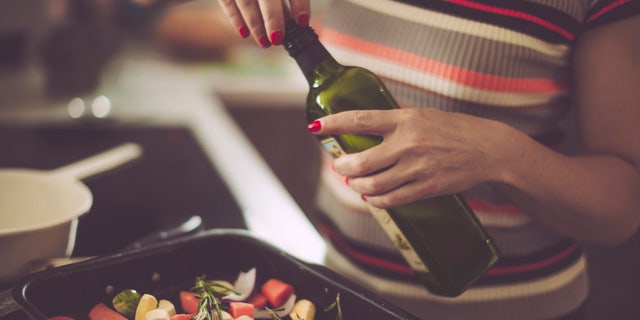 It's nice to have a bottle of intense, aromatic, artisanal (read: expensive) extra-virgin olive oil on hand for finishing dishes and drizzling over salads. But for everyday cooking, we like to cook with an extra-virgin that's on the lighter side, something with more delicate flavor, something, well, cheaper.
To figure out which easy-to-find brand of olive oil is the best, we headed to the Epi Test Kitchen for a taste test.
All of the brand-name olive oils we tested cost less than $12 for 500 milliliters on FreshDirect, which, if I'm being honest, is a little pricey — they can all be found for less than $10 per 500 milliters at other outlets. Since we we specifically wanted to evaluate how each oil held up in cooking, we tasted batches of caramelized onions made with each one.
Here are the results:
The Best of the Best
California Olive Ranch Everyday Extra-Virgin Olive Oil
$10.79/500 milliliters or $17.99/liter
This is the Epi Test Kitchen favorite. Food director Rhoda Boone praised its "rich, buttery, smooth" texture and my coworker Kat Sacks liked that the flavor was "neutral with just enough olive" to make it stand out.
O-Live & Co. Extra-Virgin Olive Oil
$9.99/500 milliliters
Another pleasantly neutral choice, this brand of Chilean oil offers an EVOO that has a bit of an artichoke-y undertone. Kat S. thought it was "slightly sweet" and called it "a great basic oil."
We Also Liked
Simply Balanced Organic Extra-Virgin Olive Oil
$7.99/500 milliliters
We love this choice — Target's proprietary organic brand — for an all-purpose olive oil, in case you only want to have one bottle in the house. It has a peppery backbone and good olive flavor. My colleague Kat Boytsova, who works in our Test Kitchen, thought it was the best of the bunch for salad dressing, but "a bit too pungent" for cooking. But if it was the only oil around, we wouldn't mind sautéing with it, since it's relatively cheap.
Whole Foods 365 Italian Extra Virgin Olive Oil
$7.99/500 milliliters
While Rhoda thought this oil had a "nice buttery quality and grassy flavor," it was ultimately deemed too flavorful for cooking. But it would be a great choice for a nice tabbouleh salad.
Nah
$7.99/500 milliliters
This oil veered on the side of too bland. There was little to no olive flavor, so we couldn't justify buying it when vegetable oil would be just as good and slightly cheaper.
$8.63/500 milliliters
Ditto on the side of too bland. We thought we would like this "extra-light" offering for the precise reason that cooking oil should be neutral. Ultimately we decided that if we're cooking with olive oil, we do want some olive flavor and this choice just did not offer that.
Pompeian Extra-Virgin Olive Oil
$4.40/473 milliliters
This olive oil is extremely affordable but had a strong, musky flavor that overpowered the onions.