The best burgers in America
Is there any food more quintessentially American than the burger? The simple act of cooking a patty of ground beef and putting it on a bun is arguably even more American than baking an apple pie, and when done properly there are few foods more delicious. In order to honor this magical sandwich, we've ranked the top 15 in America.
So what exactly defines the perfect burger? To answer this question, we enlisted none other than Pat LaFrieda, butcher extraordinaire and the creator of the meat blends that have gone into making some of the most heralded burgers served in America today, ranging from Shake Shack's for-the-people iteration to the legendary high-end Black Label burger served at New York City's Minetta Tavern.
"The perfect burger…," he told us, "is one that satisfies what I am hungry for at that moment." That could mean one of those inch-or-so-thick patties that drips juice down your arm and gives you that "rare beef buzz," as LaFrieda puts it, with "a beautiful sear on the exterior, and a bright red, yet warm center" — like the one found at New York's Spotted Pig. Or it could mean the "smash burgers," sometimes called fast-food style burgers: thin patties cooked on a griddle that get an ample crust and are "stomach pleasers, fast and effective," according to LaFrieda. The one he created for Shake Shack is a good example. Finally, there's what LaFrieda calls the "aged-steak-in-a-burger experience," masterpieces that raise the humble burger to fine-dining status, the best-known probably being the aforementioned Black Label, which sells for $28.
In order to compile our ranking, we assembled a list of nearly 200 burgers from all across the country, from Spruce Pine, North Carolina, to Hillsboro, Oregon. We combed existing best-of lists both print and digital, dug through online reviews, and left no stone (bun?) unturned. Even though each of the burgers we found was unique, certain qualities were universal: high-quality beef, proper seasoning, well-proportioned components, and an overall attention to detail that many would call "making it with love." In order to keep the playing field even, we didn't include chains that have lots of locations outside of their home cities, meaning that companies like Shake Shack and In-N-Out will be left for another day's ranking.
We then divided these burgers up by region and compiled a survey which was taken by a panel of 50 noted writers, journalists, bloggers, and culinary authorities from across the country. Panelists were asked to vote for their favorites, limiting themselves to the burgers they've tried.
So read on to take a tour of the United States through the lens of its best burgers. We'll let the great Pat LaFrieda get the last word: "Americans love burgers because we see them as something that our country has pioneered. They are inexpensive, they fill our bellies, and most importantly, they carry a link back to a memory of comfort and safety at some point in our lives.
1. Kuma Burger, Kuma's Corner, Chicago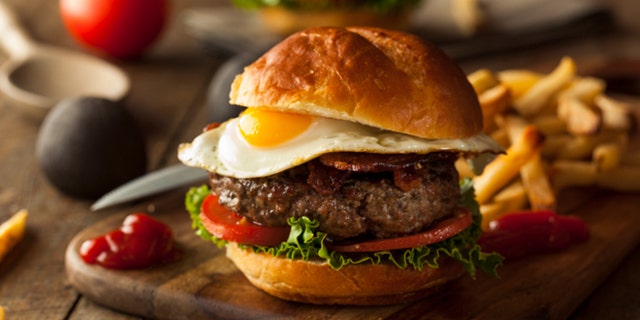 Kuma's Corner is not a quiet place to eat — the restaurant's ethos is "Support your community. Eat beef. Bang your head." But with all the pyrotechnics that go off when you take a bite, the heavy metal doesn't just make sense, it's a perfect fit. There are burgers with tomatillo salsa and fried chiles and burgers with sriracha and grilled pineapple, but if you have to choose just one, go for the signature Kuma Burger: bacon, sharp Cheddar, lettuce, tomato, onion, and a fried egg. It's not as though there's not enough flavor in the burger, but that egg... whoa. It's nothing short of burger perfection, and it's the best burger in America.
2. Luger Burger, Peter Luger, Brooklyn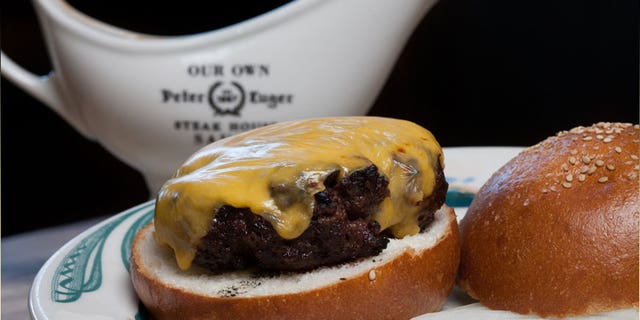 Because of this burger's location in Williamsburg, Brooklyn, and its lunch-only appearance on the menu, out-of-town visitors free to venture over during the week are likely to have an easier time than New Yorkers when experiencing New York City's best burger. There are no bells and whistles, but Peter Luger has been handling meat since 1887, and its rich, half-pound Luger Burger, made from porterhouse and prime chuck roll trimmings, is worth figuring out how to sneak out of the office for a long lunch.
3. Black Label Burger, Minetta Tavern, New York City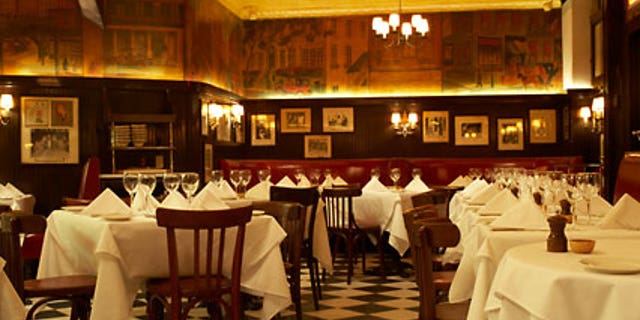 Sure, the côte de boeuf, roasted bone marrow, and various ungodly delicious potato renditions are big reasons why Minetta Tavern was called the city's best steakhouse and awarded three stars by The New York Times. But no less the stuff of legend is the Black Label Burger. Prime dry-aged beef sourced and aged for six to seven weeks by Pat LaFrieda is well seasoned and cooked on a plancha with clarified butter, developing a glorious exterior. The fussed-over burger is nestled onto a sesame-studded brioche bun designed specifically for it, topped with caramelized onions and served with pommes frites. Juicy, funky, salty, soul-satisfying… these words lose meaning in the presence of a burger this good. Minetta is a bit of a scene, and it's going to cost you $28, but if you consider yourself a connoisseur of the country's best burgers and you have yet to make this pilgrimage, you better get moving.
4. The Father's Office Burger, Father's Office, Los Angeles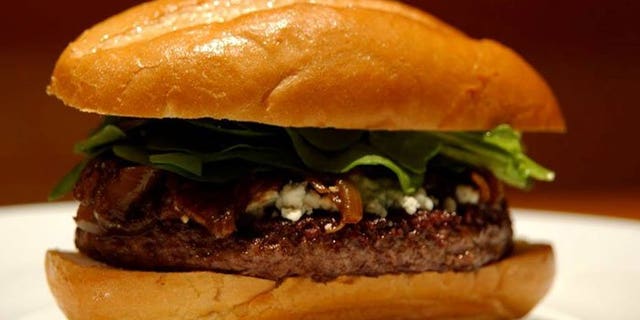 What do you get when you go to Father's Office, chef Sang Yoon's gastropub in Los Angeles (now in both Santa Monica and Culver City)? No table service. And no pretension. It has the wood-paneled, comfortable vibe of a great local lived-in spot, but it's clean, to the point, and one of The Daily Meal's 101 Best Restaurants of 2012. You'll find great craft beers and small bites (think smoked eel, sobrasada, Spanish mushrooms, and white anchovies).
5. Green Chile Cheeseburger, Santa Fe Bite, Santa Fe, N.M.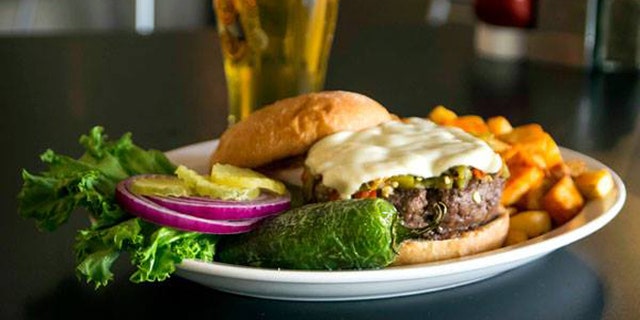 Down the Old Las Vegas Highway (the original Route 66), the green chile cheeseburger served at Bobcat Bite, founded by Mitzi Panzer in 1953, was hailed by Hamburger America's George Motz, Roadfood's Jane and Michael Stern, Food Network, and even Bon Appétit as not only the zenith of green chile cheeseburgers, but perhaps one of the greatest burgers, period, in the country.
6. Build-Your-Own Burger, Burger Bar, Las Vegas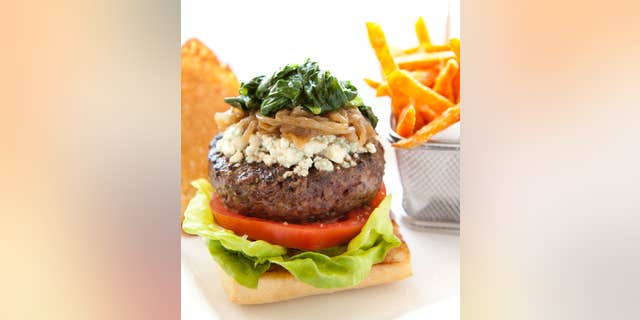 Known as "the other Keller" (besides Thomas, obviously) Hubert Keller is familiar to fine-dining enthusiasts who have long enjoyed his exquisitely crafted modern French food at the now-defunct Fleur de Lys in San Francisco, and to the Las Vegas dining public for having created a $5,000 hamburger at his Fleur in the Mandalay Bay Hotel. The accomplished Alsatian-born chef has lately established a reputation for producing sensibly priced burgers of great quality at his Burger Bar (with additional locations in San Francisco and Beijing). The basic burger here is certified Angus beef on a plump bun with tomatoes, onions, lettuce, and dill pickle, but the menu allows extravagant customization, offering roughly 50 accoutrements including such diverse add-ons as coleslaw, black truffles, smoked Gouda, jalapeño bacon, guacamole, and shrimp
7. Double Cheeseburger, Holeman & Finch Public House, Atlanta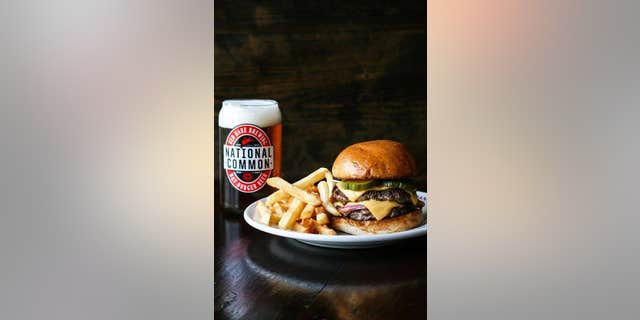 Every night at 10 p.m. on the dot, 24 burgers emerge from the kitchen at Holeman & Finch Public House, and that's it. Even though they're not listed on the menu, these burgers are often spoken for well in advance (they can be reserved at any point during service), and for good reason. Each double-patty burger of fresh-ground grass-fed chuck and brisket comes topped with American cheese, pickles, onions, and homemade ketchup, and is served on a toasted house-baked bun alongside fresh-cut fries.
Still hungry? Check out the full list of the top 15 burgers in America.
More from The Daily Meal
America's Top 10 Fast Food Burgers
8 Burger Mistakes and How to Avoid Them
10 Most Creative Burgers You'll Ever Find
Unhealthiest Fast-Food Burgers Around the World