The best all-you-can-eat buffets in America
In America, we believe that it's our God-given right to eat as much as we want, whenever we want to, and all-you-can-eat buffets are the perfect manifestation of that ethos. Thankfully, there are plenty of great places to live out that dream, and we've tracked down America's 10 best.
There's something about an all-you-can-eat buffet that makes us feel like kings. Having an unlimited amount of food at our disposal has been a goal of humans for thousands upon thousands of years, and achieving that goal by simply forking over some cash and grabbing a plate satisfies us in an almost primal way. With grumbling bellies, we plan our strategy and commence the feast.
Tackling a big buffet (the kind you find in Vegas-) isn't just a culmination of human evolution, it's an inner battle of endurance, and approaching one correctly can be an art form. Load your first plate up with starchy gut-busters like macaroni and cheese and you may hit the wall before you're done with plate number two. But if you start with, say, crab legs, shrimp cocktail, oysters, some sushi, and salad, you'll still be hungry for what's to come and will have also knocked off the loss leaders, which are usually the most expensive items (and will have saved room for prime rib, of course).
No matter how you tackle an all-you-can-eat buffet, you're guaranteed to leave full, satisfied, and maybe a little ashamed of your stomach capacity. But anything in moderation is fine, and buffets like these are something everybody should experience.
In order to assemble our ranking, we started by rounding up existing best buffet rankings both in print and online (including ones we've done ourselves), and added on many buffets that have garnered local acclaim but haven't been recognized in any national rankings. We then judged them according to food selection, décor, price point, whether they include all-you-care-to-drink options, and variety.
The buffets included in our ranking run the gamut from Sunday-only extravaganzas to Las Vegas and Atlantic City palaces, from old country smorgasbords to classic Chinese buffets. But no matter the style of food served, these buffets all have a couple things in common: They're attained legendary status, and there's absolutely no way you can eat there and go home hungry
1. Bacchanal Buffet, Caesars Palace, Las Vegas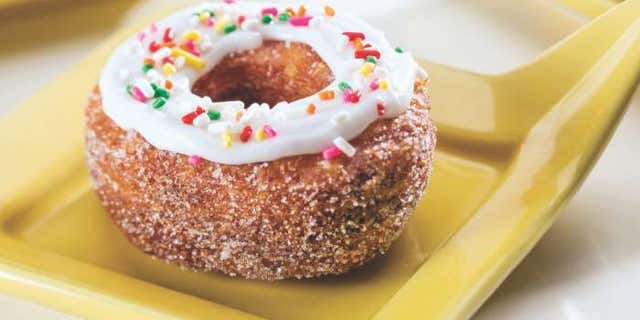 The Caesars Palace Bacchanal Buffet is nothing short of mind-blowing. Opened in September 2012 after a $17 million build-out, it's stocked with nine cooking stations turning out more than 500 individual dishes and about 15 daily specials. Seating about 600, this buffet looks like an upscale restaurant, and the quality of the food served here would feel right at home at any of the city's top eateries.Top-quality carnitas tacos are made to order; you can take your pick from a mound of meat including prime rib, lamb chops, and barbecue brisket; the dim sum and sushi are some of the best in Vegas; and soufflés are baked to order. There are wonders around every corner at this buffet, and if you can only hit up one while in Vegas, it should be the Bacchanal at Caesars.
2. Waldorf-Astoria, New York City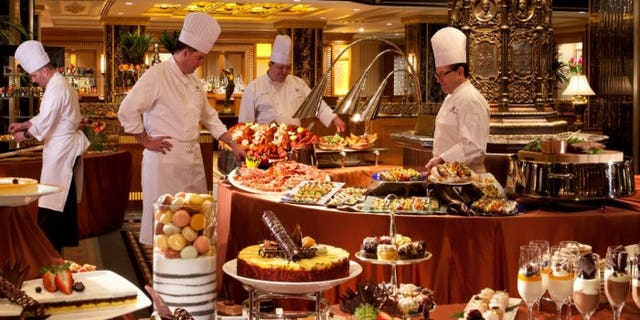 New York's Waldorf-Astoria is synonymous with high-end amenities and high-class people, so it's only fitting that the hotel's Sunday brunch, served at Peacock Alley just off the lobby, would be upscale and decadent. But nothing prepares you for the sheer level of opulence that this brunch buffet offers: it's truly spectacular. There's a huge raw bar with lobster, littleneck clams, Long Island oysters, shrimp, five varieties of house-smoked salmon, and four varieties of caviar; breakfast selections include pancakes, breakfast potatoes, and more. It's clear that a lot of care goes into each item served here, and the $98 price tag ($65 for children), while steep, is certainly justified when you're enjoying a meal like this in the heart of one of the world's most famous hotels.
3. Sterling Brunch, Bally's, Las Vegas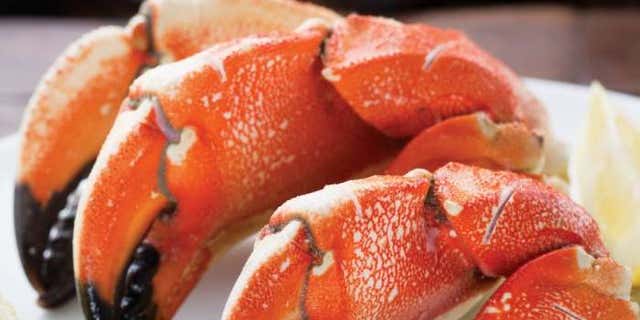 The Sterling Brunch is one of the most expensive in the city, at $85, and is only available on Sundays from 9:30 a.m. to 2:30 p.m., but it's nothing short of a wonder to behold. Held in Bally's Steakhouse, the best way to describe it is to simply list off what's available: unlimited Perrier-Jouët and Mumm's Champagne, whole lobsters, crab legs, caviar, filet mignon, truffles, prime rib, rack of lamb, oysters, sushi, and made-to-order desserts. It's the ultimate in luxury.
4. Le Village Buffet, Paris Las Vegas Hotel and Casino, Las Vegas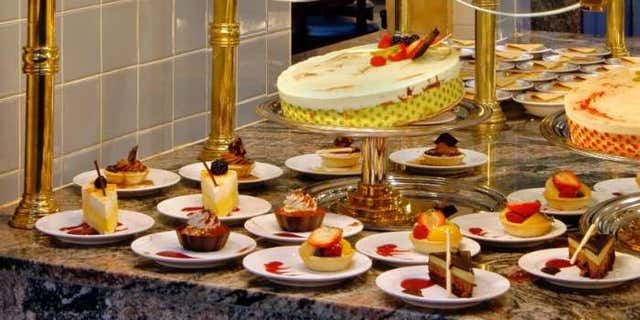 The buffet at the Paris has a decidedly French twist, and the dining room is a beautiful facsimile of a Disney-fied French village. As opposed to an assortment of ethnic stations, stations here are grouped according to French villages: quiche in Normandy; châteaubriand and rotisserie chicken in Burgundy; pasta to order and braised beef in Provence; lamb stew in Alsace; steamed mussels, crepes, and roasted duck in Brittany; and macarons for dessert. Not only is it a delicious tour through the birthplace of high-end gastronomy, but it's also a lesson in French regional cuisine. They also have all-you-can-drink specials for $11.99, and it's the only full-time buffet in Vegas to offer reservations on OpenTable.
5. The Buffet, Wynn, Las Vegas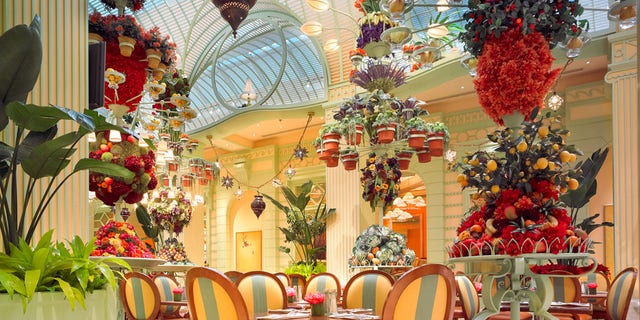 Steve Wynn, the man behind Bellagio's legendary buffet, outdid himself with the stunningly gorgeous Wynn Buffet, full of fresh flowers and natural light. With a whopping 15 cooking stations, it's easy to get lost in the selection, but you can't go wrong with prime rib, sushi, homemade pastas, ceviche, lamb chops, soups, pizza, Mexican food, jerk chicken, Thai beef, made-to-order crêpes, brisket, crème brûlée, waffles, and tiramisu. On second thought, just have one of everything.
More of the best all-you-can-eat places in the U.S.
More from The Daily Meal
Serving Thanksgiving: Buffet vs. Family Style
Never Do These 10 Things at an All-You-Can-Eat Buffet
75 Best Colleges for Food in America for 2015
Eat Sushi From a Buffet? Are You Kidding?