Thanksgiving dinner: Survey shows people not too confident in turkey-roasting abilities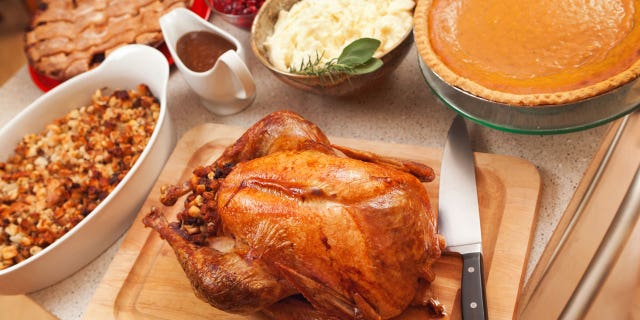 If you're anxious about hosting Thanksgiving dinner this year, you're not alone.
According to a new survey from Butterball, a large chunk of American cooks aren't all that confident in their turkey-roasting skills — which is somewhat worrying, considering that two-thirds of the survey's participants ranked Thanksgiving as one of their favorite holidays.
NEIMAN MARCUS WILL SHIP YOU AN ENTIRE THANKSGIVING DINNER
In their study, Butterball found that first-time hosts in particular, were worried about screwing up the bird, with 80 percent of millennials claiming to be nervous that they might over- or under-cook the turkey. Even experienced cooks weren't as confident as one might expect, as nearly half (43 percent) claimed they felt the same way. Southern Living, too, once reported that one of the most frequent questions to Butterball's Turkey Talk-Line was "How do I know my turkey is done?"
That said, novice cooks shouldn't put too much pressure on themselves, Butterball says.
"While we know Thanksgiving can be full of little stresses, we also know it's important to not sweat the small stuff," said Sue Smith, the co-director of the Butterball Turkey Talk-Line.
In fact, according to the survey, most hosts (84 percent) said they were excited to give it a shot, regardless of their bird-baking skills.
FOLLOW US ON FACEBOOK FOR MORE FOX LIFESTYLE NEWS
Furthermore, 74 percent of survey participants claim they don't expect Thanksgiving dinner to be perfect, presumably because Thanksgiving is a "day to celebrate being together," Smith says.
On the other hand, that means 26 percent of your guests do expect the turkey to be perfect, so it's worth brushing up on a few no-fail turkey recipes, if only to silence the quarter of your family who might make a scene.