Texas bar apologizes for domestic violence 'joke'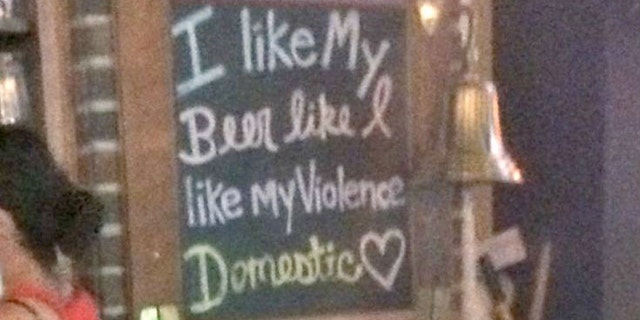 A bar that used a slogan championing domestic violence to sell beer has apologized after a patron complained –setting off a social media firestorm.
MyFoxDallas-Fort Worth reports that Scruffy Duffies bar in Plano, Tex. made a comparison between domestic beer and domestic violence on a chalkboard that read: "I like my beer like I like my violence — domestic."
Patron Courtney Williams was at the bar celebrating a friend's birthday when she saw the offensive sign and posted a photo of it to her Facebook wall early Sunday morning.
"He asked my name, I told him," Williams wrote. "He introduced himself and shook my hand. He then proceeded to tell me the sign was a joke, and that it rotates different things all the time. When I told him it was in extremely poor taste and that I'd appreciate it being taken down, he told me to calm down, and that if I hadn't been so 'aggressive' the conversation would go better."
Williams' story has been shared over 1,200 times on Facebook.
Scruffy Duffies, which removed the sign, has also fired the general manager.
Brian Harder, president of Harder Concepts, which owns Scruffy Duffies, sent this statement after a management meeting on Tuesday:
"This was an isolated event executed by an employee that made a bad decision followed by a manager that did not recognize and fix the problem. Obviously not everybody's sense of humor is the same," the statement read. "We did investigate this issue further and our general manager has since been fired. In our eyes it was his responsibility to recognize and not allow something of this matter to take place in our stores. We will ensure that something like this will never happen again."