Teen punches waitress in the face at Mother's Day brunch, claiming server was rude to her mom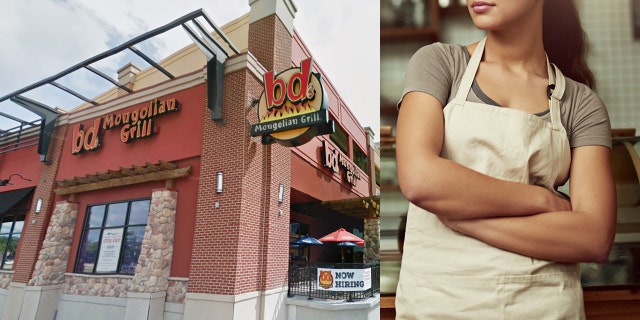 A Wisconsin teen was cited by police for trying to defend her mother's honor on Mother's Day — by punching a waitress in the face after the woman gave them incorrect change for their brunch bill.
WOMAN ARRESTED AFTER DEFECATING ON FLOOR OF TIM HORTONS RESTAURANT, FLINGING FECES AT CLERK
On May 13, the girl's 38-year-old mom reportedly caused a commotion at BD's Mongolian Grill in Glendale, "yelling and swearing" at a waitress who allegedly gave the mom incorrect change following the meal, the Journal Sentinel reports.
The 14-year-old daughter became upset when the waitress told the woman to calm down, reportedly telling her to "stop talking to her mother like that," a police report states. Moments later, the girl punched the staffer in the face with a closed fist.
A BD's manager quickly intervened, giving the rowdy clients the correct change before they exited the restaurant.
TEXAS MOM TAKES MATERNITY PHOTOS AT H-E-B SUPERMARKET
Glendale authorities soon located the pair and their vehicle. The mother told the police that she "should have walked away from the argument and been a better role model for her daughter," the Sentinel reports.
FOLLOW US ON FACEBOOK FOR MORE FOX LIFESTYLE NEWS
The teen was cited for battery, and the mom was cited for disorderly conduct.
"What is wrong with people [?]" one commentator wrote on Facebook of the incident.
Days later, a woman named Ari's Zoña took to Facebook, claiming to be the BD's server who was assaulted.
"I was the one who got punch in the face. The story isn't quite accurate except for bits and pieces of it," she said.
Ari's Zoña, who is 17, did not immediately return Fox News' request for comment.