Tasty Gift Baskets for Gastro-Moms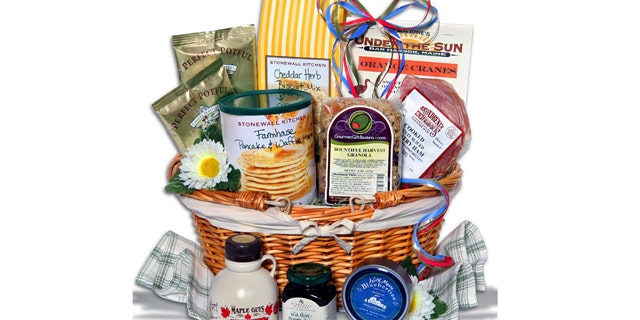 Choosing Mother's Day gifts can be stressful, especially when you are shopping for the person who has done the most for you in life.
But the trick to winning your mother's heart can be simpler than you think: Aim for the stomach.
There are few things mom will appreciate more than a well-thought gift basket that indulges her sometimes guilty gastronomic pleasures. So here's a list of some desirable baskets and edible gifts that all mothers and food lovers alike can enjoy.
Chocolate Gift Basket
Few people can resist a basket of sweet-tooth temptations, and chances are your mother isn't one of them.
This classic gift basket comes with a wide assortment of truffles, chocolate shortbread cookies and other chocolate-covered delights, and is a guaranteed winner for anyone with a mom who can't say no to dessert.
"Chocolate is definitely popular," Jason Bergeron, director of sales and marketing for Gourmet Gift Baskets told FoxNews.com, "We always see spikes in chocolate during the holidays."
Click here to view the chocolate basket from gourmetgiftbaskets.com.
Breakfast in Bed Basket
Serving breakfast in bed is always a touching way to win a loved one's heart, and what better way to repay mom for all those morning meals she started your day with.
This Breakfast in Bed gift package comes with all the necessities for a morning meal, from farmhouse pancake mix and wild Maine blueberries, to country ham and coffee, making it a more distinct gift from variety packages.
"On Mother's day you usually try to get mother something special," Bergeron told FoxNews.com, adding that the uniqueness of the breakfast basket has made it a "strong category year round."
Click here to view the Breakfast in Bed basket from gourmetgiftbaskets.com.
Fresh and Fruity Gift Tower
For anyone with a mom who can't be won over by a box of sweets, a healthier approach may be better suited.
The Fresh and Fruity Gift Tower from GiftBasketPlus.com affordably provides a gift of nature's best, giving mom harvest-themed boxes of pears, apples, oranges and a heartier selection of sausage, crackers and cheese.
This classic assortment gives mom a quick on-the-go snack, and an opportunity for an outdoor picnic on a nice spring or summer day.
Click here to view the Fresh and Fruity Gift Tower from giftbasketplus.com.
A Taste of Italy Gift Basket
If you were never able to take your mother on that European vacation to experience the gourmet delights of Italy, now's your chance to make up for it.
Gifty Baskets and Flowers' The Taste of Italy gift basket comes with an array of classic Italian foods to make a night-in dinner easy for mom, featuring Valente pasta with Dell Amore Marinara Sauce, Lazzaroni Bruschette, a Grafton cheese wheel, and biscotti and truffles for a small dessert.It's all the best that Italy has to offer for any Mom with a traveling interest.
Click here to view a Taste of Italy at giftybaskets.com.
Three Months of Pastries
If your mom is a picky eater and would prefer a particular food to an assorted basket, there's nothing wrong with narrowing the gift to her favorite treats.
And if your mom happens to be a fan of pastries, Williams-Sonoma has an exclusive offer that will keep her pantry full for three months.
Three kinds of French-styled pastries that include croissants, morning buns and sticky buns will be delivered monthly to your mom's house from the kitchen of pastry chef Jean-Yves Charon, giving your mother more than enough pastry to feed guests or serve as a morning or nightly snack.
Click here to view the Three Months of Pastries package from williams-sonoma.com.
Mother's Day is about giving your mother the chance to relax, and from looking at this list of food packages and other edible options, that comes from simply knowing the key to her stomach.
Click here for more from FoxNews.com Food and Drink