Taco Bell teases free tacos during NBA finals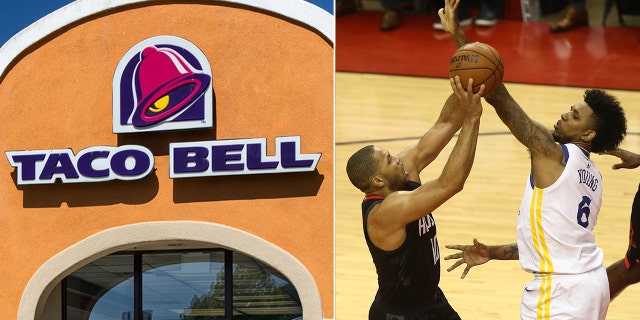 NEWYou can now listen to Fox News articles!
Taco Bell is teaming up with the National Basketball Association to bring back its "Steal a Game, Steal a Taco" deal for the third year in a row. America will once again get a chance to receive free Doritos Locos Tacos if an away team wins, or "steals," a game during the NBA Finals.
The first-ever "Steal a Game, Steal a Taco" was in 2016, when the visiting Golden State Warriors won Game 4 of the NBA Finals against the Cleveland Cavaliers. In 2017, the Warriors stole the game again. This year, America can tune into the Finals starting May 31 on ABC. Should the road team win Games 1, 2, or 3, America will receive free Doritos Locos Tacos on Wednesday, June 20, from 2 p.m. to 6 p.m. at all participating U.S. Taco Bell locations.
"The NBA Finals and Taco Bell are the perfect matchup, and we can't wait to once again raise the stakes of an already fierce competition by putting free Doritos Locos Tacos for America on the line," said Marisa Thalberg, Taco Bell Corp's global chief brand officer, in a press release.
More from The Daily Meal:
"This is the third time we've partnered with the NBA, and the power of our combined fanbase creates an exciting cultural moment around the Finals. We know one thing is for certain, everyone will be rooting for tacos."
This story originally appeared in The Daily Meal.