Surprising origins of the 10 biggest chain restaurants
It's not easy to run a restaurant. It's even more difficult to run a chain restaurant. For one, you need to serve food that people will want to eat, all across the region, country, or world. Then you need to keep the menu fresh and up-to-date, all while making sure that every single dish in every single location looks and tastes exactly the same. And after all of that's been done, you need to launch marketing and advertising campaigns to fill the seats, and figure out what's going wrong if they're not getting filled. To repeat, it's not easy to run a successful chain restaurant.
Chain restaurants as we know them today only came about within the past 30 or so years, largely because that genre of restaurant, called fast casual, is only about that old. There were plenty of hamburger chains and diner chains dating back to the 1950s, but the whole concept of going to a casual restaurant with your family, having a beer and ordering inexpensive food that makes everyone happy, and leaving with a doggie bag is still remarkably new. In fact, when Larry Lavine opened the first Chili's in 1975 in Dallas, people lined up around the block on a daily basis just to eat a bowl of chili and drink a margarita.
In many cases, the origins of today's most popular chain restaurants aren't exactly what you might expect. Many of them had different names when they were founded, as well as different menus and concepts. With the exception of Olive Garden, which was invented by General Mills as opposed to a single lucky entrepreneur, most of the big chains got their start when someone opened up a restaurant that just happened to do really, really well. And if it happened to fall into that new style of fast casual dining, wealthy investors were waiting around every corner during the '70s and '80s to take advantage of this newest dining trend.
Once a chain restaurant is well-funded and its concept and menu are fully in place, it's amazing how quickly it can spread. Panera Bread, one of the youngest major chains, only got its start 20 years ago, but today there are more than 1,600 units and it's rapidly growing. Whether it's an Australian-themed steakhouse, an inexpensive wing joint, or a New England-style seafood restaurant, these chains are known and patronized by millions and millions of Americans, and they all have really interesting backstories.
1. Buffalo Wild Wings: 840 Restaurants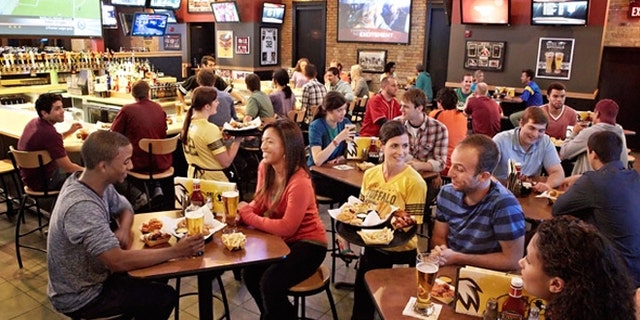 In 1982, two buddies by the name of Jim Disbrow and Scott Lowery decided to open a wing joint in Columbus, Ohio. The original name? Buffalo Wild Wings and Weck. Wings had just begun to catch on as a national snack food back then, and this Buffalo-style restaurant specialized in wings, beer, and a regional specialty sandwich known as a weck: thin-sliced roast beef and horseradish on a salt and caraway seed-studded roll called a kimmelweck. The original location also served burgers, chicken, and barbecue pork on wecks, and pocket pizzas. The wecks went away a long time ago (although they probably shouldn't have; those things are good), but the Buffalo Chips, seasoned and fried potato slices, are holdouts from the brand's earliest days (another interesting bit of info: they originally showed music videos instead of sports).
2. Outback Steakhouse: 966 Restaurants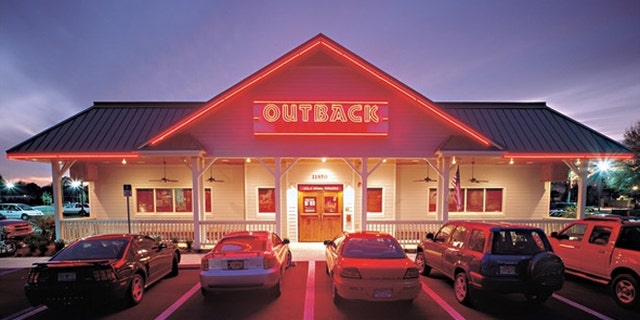 Founded in Florida in 1988 by three restaurant industry veterans (they originally named their enterprise Multi-Venture Partners, Inc.), Outback brought in the crowds by serving American food in an Australian-themed dining room. The company's name was later changed to Bloomin' Brands, and they now also own Carrabba's Italian Grill, Bonefish Grill, Roy's Restaurant, and the high-end Fleming's. The secret to the chain's success: Fat. Steaks are cooked in butter, the famed Bloomin' Onion contains 161 grams of fat and nearly 2,000 calories, and everything is deep-fried in beef tallow instead of oil.
3. Chili's: 1,400+ Restaurants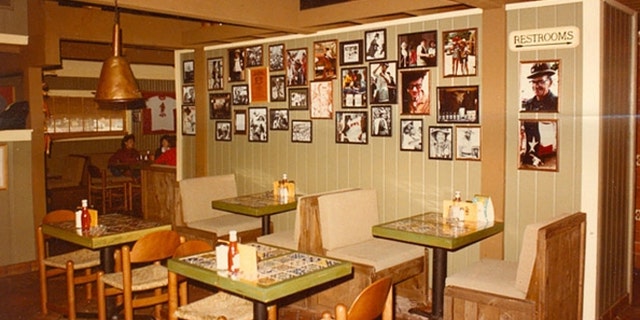 Chili's, which is currently undergoing an extensive rebranding, got its start in 1975, when Larry Lavine converted an old Dallas post office into a casual restaurant with Southwest décor that specialized in several different varieties of half-pound hamburgers, tacos, and Texas-style chili, with or without beans. The casual-dining concept, which was still in its infancy, took off, and by 1983 22 additional Chili's had opened in the region. Industry vet Norman Brinker bought the company that year and took it public, in 1986 they rolled out baby back ribs and its famous jingle, and the rest is history.
4. TGI Fridays: 1,000+ Restaurants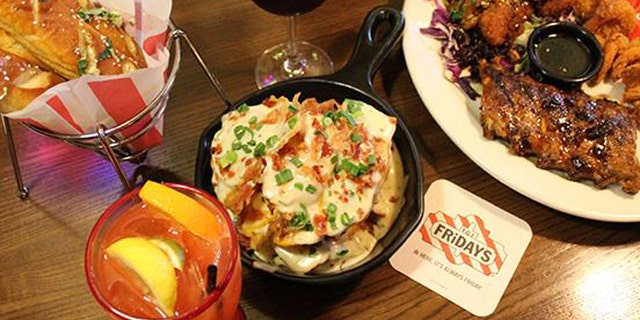 No chain restaurant has a history as storied as T.G.I Fridays. It dates back to 1965, when Alan Stillman was living in Manhattan's Upper East Side and noticed that there were no female-friendly bars where the hordes of young women flocking to the neighborhood could hang out. Stillman wanted to open a place where both sexes could meet and mingle in a cocktail party-atmosphere, and in doing so he created what's widely credited as the first singles bar. Imitators cropped up almost overnight, and the bar, on First Avenue and 63rd Street, got so crowded that roped-off outdoor waiting areas had to be created, a precursor to the modern velvet rope. The bar was revolutionary in other ways, too: it was one of the first to introduce a "ladies' night," pioneered the brass rail that's now ubiquitous, and all the employees were young and wore matching red-and-white striped shirts. If all this talk of singles and drinking seems a little off-brand nowadays, that's because the company made a conscious decision in 1989 to switch the focus from singles to families.
5. Denny's: 1,650+ Restaurants
What's today known as Denny's got its start way back in 1953, when friends Harold Butler and Richard Jezak opened a little donut shop in Lakewood, Calif. Its original name? Danny's Donuts. New locations had opened by the following year, when the duo added sandwiches and other entrées to the menu. By 1959, 20 locations were in business and the owners decided to change the name to Denny's to avoid confusion with another local chain, Donut Dan's. The company went public in 1966, and in 1977 it introduced its famous Grand Slam in Atlanta, in homage to Hank Aaron breaking Babe Ruth's home run record. By 1981, more than 1,000 locations were in operation.
See all 10 chain origins at The Daily Meal
More from The Daily Meal
10 Fattiest Meals at Chain Restaurants
The Birthplaces of American Fast-Food
America's Highest Grossing Fast-Food Chains