Super snacking on Super Bowl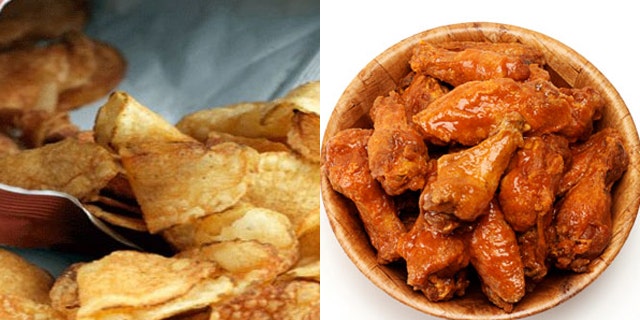 There will be some super snacking going on during the Super Bowl, and many will forego those diets and start eating like linebackers.
According to the Calorie Control Council, the average armchair quarterback will consume 1,200 calories and 50 grams of fat, just from snacking – that's not even counting actual meals.
So what exactly are people eating? We break it down by the numbers:
The National Chicken Council reports that more than 1.25 billion chicken wings will be consumed during Super Bowl weekend. That's more than 100 million pounds of wings. If they were laid end-to-end, they would circle the circumference of the Earth more than twice over.
Wingstop, a Texas-based restaurant with 500 locations, expects to sauce and toss 5.6 million wings on Super Bowl Sunday alone, an increase of 12 percent over last year. The company says Super Bowl sales are usually 290 percent more than on any given Sunday.
Pizza also scores points as one of the most popular Super Bowl food choices. Papa John's Pizza says it hopes to sell more than one million pizzas on Sunday. That adds up to about 8 million slices on game day.
But the king of Super Bowl snacks, according to The Nielsen Company, is potato chips. Nearly 46 million pounds of chips are sold in the run up to the game. Add in other snack foods, like tortilla chips, pretzels and popcorn, and we're talking about nearly 177 million pounds of snacks sold on Super Sunday.
Of course, what is a chip without a dip? We can't forget about guacamole. The Hass Avocado Board tells us that football fans are expected to consume more than 71 million pounds of avocados on Feb. 5. That's enough to fill Lucas Oil Stadium in Indianapolis, site of the big game.
Which is why we're betting Pepto-Bismol is a popular item the day after the Super Bowl.