Study shows fast food drive-thrus are getting slower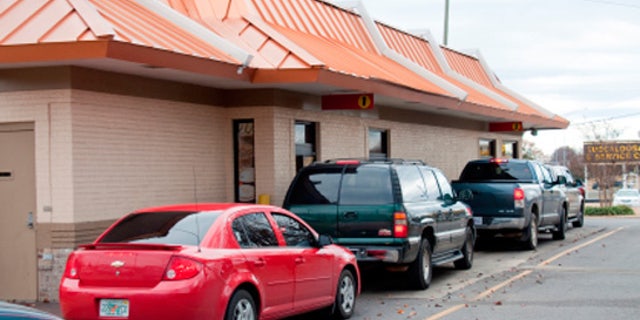 While the operative word in fast food is "fast," major fast food chains are now moving slower, says a study released today in QSR Magazine.
According to the 2013 Drive-Thru Performance Study conducted by Insula Research for QSR Magazine, a fast-food industry trade publication, the amount of time that customers are waiting in line at the drive-thru window has increased over the past year by an average of 8.19 seconds.
While it may be only a difference of a few seconds, longer lines at the drive-thru could mean for big losses in the $299 billion fast-food industry. Many major chains do 60 to 70 percent of their business via the drive-thru window and every transaction counts.
According to the study, the increase in drive-thru wait time is due to a growing complexity of fast food menus. For example, the burritos and bowls in Taco Bell's new Cantina Bell menu have up to 10 ingredients. Taco Bell's complex new menu is just part of a growing trend of fast food giants turning to more complicated, high-brow options, like Wendy's Pretzel Burger and Burger King's Bacon Sundae.

"This year's dip seems especially significant because operators are telling us that as consumers demand more premium, healthy, and customizable menu options," Sam Oches, editor of QSR, said in a release. "The operational pressures to assemble those items are slowing down the drive-thru."
The study assessed seven brands of fast food restaurants in 40 different states, evaluating a total of 299 Burger King restaurants, 299 Chick-fil-A restaurants, 200 Krystal restaurants, 317 McDonald's restaurants, 308 Taco Bell restaurants, 107 Taco John's restaurants, and 325 Wendy's restaurants.
Wendy's was the only chain to improve on its average service time over last year, clocking in at an average 133.6 seconds from order to pick-up, 3.85 seconds better than last year. The chain also holds the all-time record for speed at its drive-thrus, an eye-popping 116.2 seconds in 2003.
Taking last place this year was Chick-fil-A, with a 203.9-second wait time on average. McDonald's was also sluggish, posting its slowest-ever drive-thru time in the 15-year history of the study. The industry giant clocked an average 189.5 seconds from order to pick-up.

Yet, speed of service was not the only factor evaluated in the study -- accuracy was assessed as well.
Unfortunately, this year has not been great for accuracy either. Industry-wide, order accuracy for drive-thru meals is down 1.6 percent, from 88.8 percent last year to 87.2 percent this year.
The chain ranking highest in accuracy was Chick-fil-A at 91.6 percent, which may account for Chick-fil-A taking the longest to fill an order. The lowest for accuracy was Burger King at 82.3 percent.
"I think for guests, they want it fast, but everyone's perception of fast is different," Shawn Eby, vice president of operations at Taco John's told QSR. "But they absolutely want the order correct, and they want the food hot and fresh, so you have to have a combination of those. But the first two come before speed."