Store launches 'man aisle' for shopping-challenged dudes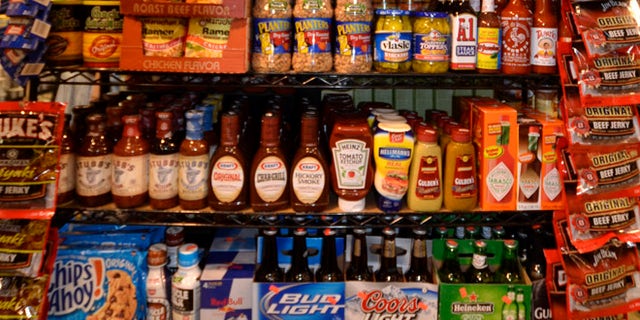 Get ready to stock up your man cave!
A New York City grocery store yesterday launched the city's first "man aisle" — a portion of the store dedicated to facilitate a dude's otherwise-arduous trip to the grocery store by putting everything in one convenient location — from condoms to steak sauce.
"It's your essentials," explained Ian Joskowitz, 43, chief operating officer of Westside Market NYC. "It's your water, alcohol, soaps, shampoos, deodorants, razors.
"If you're going to have some guys over to watch a game, you can pretty much stand here — not move two feet — and get your beer, barbecue sauce, chips, whatever. It's all right here!"
Joskowitz and the store's CEO, George Zoitas, were inspired to create the manspace — conveniently located right next to the beer section — after reading an ESPN study showing 31 percent of men are shopping for their families, up from 14 percent in the 1980s.
So the duo called some bros over to their man cave — a small office on the store's second floor — and started jotting down ideas for what they call "The Man Isle."
"We picked a couple of joke items — we could have chosen any ordinary coffee, but we picked Chock full o'Nuts," Joskowitz said, chuckling. "But then a couple of us got a little overboard, so we tried to tone it down to not offend anyone."