Starbucks CEO Howard Schultz presidency rumors met with pushback on Twitter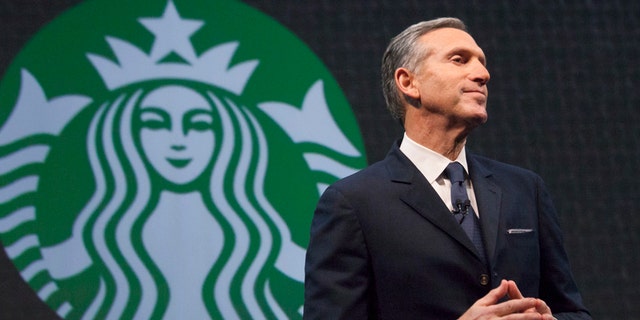 After 40 years with the company, Howard Schultz revealed he would be stepping down as Starbucks chairman to pursue philanthropy and public service, which led people to speculate that the 64-year-old might run for president in 2020. Two former employees close to Schultz told Business Insider that the former CEO had "quietly" surrounded himself with politically minded people, and even developed a personal relationship with Bill and Hillary Clinton. The rags-to-riches billionaire built Starbucks from the ground up and his chain has recently made waves on social justice issues, but many are saying they don't want to see him in the Oval Office.
On Twitter, fans of the former chairman and those who claim they've never heard of him are voicing their opinions. Some say they respect who he is and what he stands for while others are completely taken aback by the rumors of his potential run for presidency.
"He was a great CEO. But I have no intentions to vote for him," @GabeTheCentrist said.
"Howard Schultz is awesome, but right now the last thing we need is another business man as president," @geekgirlden said.
"Good. Bye," @JasonTScoggins said.
"Told ya! Once @realDonaldTrump showed people how easy it is there will never ever be another professional politician in @WhiteHouse! Although Schultz will probably turn it into a Motel 6 with his bathroom policies!" @MaximillianFoxx said.
"Would you want a surgeon who never went to medical school to operate on you? Then why elect people with no public service experience into office? It is not working!!" @Hodl_Meister said.
"It's a small step from coffee to covfefe," @Artothejan said.
"NOBODY WANTS A VENTI CUP OF CORRUPTION FROM YOU!!" @TianaLovely87 exclaimed.
In a sea of people asserting their opinions on the matter, one woman just doesn't want you to think she and Schulz are related.
"NO RELATION to my Schultzes," @FreyaRockfeller said.
Then there were a couple jokesters in the crowd who provided a smidge of comic relief.
"Howard Schlutz's opponents' names will be misspelled on the ballot," @kelseylh said.
Even vocalist Josh Groban joined the conversation.
"Is this why Howard Schultz is stepping down?" the "You Raise Me Up" singer captioned a photo of the chain's new Kitchen Sink Cookie.
It has not yet been confirmed that Schultz will actually run for office in 2020, but we can confirm that his position as Starbucks chairman has already been filled. Former J.C. Penney CEO Myron Ullman will take over as the coffee chain's chairman, while Mellody Hobson, president of Ariel Investments and former chair of the board of directors at DreamWorks Animation, has been named as vice chair. The 49-year-old businesswoman, who recently became the first African-American woman to head the Economic Club of Chicago, is married to Star Wars writer and producer George Lucas.