Spiced Apple Cheesecake Tart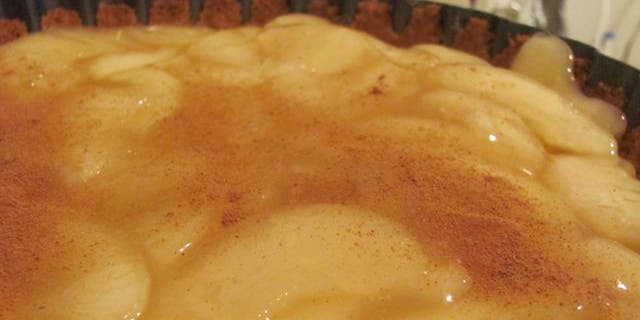 For a slight twist on pie, this cheesecake tart features warm apple flavors with a sprinkle of cinnamon. You can make the entire dessert for under $25.00.
Cook Time:20 min
Prep Time:1 days30 min
Total Time:1 days50 min
Servings: 8
Ingredients:
1 ½ cup finely ground graham cracker crumbs
1/3 cup sugar
6 tablespoon butter, melted
1 package cream cheese (8 oz)
1 egg
1/3 cup sugar
1/2 teaspoon vanilla extract
1 20 oz can/jar apple pie filling
Preparation:
Preheat oven to 375 degrees. Mix graham cracker crumbs, sugar and melted butter until well blended. Press mixture into an 8 or 9 inch tart pan.
Bake crust at 375 degrees for 7 minutes. Let cool.
Combine cream cheese, egg, sugar and vanilla, but do not overmix. Pour into the cooled crust.
Bake cheesecake at 350 degrees for about 14 minutes, or until the cheesecake is solid.Allow cheesecake to cool, then top with apple pie filling. Refrigerate overnight. Optional: sprinkle cinnamon over the top.