Son of Maria Shriver and Arnold Schwarzenegger opens custom pizza joint in LA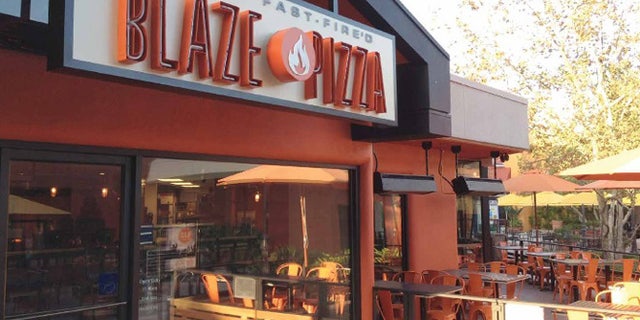 Patrick Schwarzenegger, son of Maria Shriver and Arnold Schwarzenegger, can now add restaurateur to his resume. The 20-year-old has just opened a Blaze Pizza in Los Angeles shopping hotspot The Grove, according to People.
While starting a restaurant might seem like a strange career choice for the former model, the new pizza joint opened to plenty of eager customers with lines outside reaching "three stores down."
The concept is similar to Chipotle-style dining. Guests customize their own pies by choosing a dough, sauce and a wide array of toppings. After your pizza is topped, the pie is cooked for just three minutes in an 800-degree wood-fired oven. The entire process, from lining up to taking the first bite, takes less than ten minutes.
Despite having famous parents, Patrick was able to raise the capital himself to open the new venture, according to People. Quite the budding businessman.
"We went around and did a raise of capital," Schwarzenegger told People. "It's been my responsibility to oversee everything. I'm the owner, founder, pizza maker, pizza lover and anything else you want to throw on in there."
Shriver was there on opening day and tweeted her support for her son's popular new spot.
Blaze Pizza currently has locations all across the country, but Schwarzenegger's is the first to open in Los Angeles. Along with speciality toppings like applewood bacon, fresh veggies and exotic cheeses like gorgonzola, the chain also caters to those with dietary restrictions by offering a gluten free crust and vegan cheese.
But Schwarzenegger likes to keep it simple. His favorite pizza?
"Regular crust with our red sauce and ovaline mozzeralla cheese. Then I put [on] sausage and pepperoni. I'm a meat lover!"