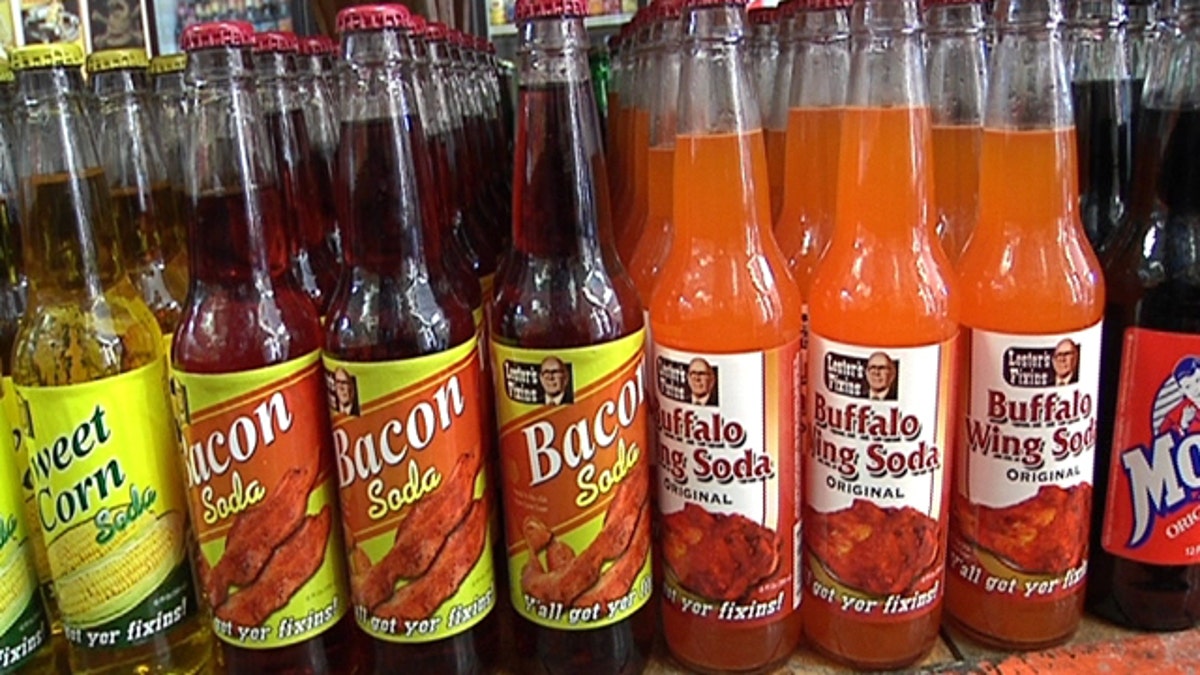 Remember the days of the soda shop? You know, the stores with Mars candy bars and Dr. Brown's Root Beer? Or soda shop restaurants with made-to-order ice cream sodas? If you think they're a thing of the past, no worries folks, they're still open for business.
Here's a look at some of some best and sweetest destinations across the country.
Rocket Fizz Soda Shop: Las Vegas, Nev.
It's not unusual to drink a soda with Buffalo wings. But drinking Buffalo wing-flavored soda? That's another story. "The Buffalo wing soda is a nice, crisp orange-flavored soda with the Buffalo wing spice in it to give it that kick in the backside," said Sheri Stewart, franchisee of Rocket Fizz Las Vegas, a retro-looking soda shop in Sin City that offers 325 types of bottle-flavored sodas. The store's retro look, with vintage posters of celebrities like Lucille Ball and The Three Stooges, and its vast selection of old-school candy bars, including the famous Mars chocolate almond bar and the Cherry Mash, bring customers down memory lane every time they walk through the doors. "Especially at this time of year (customers) will say 'I remember when my grandma or grandpa used to give us the Cherry Mash for Christmas,'" said Stewart. The good news is that you don't have to live in Vegas to check out Rocket Fizz, with franchise locations in California, Arizona and Nebraska.
Lyons Soda Fountain and Bakery: Lyons, Colo.
This retro-looking diner in Lyons, Colorado has been around for more than 90 years. In fact, the shop has used the same kitchen equipment since 1921. Known for their "ice cream sodas," similar to an ice cream float but substitute the soda with homemade ice cream-blended seltzer water, the popular ones include the "Canary Island" with chocolate ice cream, the "Strawberry In Hay" with strawberry syrup, and the "Black Cow," which includes a blend of chocolate and root beer syrup.
The Davidson Soda Shop: Davidson, N.C.
This North Carolina soda shop/diner has provided its fair share of soda beverages to the local community since its opening in 1951. Step through the doors and you'll notice the black and white tile floor with wooden booths in front of the main bar. While there, order a Boylan's Old Fashioned Soda or a classic "Big 'O'rangehead" soda with fresh oranges. By the way, it's a cash or check only.
Galco's Soda Pop Stop: Los Angeles, Calif.
Similar to Rocket Fizz, Galco's Soda Pop Stop offers nearly 500 different flavors of bottled soda to its customers in Southern California. From cucumber-flavored soda, to vintage sodas like the lemon lime-flavored Bubble Up, the store provides a reprieve for folks taking a detour from the Hollywood scene.
South Side Soda Shop Diner: Goshen, Ind.
When you're not busy eating a cheese steak with fries at this soda shop, make room for a popular soda creation called the "Green River," another example of an "ice cream soda" with a very sweet green-carbonated phosphate that'll leave you're tongue a different shade.